SoCal is So Cool
Southern California, or "SoCal," has been a frequented family vacation spot for both of our families. I've been to Disneyland and Seaworld on a couple occasions. Although I've loved our trips to the theme parks, we've been to SoCal so many times to know that there are more than the parks that make it so cool to visit. Our recent trip in the Summer of 2016 opened up new ideas of how to enjoy a different side of SoCal. Have a read about what's so hip in our West Coast that you may have never considered experiencing.
Snorkeling at La Jolla Cove
Thanks to Kobey's Swap Meet that's open every weekend we were able to find $5 snorkel gear in great condition for the both of us. I only wish at the time that I'd bought flippers and a wet suit since they were super cheap as well (I'm talking $15)! We broke in our new found water gear and went snorkeling at La Jolla Cove.
The cove is free to enter and filled with shimmering large goldfish that will swim all around you. There's also several sea lions bathing on their rocky perches. Several were in the water playing and swimming around us. The large male, Bruno who's been the champion of the cove over any male that's challenged him, would swim from rock to rock vocalizing to the females.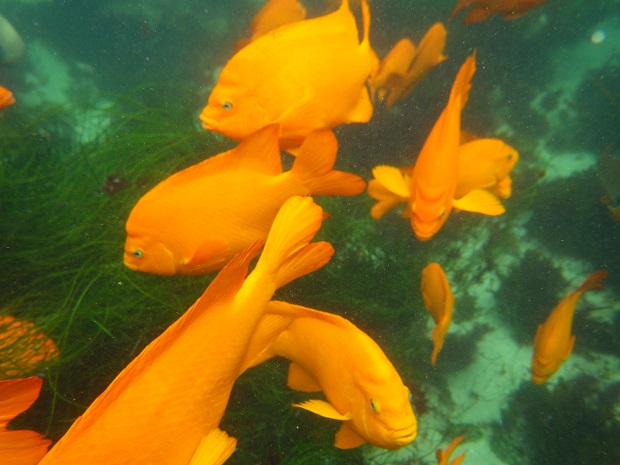 A fair warning… the cove is very cold and I'd recommend wearing a wetsuit or something similar if you plan to go snorkeling for longer than a half hour. In addition to that, since the cove is full of sea lions it's possible to see sharks come into the cove (though we didn't run into any) and it can be dangerous for those snorkeling a lot further out. The cove is plenty safe for snorkelers and we were surrounded by families with small kids.
Ocean Kayaking
You can go kayaking in several spots in San Diego, but we chose to go with one of the several tour groups venturing into La Jolla Cove. Since not all of us in our group had experienced kayaking before we decided it best to go with a tour. Personally I was a bit unsure how difficult it would be for everyone getting past the shore waves, but thanks to the guides everyone made it out.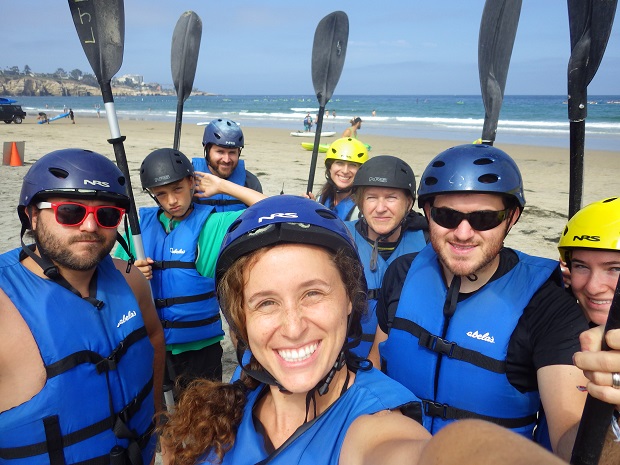 The double kayaks took some teamwork, but Pablo and I are a bit competitive and found ourselves constantly pushing in front of the group. Once our arms started to burn we arrived to the outside of the La Jolla Cove caves. The caves were my favorite part, probably because they were difficult to get into but looked beautiful once we were inside. It was like swimming into a geode.
Out on the open water we practiced balancing on our kayaks. Several of us attempted to balance for 10 seconds, but it was surprisingly difficult. It was especially difficult for me since my balancing partner was someone who seems to have a talent for falling off boats.
For kayaking gear and tour deals check out Groupon.
Cross the border into Tijuana
About 30 minutes south of San Diego is the border town of Tijuana, Mexico. For those searching for a small taste of a different culture this is a great day trip. We parked just outside the border (day fee was $7 for a weekday, $35 for a weekend) and walked across through border control.
We took an exciting bus ride to the market area and walked through the vender's stores. Authentic tacos were mainstream on my mind and we hunted around for a long time until we found a large taco stand. They were well worth the search!
Cliff jumping sunset cliffs
We were mainly going to Sunset Cliffs to walk around and enjoy the view. The thought of cliff jumping hadn't crossed my mind. It wasn't until we saw people jumping from a calmer spot off the cliffs that we wanted to try it. It was exhilarating to lunge off the cliff and down 20-ish feet until we felt the shock of the waves. Cliff jump at your own discretion though, because obviously it can be dangerous (it's also illegal in most areas). If not for the cliff jumping, the area is perfect for a picnic and to walk around.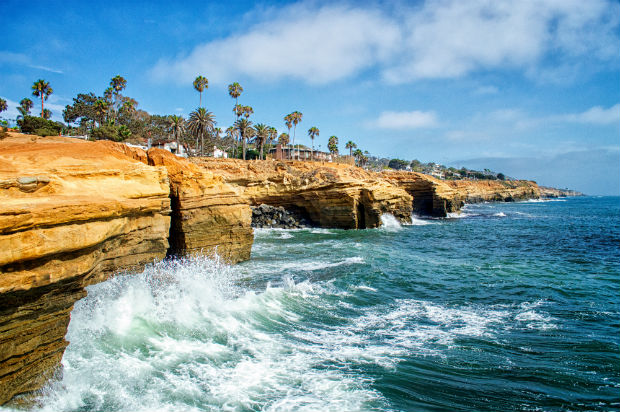 The beach boardwalk
Some days you can find the board walk to be a relaxing stroll along watching the sunset… but most days it's an exciting flurry of people of all ages walking, biking and skating alongside music filled cafes and beach bars.
Our aunt has a timeshare right on Mission Beach so we rented a beach house on Vrbo and packed all the Figueroa clan in there (a boisterous 13 person group). Our apartment was just behind the boardwalk and beach so we were constantly taking our bikes out. We went out to play soccer and volleyball on the sand whenever we wanted. It was worth having the beach right there, and we didn't have to pay a fortune for the place either. Just make sure you book ahead, places fill up fast!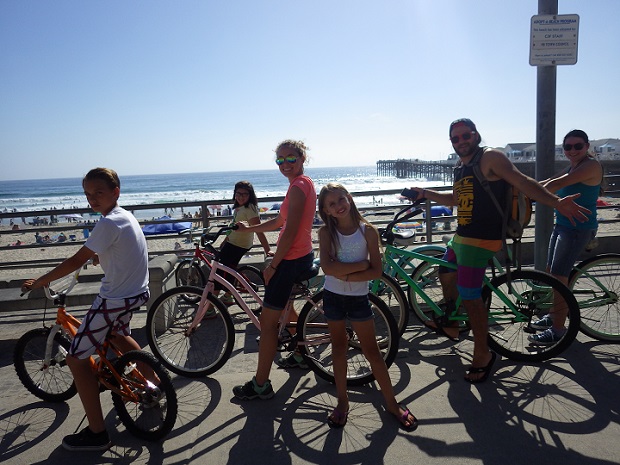 Hiking
Although we didn't end up having much time for hiking I'd been recommended some. To name just a few; La Jolla Trail, Palm Canyon Trail, Stonewall peak and others I honestly can't remember the names of. If you know of others worth trying share them with us!
Visit the markets and festivals
There are plenty of markets and festivals going on in SoCal. We heard about one from family and stopped by to sample food, check out the art and listen to music. In my opinion it gives you a pure atmosphere of the Southern Californian culture.

Long walks on the beach
Going to the beach should be a given, but I'm still adding it! Pablo proposed on a beach in SoCal at sunset. He knew how much I love sunsets, beaches and him! Walk the beach at night and enjoy the beautiful sunsets that SoCal has to offer.
The Baked Bear
Off the board walk North of Mission Bay there's an amazing place called the Baked Bear. This is the perfect place to stop for a cool down treat. I'm not exaggerating, this is a must do if you're in the area. You have a huge selection of ice cream sandwiches and brownie concoctions there. The cookies are hot and fresh with various ice creams to go in between. Need I say more?!?!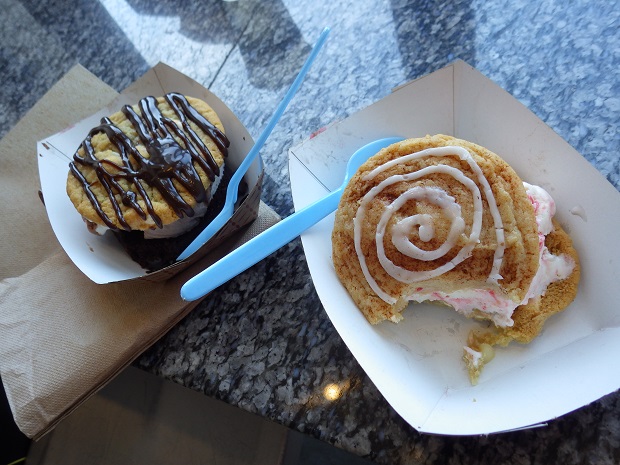 Despite going to California numerous times we still haven't done it all. A few things that are on our list for next time:
*Whale tours
*Salvation Mountain
*Surfing like pros
*Sailing – just anywhere!
*Go to one of the carnivals on the pier – ride as many rides and eat as much food as we want
*Go to Bubba Gump's in Long Beach
What part of SoCal is your favorite?