Walking among dragons on Komodo Island
Komodo Island is home to over 4,000 of the man eating Komodo dragons so naturally we were ecstatic to get there. It turned out that it's an easier task to leave Komodo Island with all your appendages than it is to hire a boat to see the komodo dragons. Thankfully we were able to do both successfully.
Komodo Dragons
Their names alone are impressive, but walking among these powerful creatures has to be one of the most amazing experiences I've had in my life. For those that haven't watched any discovery shows about these monitor lizards, the Komodo Dragon is a deadly predator. It can run up to 12 mph and take down large prey such as the water buffalo. The Komodo Dragon's venomous bite causes it's prey to rapidly go into shock rendering it defenseless.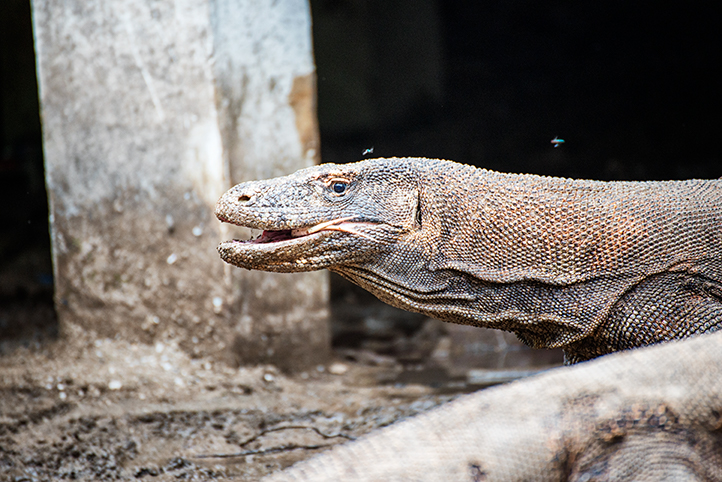 Now can you see why we were so ecstatic to meet these creatures?? Crazy as it may sound, we were able to walk within just a few feet of them and were in awe of their presence. Before I tell you more about our experience though, I should give you insight to how you can get to these dragons.
How to get there
Komodo Island is inhabited by people, and if you want to stay on the island there are ways of doing so. You can also stay on several of the neighboring islands that have resorts. I don't have details for you in either scenario however, since we flew into the city Labuan Bajo and stayed there instead. From my research I found that most people stay in Labuan Bajo and then take a boat out to see the dragons.
If you are the traveler that prefers more comfort out of the trip and are content spending more for it, there are personal boats you can hire. While on Padar Island we met fellow travelers who'd hired a personal boat that would take them to Rinca Island as well. They reported that they were enjoying themselves, but the boat didn't look to be in any better condition than ours.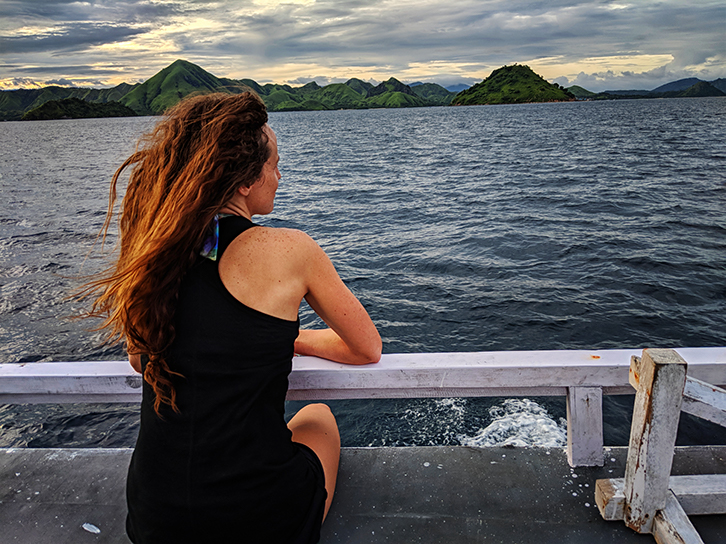 Labuan Bajo
Labuan Bajo is a small fishing town that hasn't grown much despite the tourism impact. There isn't much to do Labuan Bajo, except to hire boat excursions. OR, if you're like our Australian shipmates, you can hang around the beach and drink away the days. Instead we took out our scooters that we rented from the locals and found all the food options that the Island had to offer.
While exploring around the island we made an attempt to find the Rangko Caves. However, since it was monsoon season the normally dirt roads to the caves were muddy enough that we had to turn our scooters around.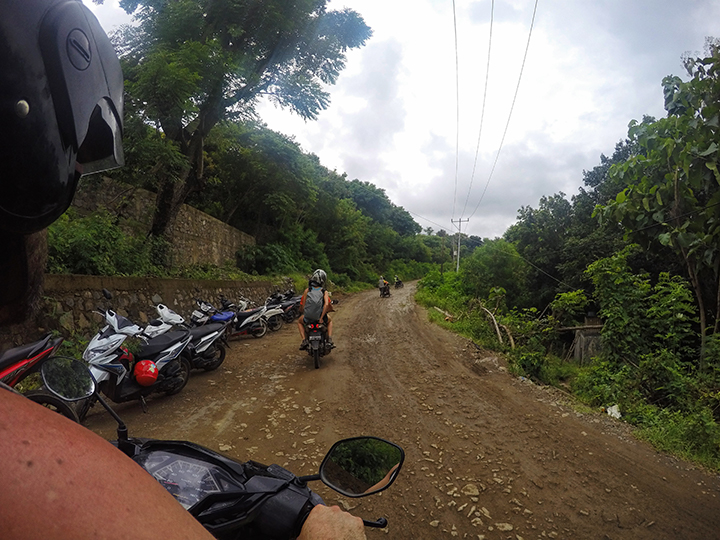 On top of all the excitement exploring outside we also had an exciting Airbnb experience. On the first night in the Airbnb we discovered a tarantula hanging out in our bedroom. The process of killing it was a lot more stimulation then we wanted that night. Some of us had a harder time sleeping without one eye open.
Hiring a boat
Despite my urge to ensure we had a way to the Island, we waited to book a boat ahead of time. Why do this? After reading fellow travelers experiences getting to Komodo Island we realized it was way more of a risk. One in particular gave me complete resolve after reading about her shipwreck experience.
Waiting until you're in Labuan Bajo gives you the advantage of seeing the boat and crew before trusting your life to them. Don't trust the online boat pictures, most are fake. Talk to the captain beforehand and if they don't allow you to see the boat before you book (red flag) don't book with them! It sounded exciting to do an overnight excursion, but it didn't seem right when the captain mentioned that there was going to be a storm. Even though he insisted it would be fine we went with our guts and booked a day excursion instead.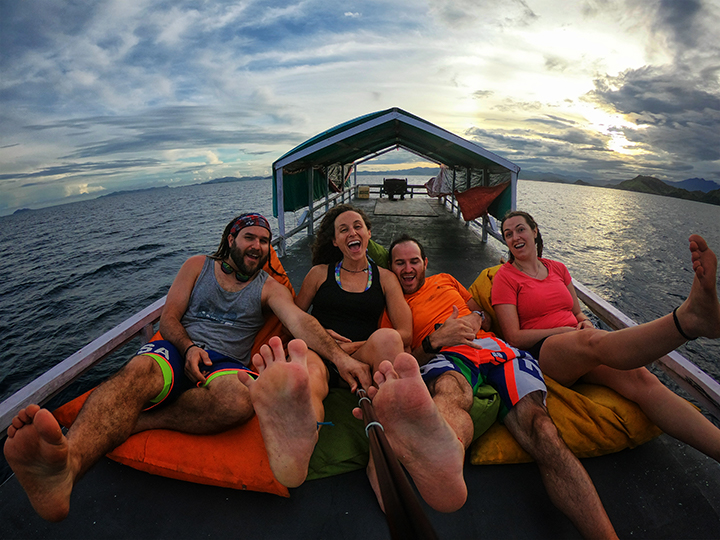 We gave ourselves 2 days to explore the Komodo Islands hoping we could do an overnight stay on the boat, but it was also a good cushion in case there weren't any boats for one of the days and we could at least do a day trip. The night before we wanted to go we went to the harbor to price check and book with one of the few tour groups. After getting a feel for which tour we'd want to do and which company seemed the best in quality we haggled the price down to 375,000 IR per person (27 USD) for a day tour.
Padar
Our boat left the harbor in the early hours of the morning as the sun rose. As the captain set sail for the islands we napped on the top deck. After a couple hours passed the bright sun woke us and we made banana chocolate sandwiches. Soon after our boat docked at the first stop; Padar. This island was incredible, I felt like Simba seeing all the land that the light touched belonged to me for exploring.
After hiking we washed away the heat by jumping off the boat into the cool water. The crew pointed and yelled, "shark!" Only to quickly laugh after like it was the first time they'd ever made the joke.
Swimming with jellyfish
Our captain brought us to the next stop, Pantai Merah, also known as the Pink Beach. The crew provided us with snorkeling gear and opened our eyes to the amazing ocean floor was beneath us. Vibrant colored coral and fish layered across the pink sands. I wanted to stay there forever… that was until we realized we were surrounded by hundreds of tiny jellyfish. I hadn't realized when I first started feeling the needle sized pricks on my skin what was causing the stinging. When one of us made the realization that we were surrounded by jellyfish we all dashed for the boat.
The Dragons
When we finally arrived on Komodo Island our group met with the national park rangers. Two men about my height carrying long sticks were to be our guides and protectors while we walked through the forest among the dragons. Although attacks are rare, there have been enough incidences to give caution when walking on the island. The Komodo dragons freely roam and we could stumble upon one at any turn.
Sedatives are placed in meat and scattered on the island for the dragons consumption. However, we came across some dragons that were clearly not sedated. The locals would dump food over their porches to the dragons just below. I could've stood there all day just watching in marvel of how close we could be to them. Eventually we had to head back to the boat, and in the nick of time too; a storm was coming.
Caught in the storm
Going during the monsoon season gave us the disadvantage of succumbing to Mother Nature's will. On our last stop of the tour, manta ray point, the fury of the winds picked up and the waters became agitated. There was one large manta ray that we spotted before we had to retreat towards land.
Because of the sudden quiet and focus of the crew, several of the passengers with us became nervous. It didn't help that the boat was rocking to the point where the benches were falling to the opposite sides. At one point the captain set anchor by a sand barge before deciding it would be best to not wait it out there. The last two hours on the ocean was spent rocking back and forth, and I was wet and bored. We made small talk with the other passengers to pass the time, but we were all happy to finally dock and get off. Seemed like it was good we didn't book the overnight stay because it would've been unpleasant out there in the storm!
The adventures that last a lifetime
This boat trip was filled with so many emotions and breathtaking experiences. On the way to Padar we saw dolphins leaping out of the water and sights that were surreal. I felt so alive and incredibly inspired by the beauty of it all. It's incredible to me that we can make so many memories in just one day of our lives, and especially when traveling.
Would you dare to go to Komodo Island and walk among the dragons?