Bali by scooter
Renting a scooter in Bali was the best decision we could've made. We were able to see some interesting local life and experience so much of the culture by driving around on a scooter.
The fast but not so furious
The Balinese can weave through traffic by the skin of their teeth and appear completely calm about it. I was surprised to see minimal dents on the cars and didn't witness any car accidents. We did however come close to getting in an accident ourselves a couple times and was actually ran into by another scooter. We were stopped, waiting to turn when she tried passing us on the inside just as we began to turn. Good thing it was just a scooter and no one was hurt!
They're reckless driver's, but it's almost safer here than driving in the U.S. because here they expect everyone else to drive just as recklessly. For one thing the driving speeds are higher in the U.S., but also people there drive with short tempers. As crazy as either are with driving neither can compare to the driving chaos in India, HOLY COW.
Weather you like it or not
As fun as it was cruising on two wheels, it was a bit difficult when the monsoon storms would hit. When we arrived in Ubud it rained throughout most the day. We were eating under a canopy in the garden at the Warung Bakan Bu Rus when the rain went from heavy downpour to thick curtains of water. Once it let up temporarily we took advantage of the window to visit the Ubud Palace nearby.
After stopping at a grocery store it started to come down again. We felt like locals as I juggled navigating from the GPS on Pablo's phone, to holding grocery bags and keeping the 6 liter jug of water between our bodies on the bike. I'm sure locals would say there's still room for one more on there!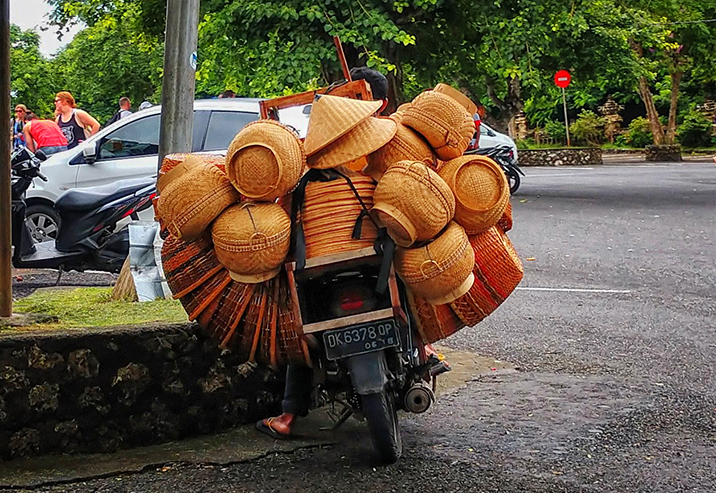 Rice Terraces and tourist traps
Bali had rice terraces everywhere and as an outsider not used to seeing them they looked so cool. We went to the Tegalalang rice terrace, which a lot tourists go to. As a result of this it's turned into a tourist trap of sorts. When we parked and walked into the town a local came up from a booth and said I had to pay a ticket for entering the town. Hopping back on the scooter, we drove to the other side of the area and walked in for free instead.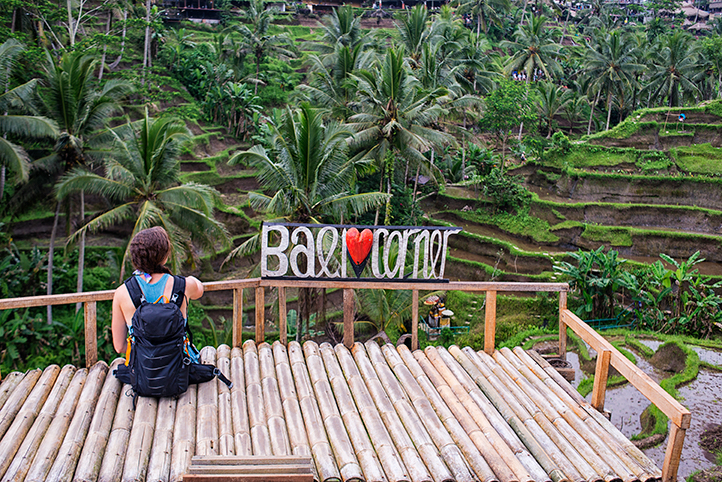 Other locals were charging tourists to enter the rice fields, which of course was a ruse. Along the rice terrace tracks there were booths set up to collect donation fees from tourists. The donation could be however much you want, but was required in order to walk along the terraces. If you want to avoid these tourist traps I recommend visiting one of many other rice terraces (such as the Jatiluwih), they're hard to miss! (Also, there's no need to book a tour).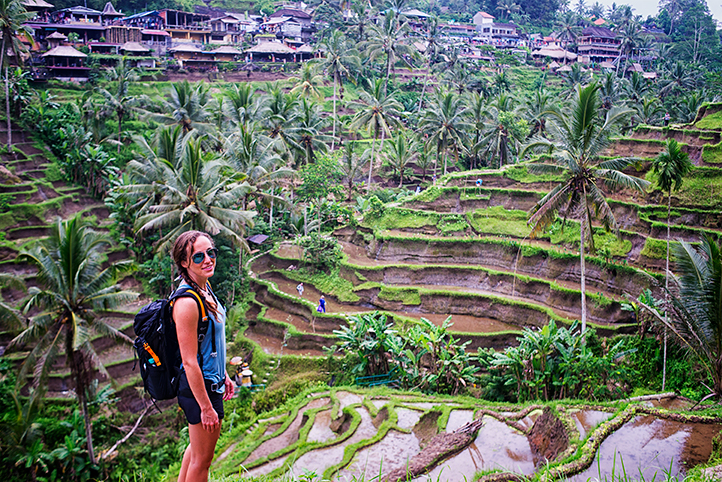 Hiking with a scooter
We took the fastest route to Ulun Danu Beratan Temple and found out it wasn't worth trying (and failing) to save 10 minutes. The route was straight up the mountain and our little scooter couldn't take it. As it was losing speed significantly I got off and began hiking. 10 minutes later I caught up to pablo who was beside the scooter pushing it and lightly laying on the gas. We continued this for another 10 minutes until we reached the top. Luckily it was downhill after that and the scooter eventually came to life again.
I feel like I'm scaring you away from riding a scooter… I promise it really was fun and worth it! After our unexpected hike we were able to visit the Ulun Danu Beratan Temple, which was amazing. The timing seemed perfect actually because we ran right into friends we'd made at church and had lunch together! The Transparent Travelers have been traveling with their kids and have a great story that you should check out! It's so cool to see how things happen for a reason, and as the Transparent Travelers put it, "the thorns in travel (and life) can lead to roses."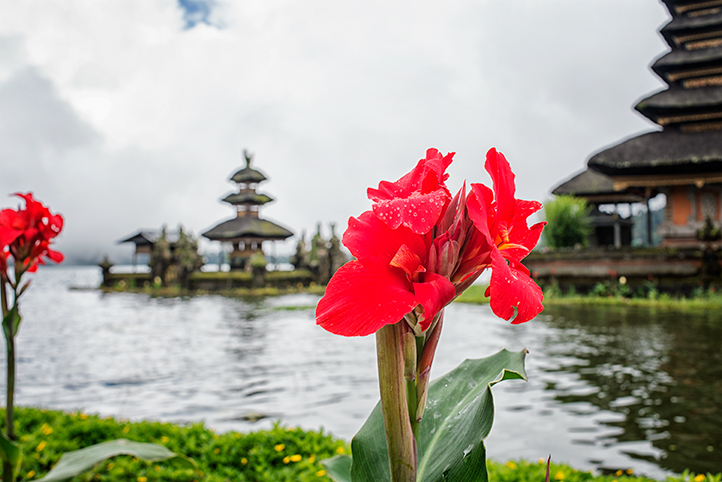 Having an international license
The international license is required while driving through Bali and you can face a fine for not having one. We however did not get an international license. After talking with the locals we learned that even if you have an international license it wouldn't stop the police from targeting you as a tourist. They'd find some reason for pulling you over and it usually ends in a bribe either way.
It seemed to us as a matter of luck whether we'd get pulled over or not. We decided to keep a few bills tucked away in one of our pockets specifically meant for a bribe. That way we could pull out the designated bills and explain that was all we had instead of giving up all our cash on the spot.
All things considered it was worth the risks to us for the adventure. Just be aware of the risks yourself and go with your gut.
The taxi mafia
On average we've had bad experiences with taking taxis while traveling. Too many experiences of a crooked driver charging us more than what the meter says or the original agreed price. Taxi drivers aren't all bad though, we've had good experiences. Usually taxis cost more though and there are now cheaper options out there for transportation.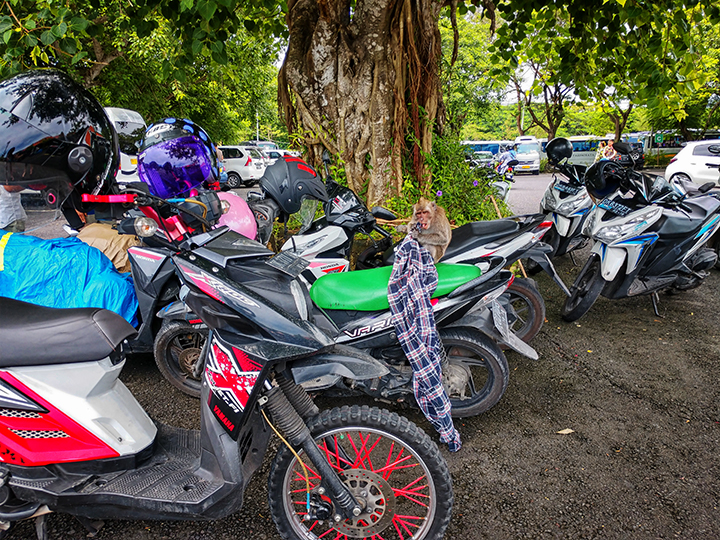 In Bali there are Grab drivers, just like Uber and Lyft in the U.S. I recommend using grab while you're in Bali but know the precautions. There are areas where there is what the locals call taxi mafia. There are signs that ban the grab driver's from picking up there. If the grab driver's are seen in those areas picking up the taxi drivers will keep track of them. It's not as scary as it sounds, but just be aware of the area you're in when being picked up.
Our experience of riding around on a scooter was a lot of fun, but if you don't feel comfortable driving a motorbike/scooter at home than you shouldn't drive one here. You don't have to miss out on the adventure of exploring Bali's secret nooks though, you can hire a driver (you may be able to haggle a better price when you get there too). It's the best way to see the hidden parts of Bali that will make your trip better!
Have you ridden a scooter in a country besides your own?