Surfing Bali with Santai Surf School
As we were planning what to do in Bali I was told that it has amazing waves to surf. I really didn't need much more convincing than that and booked a surf class. Me and Pablo are both new to surfing so we figured why not learn in Bali! I figured it's better to know the technical skills from the beginning and the Balinese know their stuff.
Santai Surf School
There are a myriad of surfing classes in Bali and easy to find, but the question is which one will give you the biggest bang for your buck? It didn't take long before I found the Santai Surf School Bali with 5 stars on trip advisor. (Link) I wanted a class that would have instructors that genuinely focus their attention on our individual techniques and what improvements need to be done. I can begin by saying that Santai blew all my expectations out of the water!
After an easy correspondence with the business manager, Henney, we were scheduled for the next day to surf. As we rode our scooter to the Double Six Beach I was thinking I'd be happy to just be able to stand on the board, just once was all I asked myself. Our instructor met us on the beach and went over how to get out to the wave, stand up on the board and positioning. After spending 10 minutes on technique we took to the water to put it all to the test.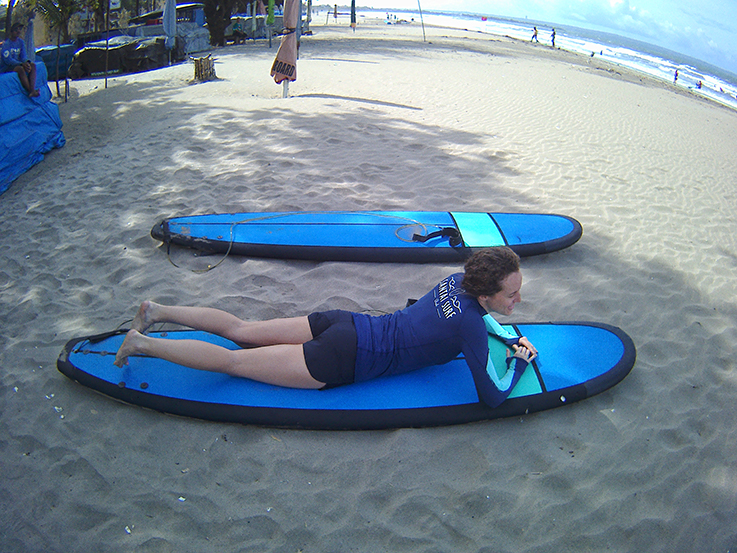 Surf's up!
Now was the moment of truth. I'll have you know that not only did I stand on my board just after a few attempts, but was actually riding wave after wave. You should know balance is not in my skill set so personally this was quite the accomplishment! Pablo was a natural pro and got up after just a couple attempts. We continued to progress with each wave as our instructor shouted out instructions.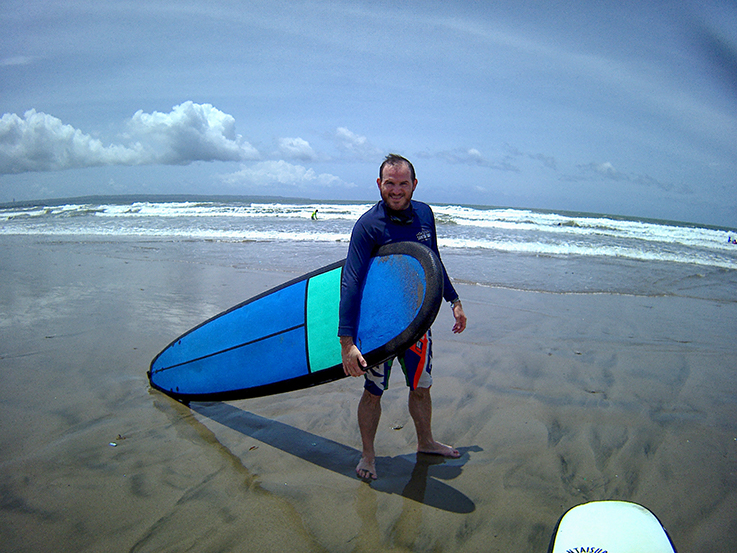 We'd booked a group lesson having roughly 5 students in it. Since the rest of the group didn't show up we basically got our own personal lesson for the group price. While one of us was making our way back from the shore, the other was waiting for a wave with our instructor. He was able to focus on what we needed to change with our form and we saw immediate results. He also made it fun and we were worn out after being in the water for a couple hours.
Quality surf lessons
Double Six Beach in Seminyak is home to several surf schools so we weren't the only students in the water. As we were paddling out to the waves I noticed that the other surf schools had about 10-15 students in their groups. Compared to our small classes of 3-6 students I couldn't imagine learning as quickly having less time with the instructor. This was evident as I saw some of the students waiting in the water or struggling to learn on their own. I'm glad we'd found Santai!
Something in the water
When seeing pictures of the beaches in Bali the water is pristine and vibrant blue. It's not a secret how gorgeous the beaches can be. What a lot of people don't know however is how filthy and unpleasant they can be. Depending on the time of year and what beach you go to you can get both sides of the spectrum.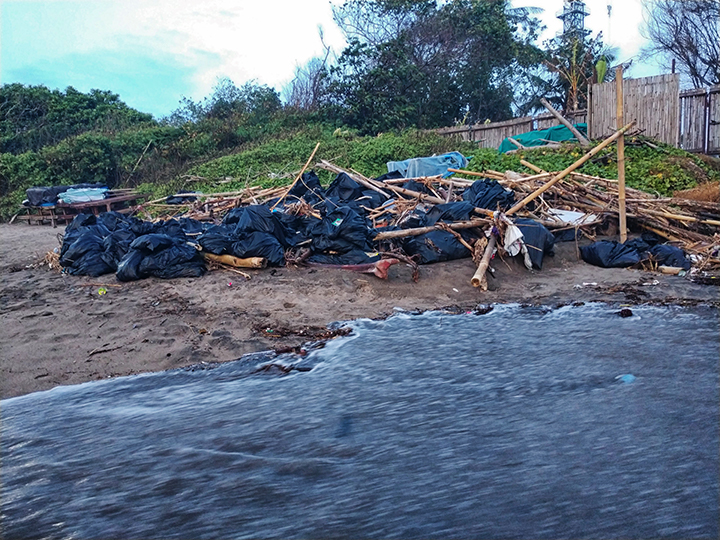 During the rainy season (October to April) the garbage particularly builds up. While swimming at the Kuta Beach we constantly had garbage floating around and sticking to us. On a few occasions we confused a plastic grocery bag floating in the water for a jellyfish. It's an eye opener of how much our species is damaging the Earth with our waste.
At the Double Six beach they're working harder on keeping it clean because they want the tourism. Not quite the best reasons for taking care of where one lives, but it's a start. I know it's easier for us in the U.S. where we have more disposal systems- a more out of sight out of mind system.
It was one of several moments that have verified to me how travel is the remedy to ignorance. In a world filled with people it's common to wonder if we can make a difference, I know I've thought that. I wish that each of us had the experience to travel out of our own little bubble and realize two things. First, that we need to make a difference. Second, what we do does make a difference.
Food is the remedy to a hungry surfer
After surfing Henney recommended us to a great local place to get authentic and cheap Indonesian food. The place is called Warung Murah Double Six and it's just 3 minutes walking distance from the beach. Order the nasi kuning (yellow rice) that is mixed with coconut milk and the local fish or a spicy meat. Beach time and delicious food sum up my idea of a vacation!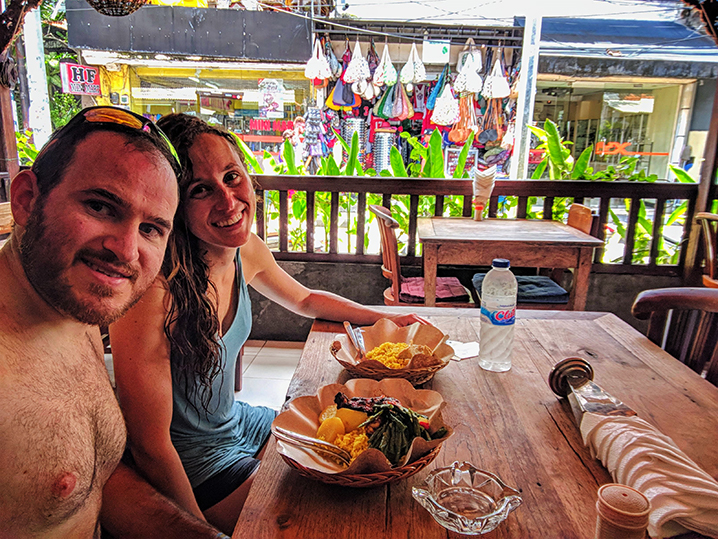 Where have been your favorite surf spots?