A winter wonderland in Alaska
Being from Utah we're used to snow, we have it every year. Usually Utahns escape to warmer weathers in the Winter, but not these Utahns, not this time. Why escape from one winter land to another? We were determined to see more Aurora Borealis (Northern Lights) since our experience in Iceland. In addition to that, I'd been wanting to ride on a dog sled since I watched Balto as a kid. What better place to find these two amazing things but in Alaska?
Lucky for us Alaska was also having a "warm" spell and was a balmy 20° F in Fairbanks when their normal temperatures in December run closer to -20° F. Despite this we still had on nearly every article of clothing from our luggage with only our eyes exposed. Despite the chill, Fairbanks was a sparkling white scene of frosted crystals. There was light to explore from about 11 AM to 4 PM, but in the middle of the night we went out searching for the Northern Lights.
The Northern Lights
On the first night it was mildly cloudy, but the lights were supposed to be bright according to our app. After a couple of hours hoping for the clouds to clear it didn't seem like it was going to happen. The second night we went out again close to 1 AM and parked in a desolate area peeking up at the sky and again seeing clouds. Getting a sinking feeling as the hour dragged into two we accepted our bad luck.
As we drove back – me half awake in the passenger seat trying to keep myself and Pablo awake by mindlessly muttering, a large figure appeared through the mist standing in the middle of the road. It was the largest moose I'd ever seen in my life and I was sure it would completely destroy us and our car. Thankfully Pablo had the reflexes of a cat and swerved around the moose who continued to slowly meander off the road as if he wasn't just challenged by a ton of metal. I guess our luck wasn't all that bad that night.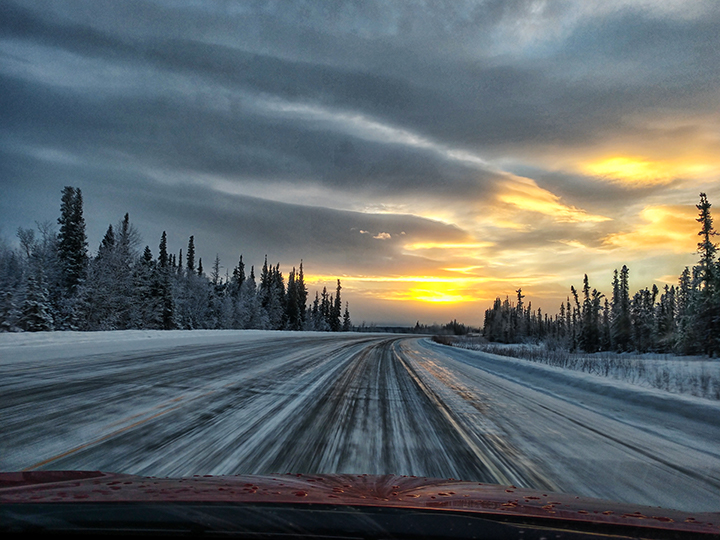 I know Pablo was pretty bummed that we didn't get to see the lights, and his determination to catch them is growing bigger. We'll just have to keep hunting and I'll let you know when the night finally comes when we've found them.
Dog sledding
Using points from Pablo's Chase card we purchased a dog mushing tour through Aurora Expeditions for $296. The tour guide picked us up from the local Walmart and drove us to the starting line. The dogs were outside by their huts barking enthusiastically, charged for the run. We could sense the excitement from the dogs to get out and it was contagious. As we were waiting for our turn to take off our musher was working hard to keep the team waiting. Once we had the go ahead, we took off "like a bat outta hell!" -Musher "Leo"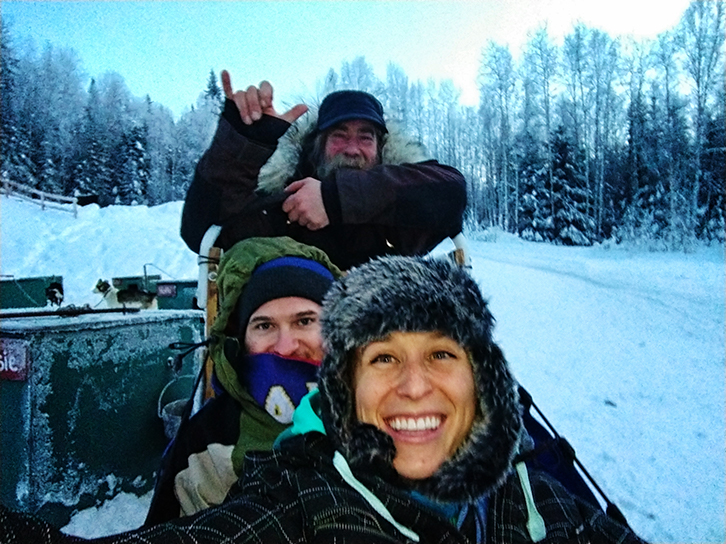 It was exhilarating to see the winter wonderland rush by and to have the cold wind whipping our faces. We talked to our musher during the run about what a sled dog's life and musher's life is like. He was such a fun character and made us laugh a lot during the run. Our eyes were tearing from the wind and the droplets freezing on our faces, but the rest of our bodies were bundled in the sleeping bag on the sled.
After about 40 minutes racing on the sled we arrived back to the huts. Our musher encouraged us to meet the dogs and we showed them our gratitude with lots of love. The dogs were incredibly friendly and covered my face in kisses. Dog sledding was exhilarating and the energy from the dogs goes to show how great the mushing life is for them. I'd been wanting to ride a dog sled since I was a kid and I felt as happy as a kid fulfilling a dream.
The North Pole
We visited Santa in the North Pole! The reindeer were outside in the yard relaxing before having to travel all over the world delivering presents. The shop was filled with fun ornaments and we wrote postcards to our parents. It's not everyday you get a letter back from the North Pole! Santa himself even showed up letting kids climb on his lap to share their Christmas wishes.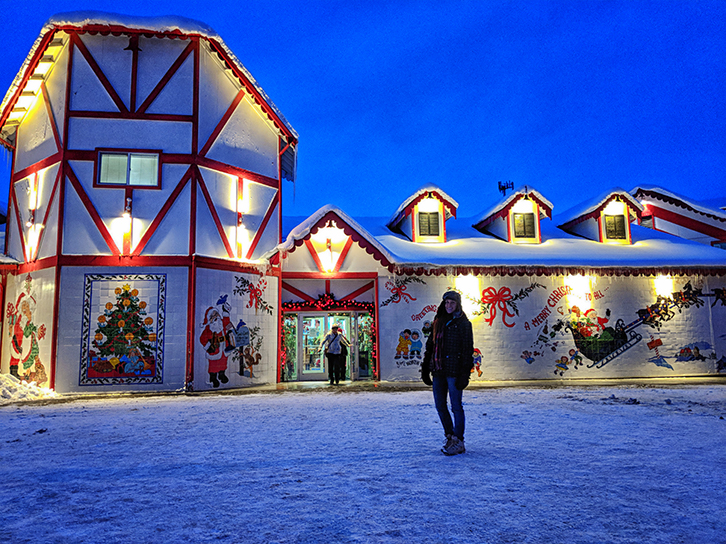 Ice sculptures
Next door to the Santa Clause House was an ice sculpture competition. I couldn't believe how the craftsmen managed to carve such delicate statues out of a block of ice! The sun was just going down, but we could still see the details of a figure skater and a locomotive train. There was a life-size igloo and several large slides that we went down. It quickly became dark and the sculptures were lit up with colorful lights. We voted on our favorites and ended with hot chocolate for the night.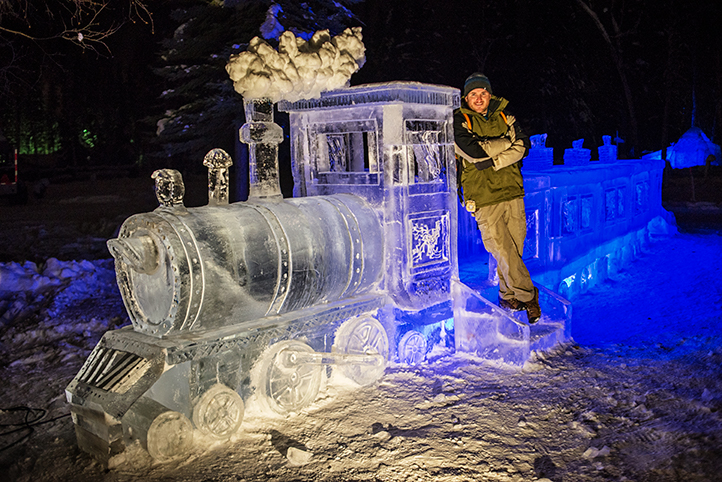 Denali National Park
Denali was beautiful covered in snow, and I'd love to come back and see it covered in green as well. I was excited to do some snowshoeing in the National Park, and they offer free snowshoe rentals. The rangers talked to us about all the different trails we could do and what to expect with each one. They were chill enough to let us leave the snowshoes outside the door if we returned after they were closed. Alaskans are my kind of people.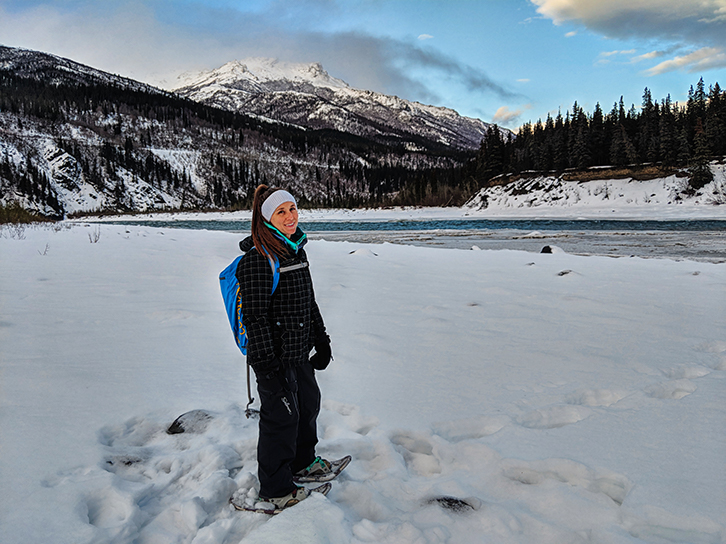 We headed out on a couple of the trails and started to feel like we were out in the wild land with no one else around. We didn't come across any animals, but found plenty of tracks. The lake wasn't frozen over due to the "warmer" weather Alaska has been having, but there was plenty of snow to walk through. It was breathtaking scenery!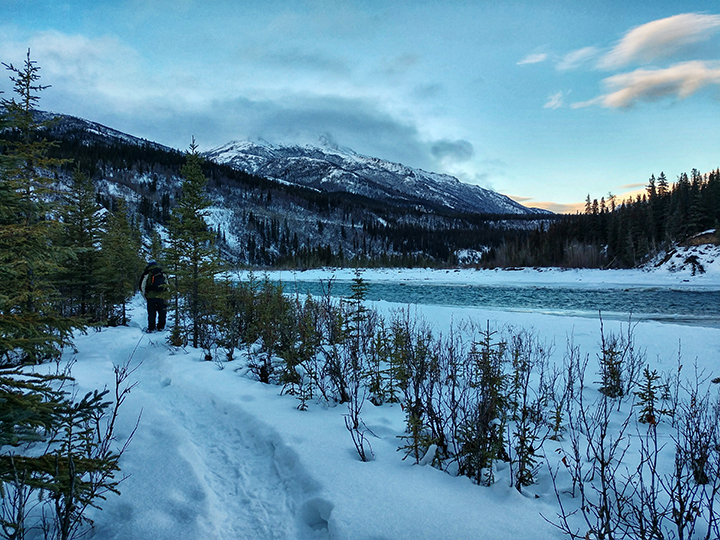 A museum we can recommend
We'd done everything on our list, including shopping in the small town stores, and were looking for something to do on our last day. Per recommendation of our AirBnB host we went to the University of Alaska Museum of the North and really enjoyed it. This is a big deal for us to recommend a museum since we don't particularly like them too much. There were free cookies and hot chocolate which may have given us a biased opinion, but I think it was a fun way to learn about Alaska's history and culture.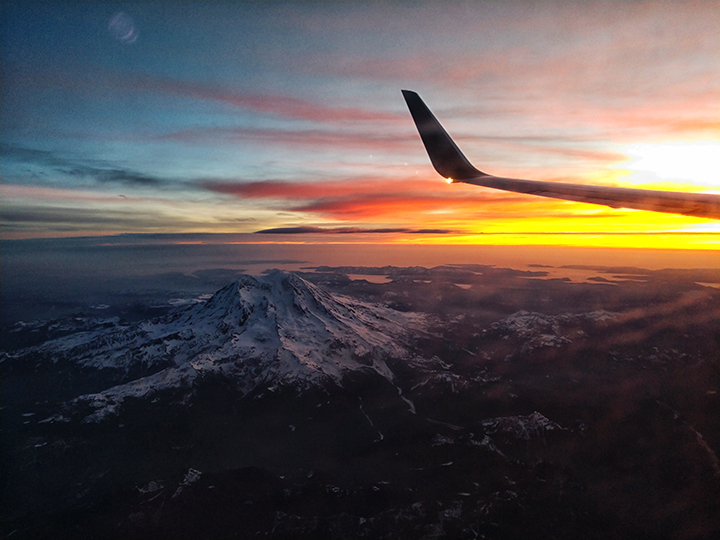 It was an exciting few days in Fairbanks, but we were ready to go home. I know there's so many more places we'd want to visit in Alaska and things we'd want to see still so I'm sure we'll be back. Until next time Alaska!
Have you seen the Northern Lights?