Backpacking Snowmass Colorado
Yet again we've filled our packs with food and light weight camping gear – this time getting ready to trek up to Snowmass Colorado. I would say the Snowmass trail is not meant for beginners, but more for an intermediate hiker. The hike was about 16 miles or more one way with an elevation gain of about 5,800 feet. We didn't do a great job at tracking all the details so I'm giving rough estimates throughout the post. To be honest, it felt more difficult than it sounds, but completely worth it.

Can of peaches
This is a recurring joke with our backpacking group… on our first backpacking trip in Havasupai Carlos had pretty much only packed CANS of peaches in his bag. He didn't even bother taking them out of cans and into bags to decrease the weight. On the way back he was booking it a lot faster than us with the lack of cans weighing his pack down.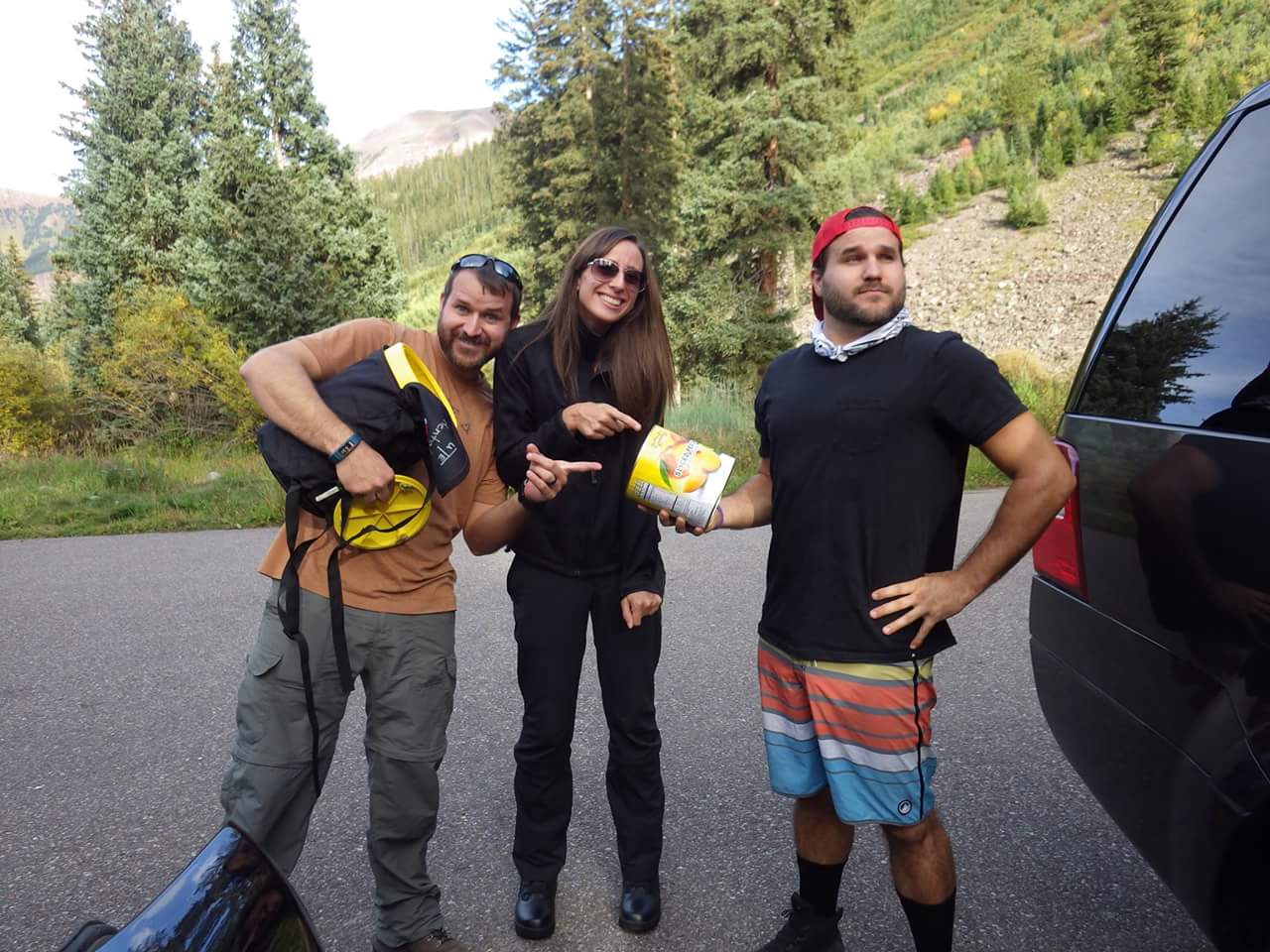 On this trip Amber and Jef had brought Carlos a gigantic can of peaches to commemorate the adventure. I don't think there will be a backpacking trip from now on without a can of peaches.
Bear canister
If you're going to get into backpacking you might as well invest in a Bear Canister
. We didn't research about it beforehand and ended up having to rent one. The bear canister the rangers gave us weighed about 10 lbs!! There are lighter weight canisters that are more convenient for backpackers so plan ahead and purchase your own. We took turns holding the canister in our hands while we hiked our avg. 20 lb bags up the mountain. You could imagine how annoying and inconvenient this was to our planning.
From the bottom to the top
Day 1- Maroon and Crater
Our group of 6 met in Aspen, Colorado which is a nice small town to stop in. From there we drove about 12 miles to the Maroon-Snowmass trail head. Our start was later in the day than we wanted to and the skies were threatening to pour on us. The group headed towards Maroon lake in hopes that we could get to our first stop and set up camp before the rain hit. We were almost that lucky.
Our first stop was up to Crater lake. As we started hiking we came across a couple moose (moosen? In the woodsen?). One stood in the lake and peed. As we were panting up the mountain I thought to myself that's where we get our drinking water and wash our dishes!
Our first set up was close to other campers and in a designated area by the lake. The weather had been off and on all day with light showers. We waited for one of the storms to pass, huddling in our separate tents. Once it resigned long enough we got out and started preparing our meals. Temperatures dropped and layers came on. As we washed dishes by starlight I was in awe of how beautiful the clear sky looked. That's my favorite part about being in the mountains away from the city- the stars multiply before your eyes.
We tethered up our bear canister to a tree- which proved to be a lot more difficult than it sounds when you have weak trees and a canister of food that weighs roughly 30 lbs! In the end we realized we didn't need to worry about bears as long as we have KC in our midst! He snored loud enough to scare any scavenger or predator within a 20 mile radius.
Day 2- The Rangers will getchya!
After eating breakfast and taking down camp we headed out. A couple miles in and after some intense elevation one of the people in our group was getting blisters. I gave her a spare set of socks to put on, but they'd already developed enough to cause serious pain. The distance between members in our group increased and we had to figure out if some were going to make it up the mountain.
We decided to split up, 3 of us continuing on and the other 3 going back down. We split the rations and gave the group going down the bear canister while we kept our camping tag to show the rangers that we'd purchased one. This was actually a stupid idea looking back, our group should've kept the canister since we were continuing further up and deeper into the woods.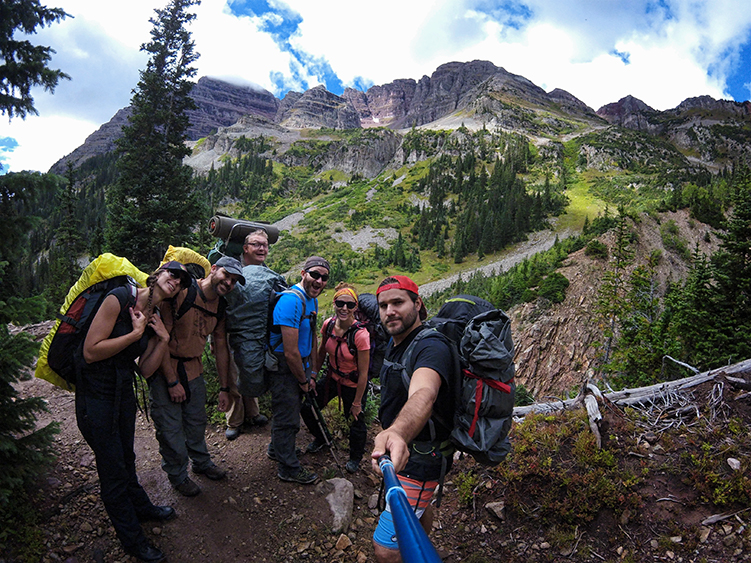 Me, Pablo and Carlos hiked for another few more hours until we were just 20 min. away from reaching Snowmass Lake. It was at this point we were stopped by the rangers. They asked us for our slip and if we had a bear canister. We told them what happened to our group and held our breaths hoping we wouldn't get slapped with a fine. They let us off with a warning, told us they would've made us turn around if we could make it all the way back in a day. Instead we had to camp outside of the Snowmass camping area since there were more bears drawn to the amount of people. We breathed a sigh of relief and headed down to where they told us to camp. It wasn't as cool of an area, but we would take it considering the latter option.
It was still early in the day, but we were so beat we ate lunch and after setting up camp took a very long nap. We woke up to a dark sky and growling tummies. We grudgingly crawled out onto the wet ground and cooked dinner. Next to our wooded camp spot was an enormous pile of rocks. Scampering all over the rocks were large marmots that would chirp during the day. We were spooked when we heard a strange noise that sounded like crying coming from the dark beyond our flashlights. Suddenly I thought of the Blair Witch Project and thought it was a good time to go back to the tent.
Day 3- Snowmass and out
In the morning we were happy to see that our food had been left alone in the trees and that we hadn't been tortured in the night by the crying mysterious creature. We left up our camp and walked up to the nearby Snowmass lake. The campground was a lot nicer than ours, but certainly a lot more people. Unfortunately the sky was an ugly gray and it started to sprinkle again. Despite my urge to jump in the lake it just wasn't worth the hypothermia. Luckily the entire trail was beautiful because when we'd finally gotten to the climax of the hike at Snowmass… it was a bit anticlimactic.
Our best views were on the way down from Snowmass. The rains were off and on (as well as our rain gear), but when the sky opened up to let the sun in we had some pretty stellar views.
At one point we had to scale over a natural dam to continue on the trail. Normally I'd be comfortable with this, but I felt awkward with my 18lb pack. This was a long dam too, not just a few steps and your there! The logs were buoying in the water and it could've been bad news for us if any of us had stepped on a weaker spot. We made it across without any issues though and I loved this section of the hike because we were out in a beautiful meadow flat area.

Out of the woods and into the cabin
After a couple more miles we started to pass several cows which told us that we were on people's property and meant that we were getting closer to the end of the trail. After mindless lifting of our sore legs for the last couple hours we got to the end and found several other hikers. We overheard several of them talking about the rangers giving fines out to them for not having a bear canister. Again we were grateful we'd dodged a bullet!
Since we'd split up we hadn't taken much time hanging around Snowmass and instead came back down a lot quicker. We'd killed so much time that we ended up having one more night to figure out what to do. Being worn and beaten we figured it best for the majority of the group to find a nearby campsite. However, being Labor Day weekend we couldn't find any spots. We realized we had to upgrade if we were going to sleep somewhere and booked a cabin at a KOA. This was decided while we pigged out on our Dominoes pizza in Aspen. Going from eating dehydrated food, sleeping on wet cold ground and peeing out in the open to having a cabin with hot showers and a flushing toilet made me beyond happy.
Some tips you should walk away with…
Blisters
Make sure you really break in your hiking shoes before your backpacking trip. I'd recommend AT LEAST 2-3 months of breaking them in. This means going on walks for a couple miles every few days and hiking as much as you can. This will also get you in shape for your big hike. It's better to wear them more than needed before a trip than not enough. You also want to be careful not to bring too old of shoes that will not support as well.
When you're hiking you need to wear thick socks (wool is the best) that won't cause friction or produce moisture. It's best to get a material sock that says it will wick away moisture. Make sure your foot doesn't have a lot of wiggle room in your shoe. Always have a couple spare socks in your pack.
If you can feel a blister coming on take a break. Remove your sock and soak the affected area in cold water. Dry the area thoroughly and apply a moleskin. Depending on how far along the blister is can vary in how well you can treat it. Don't ignore a hot spot if you feel one producing on your feet and take the care that you need to from the beginning. EVERY backpacker should ALWAYS have a first aid kit on them when backpacking. Ours consist of gauze, tape, etc. and I always have a couple bandanas that can be used for a sling.
Hydration and hypothermia
Two opposite ends of the spectrum but both possible in the same camping trip! Bring water proof gear (99 cent ponchos work pretty great if you don't have the money for water proof equipment). If you get wet, change into dry clothes (some of these things seem pretty obvious, but I know people who would just continue on). No matter what the weather condition take a drink of water at least every hour- your brain sometimes doesn't realize the body wants water until you taste it. Bring layers and clothing that can be changed from shorts to long pants instantly. I can't tell you how many times the weather changes in one hiking trip- I feel like I'm dancing to "head, shoulders, knees and toes" with how often I'm changing up my layers.

What's in our packs
We love backpacking and are slowly building up some great gear! Check out some of our stuff: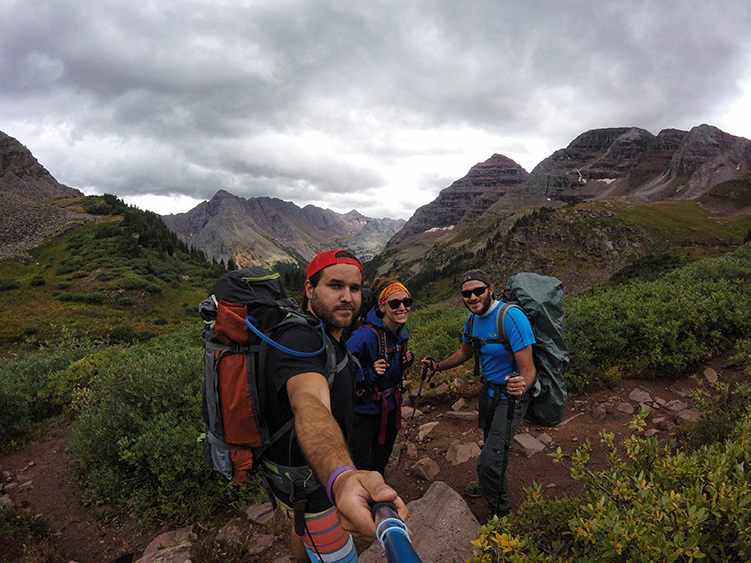 Food
You can buy the dehydrated meals found at REI, Walmart, any camping store and they're not terribly priced. However, we've discovered some meals that are super cheap:
potato packets, spam and string cheese
tortillas and string cheese quesadillas
Tuna and pita sandwich
Mac and Cheese
Snacks:
Trail mix- make your own or buy some
Beef jerky
Protein bars
Energy gummies
Snickers
Dehydrated fruit
Summer sausage
**When buying the tuna and spam make sure you get the plastic sealed kind and not the canned to lighten your pack load.
What spots are your favorite for backpacking? What kind of gear do you find to be the best?