Hawaiian Paradise
It's round 2 for a visit to Hawaiian paradise! Our reason to visit this time was for a friend's wedding. Although the wedding didn't require us to spend 10 days there we found ways to occupy our time. If you're looking for an agenda for Oahu and Kauai, than I've got a great one for you!
Oahu
We spent our first day in Oahu mostly on the North side of the Island. Pablo made sure that we stopped at Seven Brother's Grill for their coconut shrimp that we had on our last visit in Oahu. We went snorkeling at Sharks Cove and one of the guys in our group tore his foot open on the rough coral rock. Sharks Cove is an absolutely gorgeous place to snorkel, but save your toes and wear water shoes. We brightened his mood by fueling up on shaved ice at Matsumotos and watching the sunset. Instantly the islander vibes were working their magic.
The next day was the wedding. We drove to Kahala beach and after vows were spoken, the conch was blown and the bride was thrown into the water (just kidding, she didn't want to follow tradition). We took photos and than the wedding was over. Now onto exploring!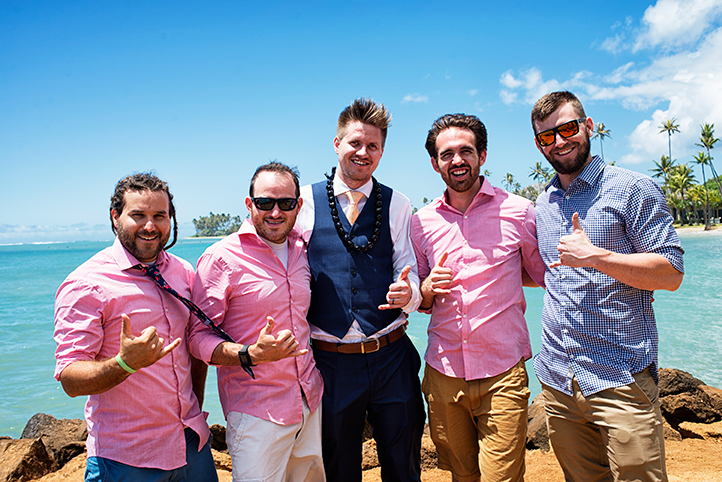 We did an easy hike to Lulumahu Falls and had views similar to the movie Jurassic Park. Wish we'd had a 4 wheeler while on the island! Afterwards we headed to some hidden falls where we could jump from heights as high as 35 ft. We finished off the day by eating Hawaiian BBQ and watching the locals take on big swells as the sun set.
Stairway to Heaven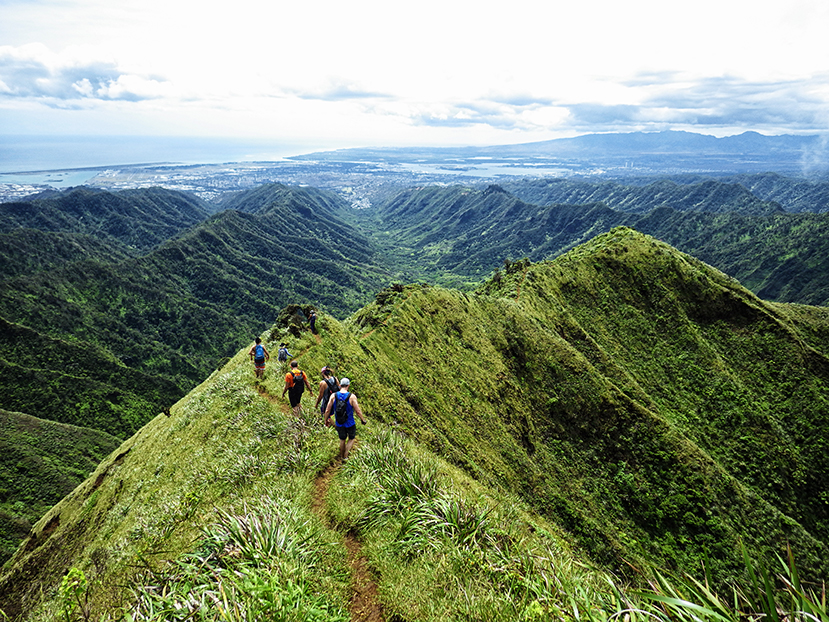 On day 3 we tackled the hike that evaded us last time we were in Hawaii- the Haiku Stairs. The Haiku Stairs are commonly known as the Stairway to Heaven. This hike has 2 sides to it; one side is illegal to hike (the cops and locals have been cracking down a lot on this so you will most likely get a fine), and the other is not. The illegal side takes an hour and a half to walk up steep stairs, and the side we did took 3 hours to crawl up the muddy, dangerous path. It was worth the scrapes and sketchy footing to be in the clouds, then witnessing the views when they cleared.
When we arrived at the bottom 10.4 miles later we were worn and ready to pig out on pizza, but we couldn't get the van started. We killed 2 hours having to entertain ourselves until we ended up taking an Uber to our local friend's where we were staying. Make the best of hiccups in travel my friends, it can bring some fond memories to the mix. We treated ourselves to pizza and our local friend got us mochi ice cream- must try in Hawaii!
If you're feeling adventurous try the musubi (seaweed wrapped spam and rice w/ variations) or poke (diced raw fish, seaweed and kukui nut oil also in variations). I loved the musubi as a snack before hiking, and gag just thinking of what the poke tasted like.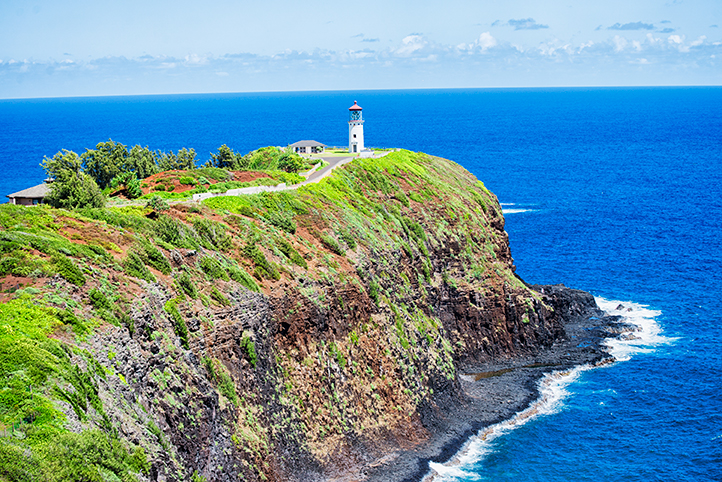 Pearl Harbor
On our last day in Oahu we went out to the Pearl Harbor Museum and visited the USS Arizona Memorial. Make sure you get tickets early in the morning for the free visit to the USS Arizona because they go quickly. After a sombering but educational moment in the history of what happened in Pearl Harbor we had a go at surfing. The swells weren't very big, but I never object to being in the water! The time flew by and suddenly it was time for us to fly to Kauai.

Kauai
This island was amazing, I seriously couldn't get enough and would go back in a heartbeat.
I suffer from the constant need to always be doing something. Kauai fulfilled my overzealous urge to stay active. On our first day on the Island we went snorkeling at Poipu Beach Park, which is a really nice beach for easy snorkeling. Afterwards we headed to Eleele Glass Beach where we spent some time picking out the pieces of glass that had slowly over time been worn into small smooth granules.
Waimea Canyon
We were making our way to Waimea canyon where our cabin was and stopped in town for fish tacos and shaved ice- our constant treat for ourselves while on the island. On the way to the cabin we also drove to Polihale State Park to have some beach time. The cabin was one grand room with the kitchen, beds and fireplace all together which meant talking and laughing late into the night.
The next morning we headed out to hike. First up: Pu'uhinahina View point from 3,400 ft. over what is called the Grand Canyon of the Pacific. Next we hiked 1.8 miles to Waipo'o falls canyon. When we came back there were roosters taking over the parking lot and we decided to share some food with them as a peace treaty.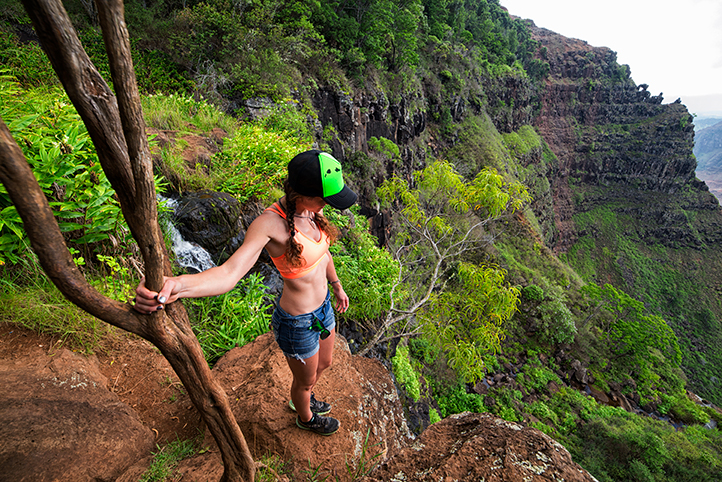 Lastly, we drove to Kalalau lookout, which was covered in clouds. We hiked up to Pu'u o Kila lookout where we still saw mostly clouds. Though the view was being blocked, it was still an amazing hike. We came back down to Kalalau and hiked out to the point until the sun started setting.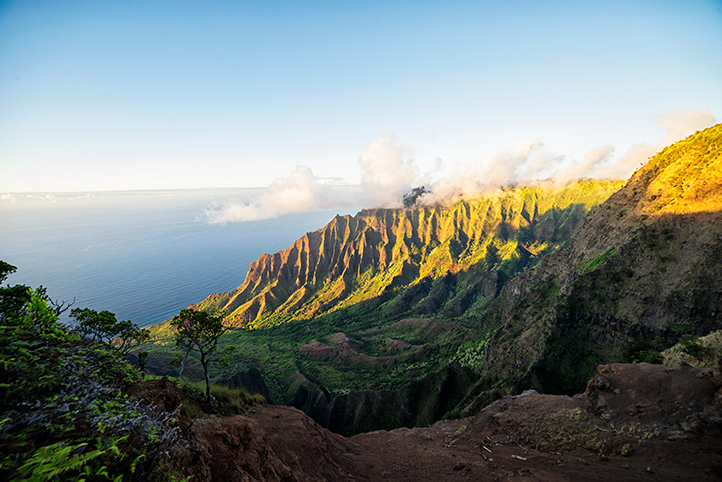 Nā Pali Coast
Up next was one of the things I was looking forward to the most about this trip; camping on the beach. We had to get permits (cost $5 per person per day) and buy a tent at Walmart (since Haena Beach requires you to have a tent). We planned on sleeping in our hammocks, but the tent did come in handy for when it rained! The guys loved how easy it was to pee in the middle of the night, but one of the guys leaned too far out of his hammock while attempting to and fell out. He won't live that down for a while!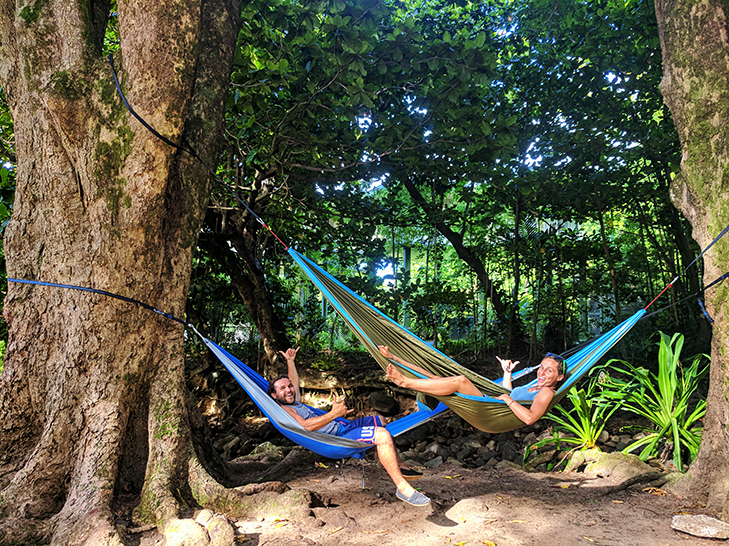 Sleeping in the hammocks was as relaxing as I thought it would be, until the roosters decided to wake everyone up at 5 AM. Since I was awake I went to sit on the beach to watch the sunrise and the other morning birds. Once the guys had their beauty sleep we went on one of my favorite hikes; Hanakapi'ai Falls Trail. It was a beautiful 8 mile round trip hike to a breathtaking 300 ft waterfall. We were drenched in sweat by the time we got to the top so we unhesitatingly jumped in and swam beneath the fall. On our way down we sampled the guava fruit from the trees.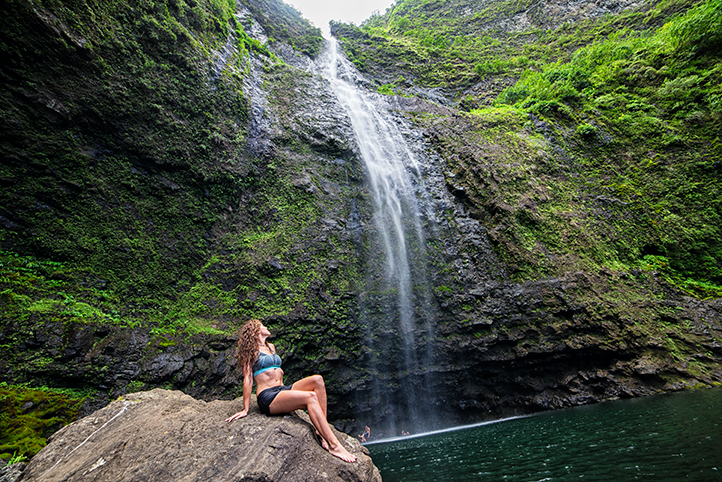 We would've loved to do more hiking and camping on the Nā Pali Coast, but permits were required months ahead of time. Make sure to look into the permits right away because you'll want to work your agenda around it. More amazing activities to do on the Nā Pali Coast include helicopter rides, kayaking and boat tours.

Hanalei
When we got back we ate at one of our usual resting places in Hanalei- a table area just outside of foodland where local artists and songwriters lingered in the chill atmosphere. We went back to our beach where we could see the milky way and stargaze from the shore.
The next morning I awoke early to the sound of roosters again, but was happy getting more out of the day and watching another sunrise. We spent the morning snorkeling and seeing so many colorful fish, some of which seemed to be following my toes a lot! We relaxed on the beach with a monk seal and I was wondering if we'd bother getting on our flight home in a few days.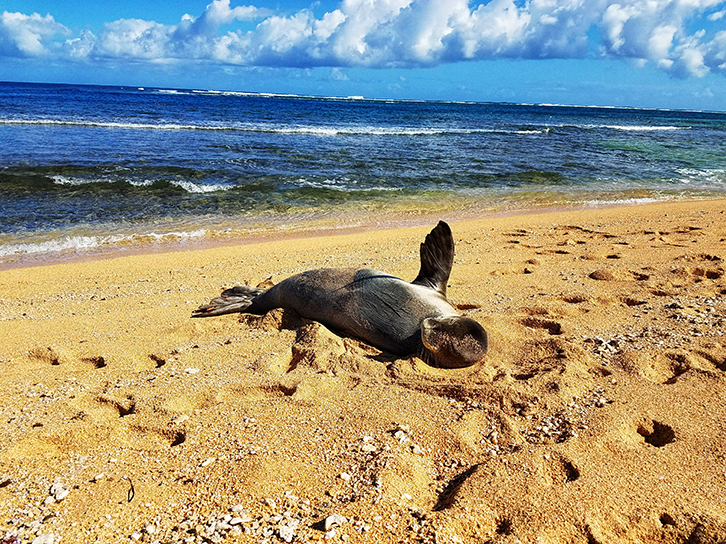 Something I'd definitely recommend that we did was rent stand up paddle boards in Hanalei and paddled up the river (more like a calm stream surrounded by jungle) towards the nature reserve. We could take it at our own pace, practice our yoga and attempting to push each other off the boards. We stopped when there were tall trees we could jump from and had to weave through thick jungle brush. It was one of the coolest routes to paddle board and kayak through.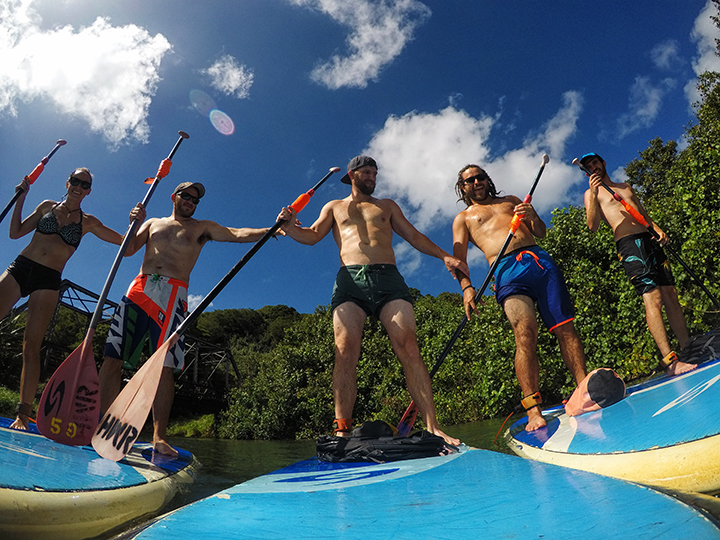 Don't let it rain on your parade
I like the occasional rainstorm, but sometimes it can put a halt on plans. Be careful not to do hikes in flash flood areas, and there are a lot in Hawaii. It rained a few times while we were there, and the best thing was to just go swimming. Pablo found a cool place for us to check out in the rain- Opaeka'a Falls.
After checking out the falls we drove over to some water canals where locals use inflatable tubes and float down. We spent a couple hours driving through mud and getting our 4-wheeling experience, but never found the canals. Nonetheless it was still fun!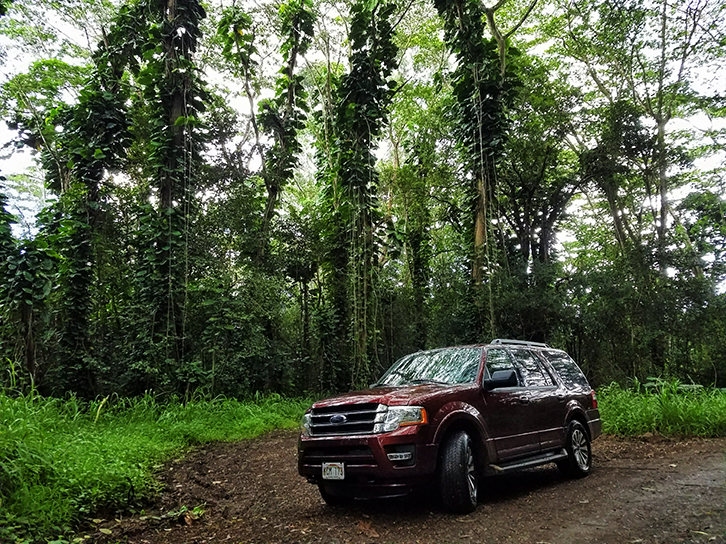 We spent our last night going to Queen's Bath and hiking up as the sun set. The next day we finally got some relaxation in at the beach. It was another amazing trip for the books! Hopefully it won't be long until we're back again for another Hawaiian Paradise.