Hawaii

My brother-in-law Carlos was going to school in Hawaii, so we had to visit him. He was on the island Oahu, we got a hotel 6 blocks from Waikiki Beach. The walk to the beach was through some souvenir stores which was nice. The best part was having someone who lived there show us around. He was our own personal tour guide!

North Shore – Hawaii
If you're looking for a great surfing spot you'll find it at the North Shore! The large swells for experienced surfers are during the winter time (November to February), but if you're a beginner it's best to go in the summer months with the small waves. Even if you're not interested in surfing, the sandy beaches are fun for relaxing in the sun. Also, make sure you visit Matsumotos shaved ice while you are up in North Shore. Best shaved ice around in huge quantities! Smalls are pretty big, so unless you want to eat a lot of shaved ice, or share go with a small.
Dole Pineapple Farm
A fun and tasty experience for the family! The plantation is a famous tourist spot that has a short train tour, garden maze, yummy desserts and… don't forget the pineapple juice! We Enjoyed a pineapple sunday in a pineapple container you get to keep.
Diamond Head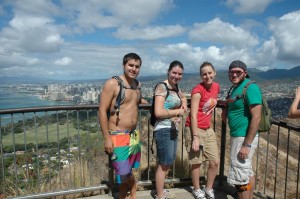 Th Diamond Head Crater, or Le'ahi (brow of the tuna), is a must see on the list of places to visit in Oahu, Hawaii. It is open everyday of the year and is only $1 for people walking in, or $5 for everyone in one car. The trail is a steep incline of 560 feet from the mouth of the crater, but worth the hike for the beautiful view of Waikiki.
Sharks Cove
Considered to be one of the best snorkeling spots in Oahu, Sharks Cove supplies tourists with coral heads and marine life. It is best to arrive earlier in the day due to popularity of the spot, and it can be rocky walking out so I would recommend water shoes. It is a good spot for younger kids since it stays shallow for a while with plenty of fish to watch.

Polynesian Culture Center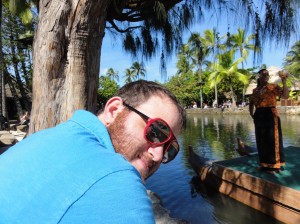 The PCC is a very popular tourists spot in Oahu that is great for families. It is located in Laie, which is about an hour drive from Honolulu. There were performers doing Polynesian dances on the river boats that are entertaining, games that included throwing spears and fishing (even though you're not likely to catch anything), foods to try like fresh coconut bread and poi (not a huge fan of poi! It is made from a root and has a very bland taste, but definitely interesting to try), boat rides and more where you can learn about the different Polynesian cultures.  In the evening there is a Luau.
Carlos had a friend working at the PCC as an announcer for the luau and Carlos told him it was Pablo's birthday. When the dancers came on he called Pablo up to dance with them, and he had some moves! After the luau there is a live show called Ha- The Breath of Life that is included with your luau ticket and that's where you will see the fire dances. We went in October when the Haunted Lagoon was open, but wasn't prepared for it so make sure to get your tickets ahead of time!
Pearl harbor – Hawaii
A historic landmark of Hawaii to see the battleships from World War 2, and to learn of the attack that brought the U.S. into the war on December 7, 1941. You have to schedule a separate tour of the famous USS Arizona, and plan plenty of time to be able to see everything.
Electric Beach
Kahe Point Beach, also known as Electric Beach is where we did a lot of fun snorkeling. The water is warmer due to the power plant's cooling pipes.  The pipes are located about 100 yards out and if you swim down to them you get sucked in and pushed back out, but make sure you don't get too close. It can be hard getting out from the shore, and gets deep quickly so make sure you are an experienced swimmer. We were able to see plenty of marina life around the coral and even a green sea turtle!