Car Camping in New Zealand's South Island
Car camping through New Zealand is the best way to see as much as possible in a short amount of time. We went car camping in New Zealand's South Island and it was easy to rent a camper van, and to find camping spots since it's a common way of travel on the Island. Even if you're not a fan of camping, this would be a great way to try it! You can still eat out and find showers at campsites if you need a break from being in the van, and of course make plenty of stops along the way!
Getting Started
Our first plan of action after landing in Christchurch was to take the rental shuttle and pick up our camper van at Happy Campers. The campers were nifty with the ability to convert from a dining/hangout area into a bedroom with a kitchen in the back. We scoped out what the camper van had in terms of cooking supplies and headed to the grocery store to pick up some easy road trip meals. Afterwards, we went to the library for free WiFi to do some work online.
While using the library WiFi we were able to find out information on campsites and where we were sleeping that night. In New Zealand there's the department of conservation (DOC) that provides campsites throughout the island when you buy a pass. It ended up being cheaper and simpler for us to buy the pass then to figure out each campsite's individual stay requirement.
Moeraki Boulders
The first night we stayed at Glencoe Campsite and settled into our new mobile home for the week. When we woke up the next morning we drove 30 minutes from our campsite to Koekohe Beach. People visit Koekohe Beach mainly to see the Moeraki Boulders. There's free public parking just a little ways away from the cafe in Koekohe, which charges people for beach access.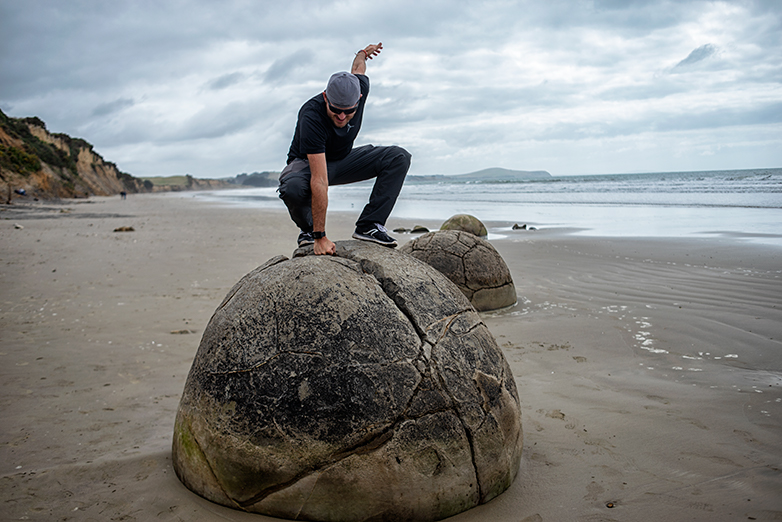 The Moeraki Boulders are famous spherical boulders that are part of the Vanished World Trail. The Boulders dot the beach, some split open to reveal the amazing path of formation over the past millions of years. It's a nice beach for playing in the water if the weather is right, but it's also perfect for walking along.
Baldwin Street
We drove along the coast to Dunedin see the steepest residential street, Baldwin Street. Camper vans weren't allowed on the street, but we hiked up the road to see it for ourselves. It was like hiking up a mountain!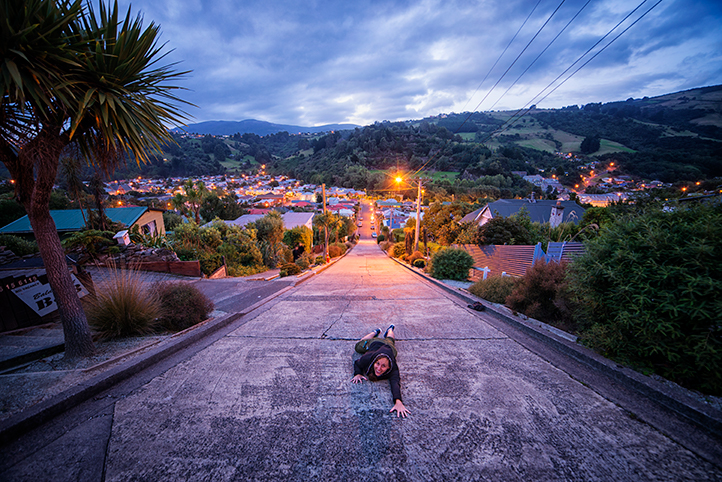 Queenstown
With more dramatic landscapes passing us by we made our way to Queenstown. We walked the town watching entertainers and the sun set over the dock. Dinner was made up of meat pies and hot cookies at Cookie Time where the workers rolled around like derby gals. That night we stayed at the Boundary Creek Campsite, stopping at Cardrona's bra fence where hundreds of bras are continually added to the fence.
Fox Glacier and Franz Josef Glacier
Out of the two, Fox and Franz Josef, the Franz Josef Glacier was a cooler experience for us since we could hike closer. However, Fox and Rob Roy should be on your list if you have more time for hiking.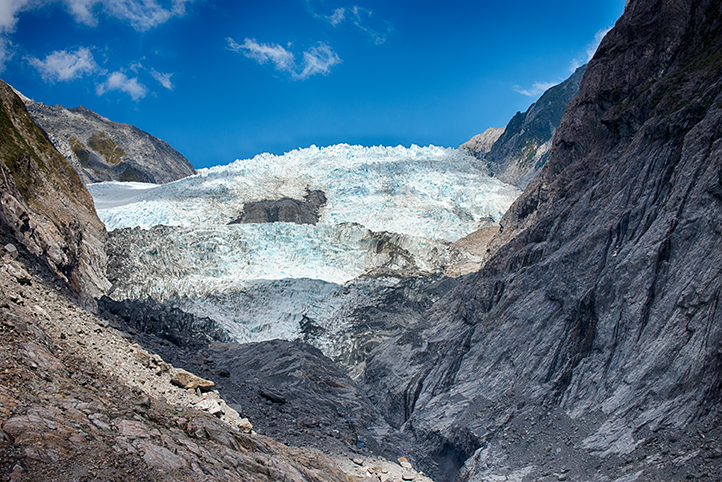 Hokitika Gorge
We were in New Zealand at the beginning of March and the mosquitoes in Hokitika Gorge were aggressive, larger than our Utah mosquitoes, and wasted no time in sucking our blood. We would stop to take pictures and they would be on us in seconds. It was disturbing to feel them land on us knowing we had to hold still for a picture while seconds felt like minutes until we could finally slap them away. Aside from that, the sharp blue water was amazing!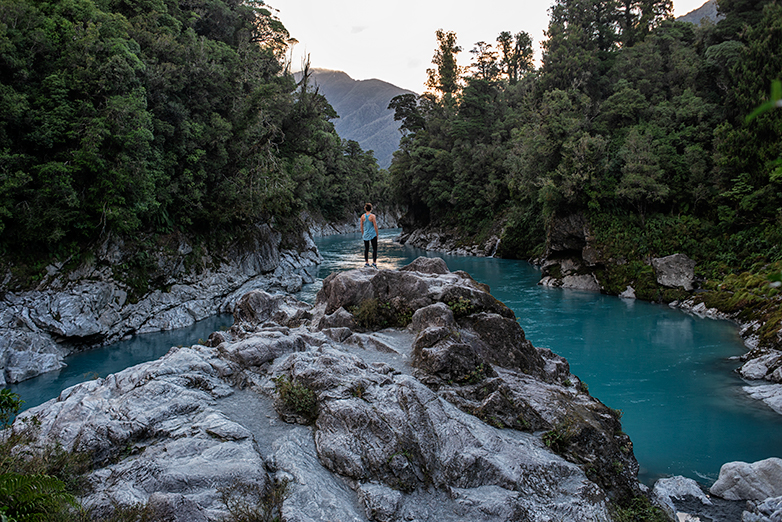 When we'd donated enough blood we left, driving through flat country land. As twilight was coming closer, a fog began to lift over the farm fields. The sun began to set and made a brilliant pink and orange combination above the landscape. I wanted to live in these moments for the rest of my life… minus the mosquitoes.
Castle Hill
On our last day we drove through Arthur's Pass to Castle Hill. Castle Hill is where Narnia (among other films) was filmed. The area was large enough for us to climb on rocks and enjoy space from other tourists. We pretended to reenact war scenes from Narnia with no judgement, only silent boulders as spectators.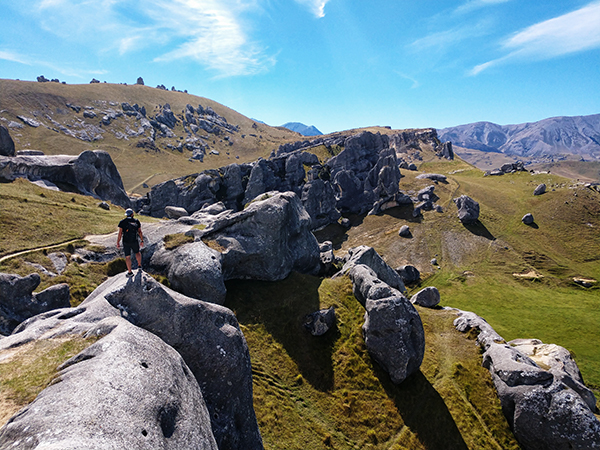 New Zealand was an amazing combination of ocean and mountain with constant changing sites along the way. I couldn't think of a better way to experience as much of it as we could in a week than by car camping. Seeing the milky way and thousands of stars from our bedroom window every night was worth skipping the shower for days.