Island hopping in El Nido
After spending 2 days exploring Puerto Princesa we took a shuttle van North 6 hours to beautiful El Nido where we would spend 3 days island hopping.
Once in El Nido we were stoked to get out of the van and stretch our legs as we walked along the Taytay "highway" to our hostel. After getting rid of our backpacks in our dorm room we headed out for some grub. It was beneficial to have accommodations a little ways away from all the noise by the harbor, but it did mean walking 20 minutes. It was worth the walk though since it gave us another chance to see the pieces of culture left despite tourism.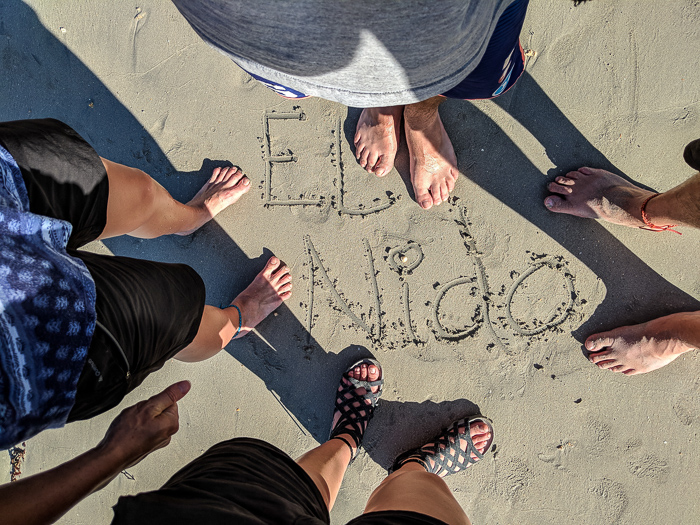 Finding an island hopping tour
The foot traffic and number of scooters increased the closer we walked to the harbor. It was fun weaving through all the obstacles and my eyes were trying to watch as many directions as possible. After checking out a variety of restaurants on the tourist strip we decided on a quiet Greek restaurant void of walls facing the harbor. It was nice to relax and drink smoothies while watching the boats arrive from the day excursions.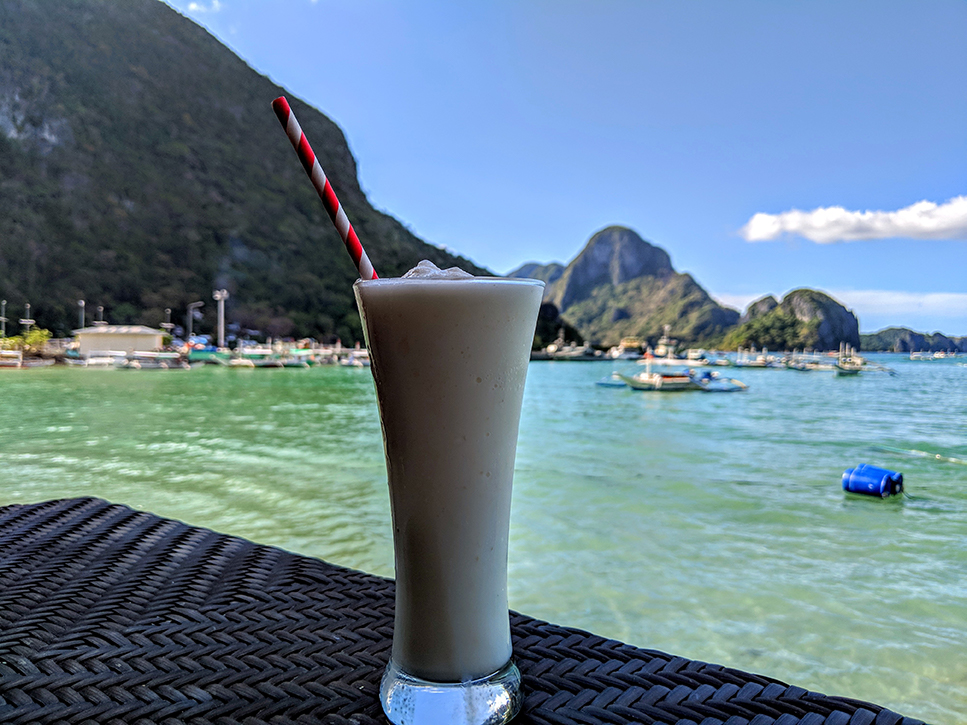 Once we'd refueled we checked out different tour agencies to book island hopping for the following day. After getting a few quotes and knowing the base price we went with a tour that would take us to 5 different islands for 1400 PHP/ 26 USD per person. The tour included food, water and snorkel gear. I wouldn't recommend booking ahead of time online in the low season, you can get a better deal with one of the many tour agencies.
The islands
Our tour group of 12 gathered at the docks in the morning and set off on our little boat. Yet again we were setting out on a rickety little boat with a group of strangers to an adventure, and I was loving every minute of it. I couldn't tire of feeling the wind and salty water spray and looking out at all the jagged islands. I was in my happy place.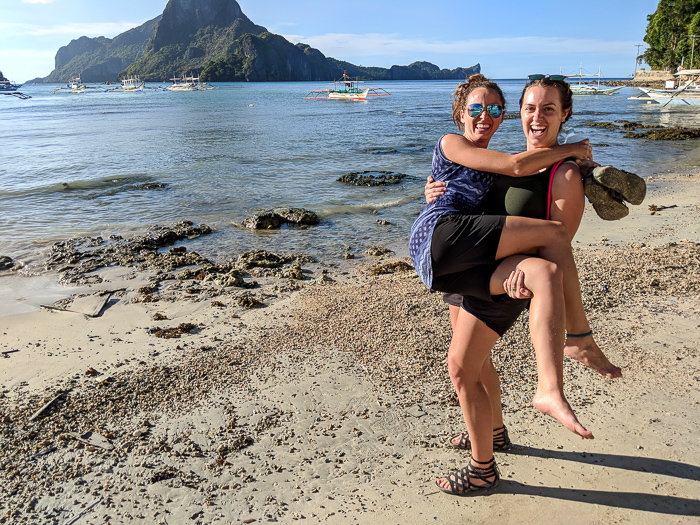 At our first stop we broke out the snorkeling gear and hurried to the water. I was excited to see a large sea turtle swimming away, but once I got Melissa to come look he'd vanished. I'd been too distracted in my excitement of telling her that I didn't pay attention to what direction the turtle had gone. Our disappointment in losing the turtle didn't last long since there were all different types of amazing fish to see among colorful coral.
Star Beach and Matinloc Shrine
Star Beach and Matinloc Shrine are just opposite of each other so we stopped for 15 minutes at the Star Beach and then skipped over by the Matinloc Shrine for another 15 minutes. We didn't go up to the Shrine itself (and I don't think we missed out) because our group wanted to snorkel around instead, but we still had a view of it.
As we peered down from the safe surface we could see the eerie dark abyss that dropped off from the reef. Nemo was a brave little fish to be going off the drop off and swimming out to sea! I always freak myself out thinking of what may be lurking in the deep beneath where I'm swimming.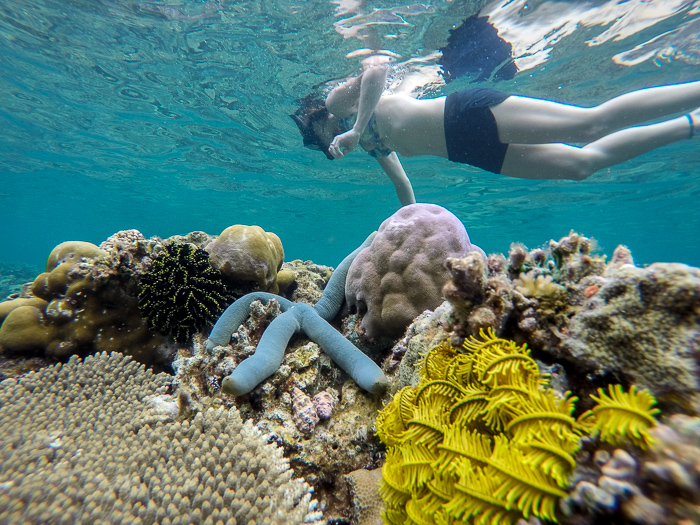 Secret Beach
I'm sure when all these tourist spots were first discovered they were certainly a secret. However, when we arrived at the outside of the Secret Beach we weren't the only boat group there. Since the only way into the Secret Beach was by swimming through a crevice wide enough for one person it bottle necked a little. One by one we swam through like little ants pretending what it would be like to discover this beautiful haven in solitude.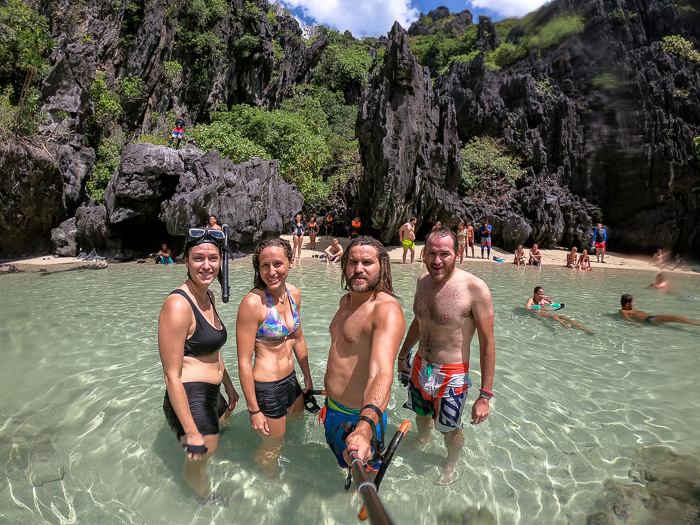 Secret Lagoon
We stopped for lunch in the Secret Lagoon (which again didn't seem so secret). Our boat crew brought plates of food on a kayak and I wanted to eat like that everyday for the rest of my days. Once it was all splayed out on the table our mouths watered over the impressive assortment of fruits, veggies and seafood. It was a buffet meant for a sea king and we ate like royalty while the beach dogs crowded around for the leftovers.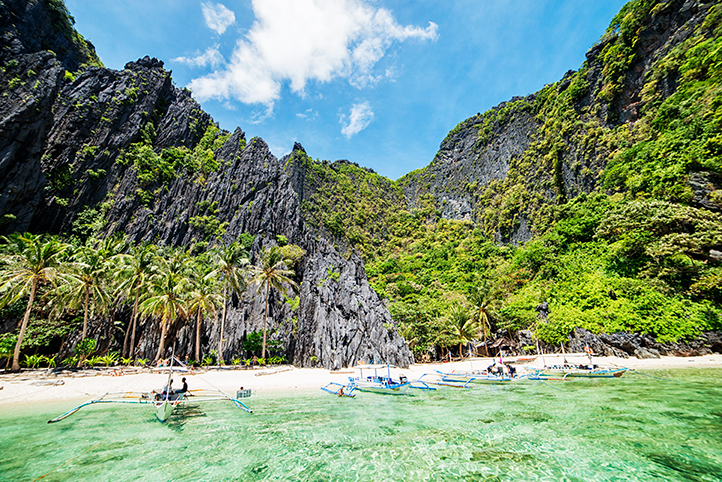 Big Lagoon
As we entered the Big Lagoon I had to question the reality of this place. The water was clear to the bottom and the colors were of the most vibrant blues and greens. In order to allow everyone their chance at taking pictures the captain slowly cruised to the end and back out of the Big Lagoon. Since we were going slow enough I could finally sit out on the side of the boat without the risk of falling off or being sprayed in the face the entire time.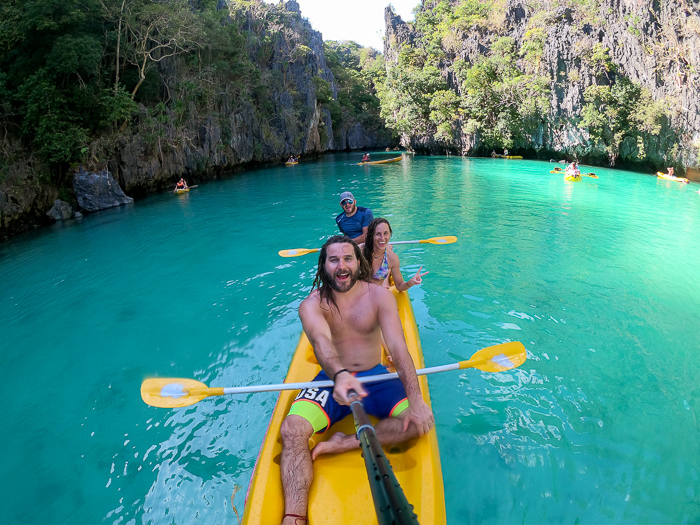 7 Commandos Beach
Before heading back we relaxed on the 7 Commandos Beach. There were people scattered all over the beach soaking in the sun and music while enjoying drinks. Even though we'd been snorkeling all day Melissa and me got right back in the water with our masks on. The fish and coral were not as impressive in comparison to our previous stops, but we were able to spot a few zebra fish.
Island life is the best life
We were all sun kissed, caked in salt and happily exhausted when we cruised back to our harbor. When we got back to our hostel the water shut off while I was scrubbing shampoo into my hair. I toweled off and was grateful to have gotten a little salt off. We were going back to the ocean tomorrow so what did it matter anyways!
That night we walked through the streets and down to the beach to catch the sunset. It turned from hues of orange to pink to purple and I stood mesmorized with feet rooted to the ground. I never get tired of watching sunsets change colors, but everyone was hungry so we watched from the balcony of Thery's Burgers.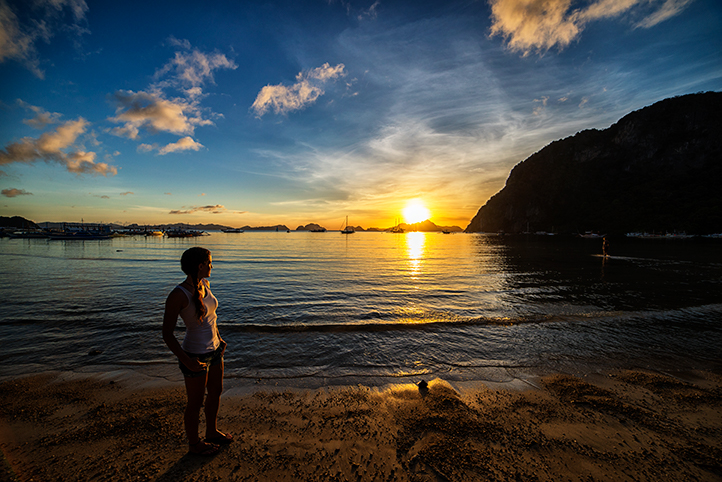 Kayaking
With our last day we rented kayaks near Telesfora Beach Cottages. 7 Commandos Beach was close enough that we could kayak over, spend a couple hours and then head back in time to catch our van out of El Nido. On our way to 7 Commandos we kayaked through holes in the rocks, and were loving the views. It started to heat up quickly though and I wanted to jump in to cool off. Just as I was about to jump to the side of the kayak me and Pablo spotted a large jellyfish (about 2.5 feet long) with brown tentacles. I decided to stay in the kayak and wait until we got to the beach to cool off.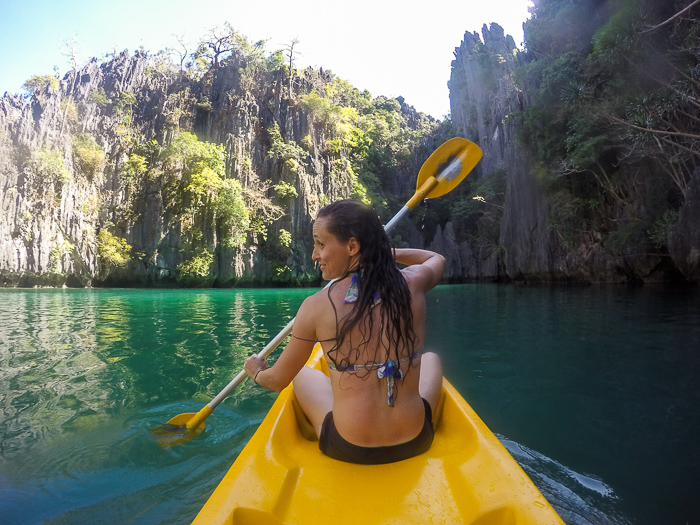 The scene at 7 Commandos Beach was opposite to the previous day. Instead of groups swarming the beach, there were only a handful of people. The music was turned down and we had the beach swing to ourselves. We played basketball, made a new friend with one of the beach dogs, had hamburgers and relaxed on the sand.
I've been to a lot of places in the world, but El Nido surprised me by turning out to be one of my top favorite destinations. I love the island life and all that comes with it so maybe it shouldn't have been such a surprise after all.
A whole van of sardines and musical chairs
On our way out of El Nido we realized in the first half hour of the trip we had a long road ahead of us. The first hour in the van was spent with our driver shuffling us around in the seats, with no explanation as to why, and stopping pointlessly at several locations. All of us backpackers in the van had had enough and started to revolt against the drivers. After arguing and staying planted in our chairs we were finally on the road, still clueless as to the point of it all.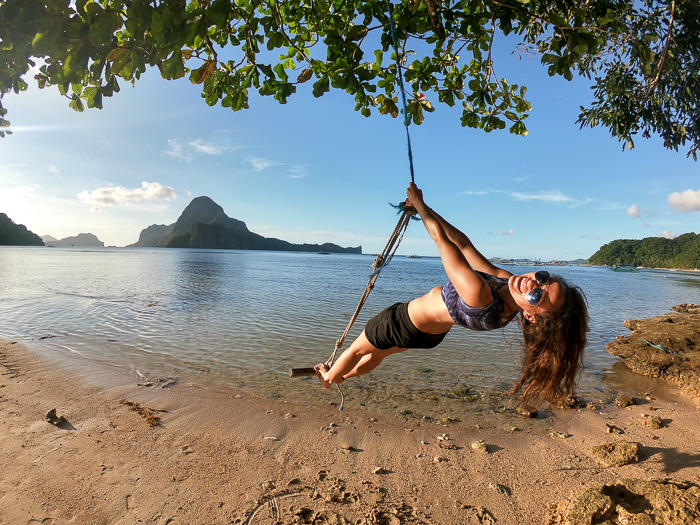 We made several 15 min. breaks along the way (mostly so the driver could smoke), which was nice to stretch and go to the bathroom when needed but it certainly stretched our drive time. Thankfully we had our gadgets so we could watch TV shows downloaded from Netflix. As I was watching an episode of Breaking Bad I realized the locals we'd picked up were watching over my shoulders. When I glanced back they were peering over each other and straining to see the small screen. I propped my elbows on my knees and leaned back so we could all be entertained.
At some point in our drive a cat came running across the road and one of the girls in the front cried out in alarm. The driver swerved and then corrected before hitting it. A little while later the van started to have troubles and we had to make several more stops to see what was going on. By the time we arrived back in Puerto Princessa everyone in the van (drivers included) were done with the entire drive.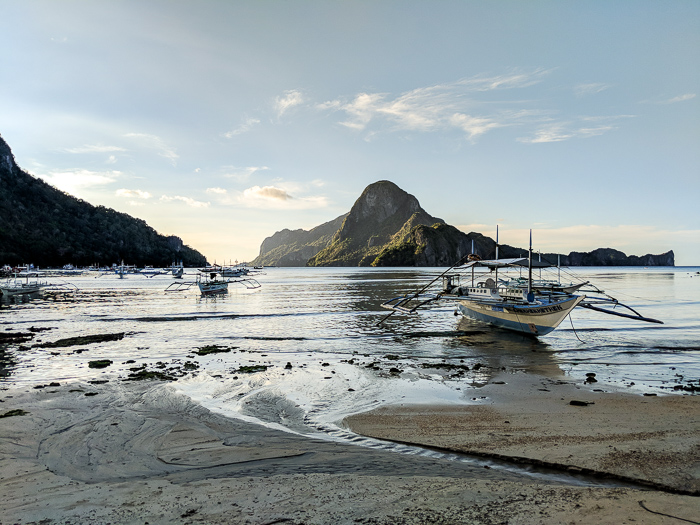 I'm on my way
Once in Puerto Princessa we walked to our AirBnB at a gay couple's house. We were welcomed like old friends and given some of their food from the fridge. The next morning we packed into another small auto rickshaw, bags hanging out the sides and back. These things become normal for us quickly. The more we bounce from culture to culture the easier it is to lose ourselves in each one, no longer belonging to just the American culture, but creating one new culture of our own.
Another plane to a new destination. Oh wandering feet of mine, when will you be satisfied? ….Hopefully never 🙂
**A note to those using the Manila Airport… It's a split airport so if your flight is before 5 AM you will not be able to receive a shuttle to your gate. You'll therefore be left to the mercies of taking a taxi or an Uber. Try to be discreet with Uber in this part of the world, they are greatly unwelcome by the taxi mafias.