From temples to waterfalls, our favorite places in Bali
The secret about Bali's beauty has been out for a while, it's hard to keep quiet. It's a popular vacation destination and for valid reason. From the countless temples to just as many waterfalls we could get lost in it all for weeks, and that's what we did. For 3 weeks we tracked down our favorite places in Bali.
Near Seminyak
When we first arrived in Bali and drove to our bungalow by the Potato Head Beach I made an instant and unsavoury observation. There were tourists everywhere. I know this was for good reason though; Seminyak is close to several nice beaches and sightseeing spots. Once we took off on our scooter we were able to get a small reprieve and experience the local life. We were also out to find what makes Bali so popular among tourists.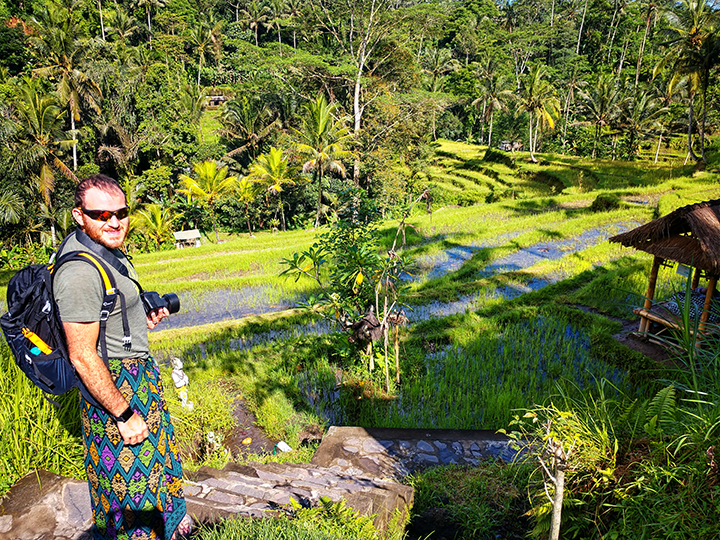 Purah Tana Lot
Resting on the dramatic rocky perches lies the Purah Tana Lot. Purah Tana Lot is a hindu temple that's amazing for photography. After marveling at the beauty of the temple we walked around the Beraban Village. There were several vendors selling trinkets and a random cafe that had exotic animals roaming around. Including a bat, just hanging around licking his genitals. I think bats are so cool and it was awesome to be so close to the largest bat I've ever seen! (Even if he was trying to have a moment to himself)
Uluwatu Temple
As we walked towards the Uluwatu Temple I wondered if there was a place in Bali that didn't have an amazing backdrop. I couldn't be too distracted by the scenery however, there were thieving monkeys everywhere. I'd become distrusting of monkeys ever since my experience in Gibraltar.
I was reminded of their scheming ways when a ridiculous tourist began screaming bloody murder because a monkey had stolen her sunglasses. A local vendor came to the "rescue" and threw two bags of fruit at the monkey so he would drop the now unimpressive sunglasses. He then charged the tourist money for the bags of fruit he'd given up.
Green Bowl Beach
Since Bali had stores of trash washing up on their shores during the monsoon season we were in search for nicer beaches. Green Bowl Beach is located at the Southern tip of Bali so a lot of the trash washes on by instead of sticking to the coast. The water is clear and the caves on the beach make it unique. My favorite thing about this beach was the seclusion. It's a small but steep hike down to it and not a lot of people were there.
Near Ubud
Tirta Empul
Tirta Empul is a Hindu Balinese water temple where people wash in the holy spring's water. Locals and tourists alike dip their heads under each spout cleansing in the holy water. If you want to participate in this, I recommend having an understanding of the religion and it's practices in order to make the experience more enriching.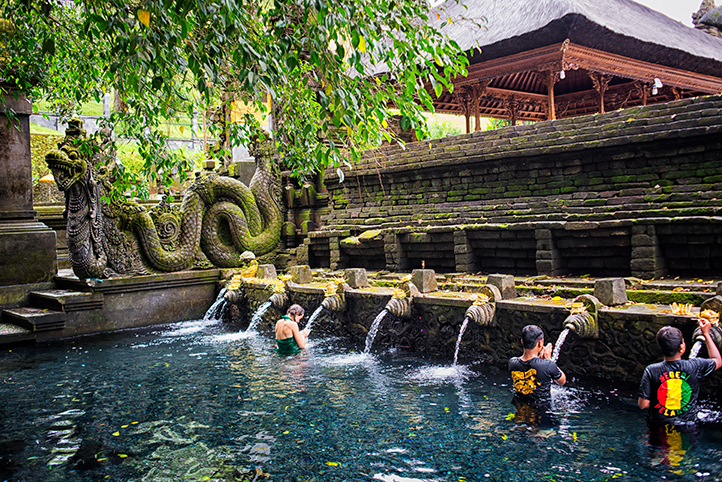 This was my favorite temple to visit. One, for the obvious reason that there were beautiful water features, but also because there were gigantic fish in the pond. I wondered what the fish would do if I jumped in, eat me or swim away? That's probably why they've gotten so large, too many tourists wanting to find the answer.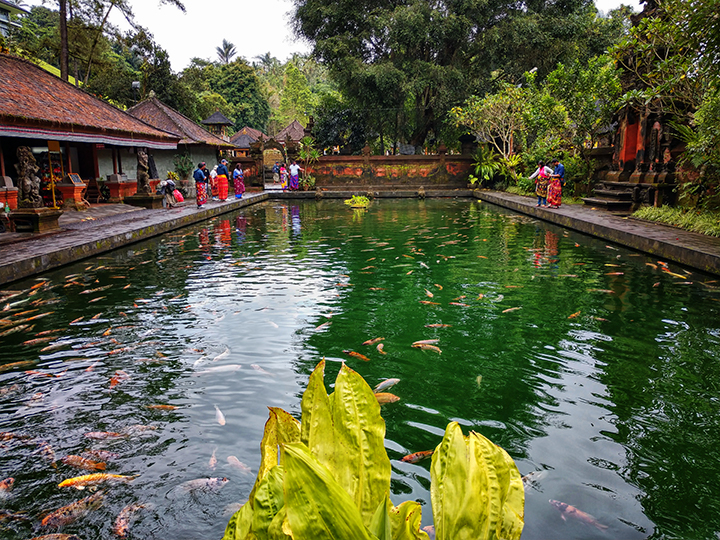 Couple things to note before visiting the temples… Normally when visiting temples in other countries modest dress is stressed. However, every temple we visited everyone wore a sarong or sash around their waist. Most people were dressed in beach clothes with sarongs on top. Another forewarning is that women were prohibited from entering temples and other sacred sites during their periods.
Gunung Kawi
The last temple on the list is the Gunung Kawi Temple. As a local put it, Bali has too many temples. That may be true, but I couldn't leave this one out. The Gunung Kawi is unique for it's ancient shrines carved into the cliff walls.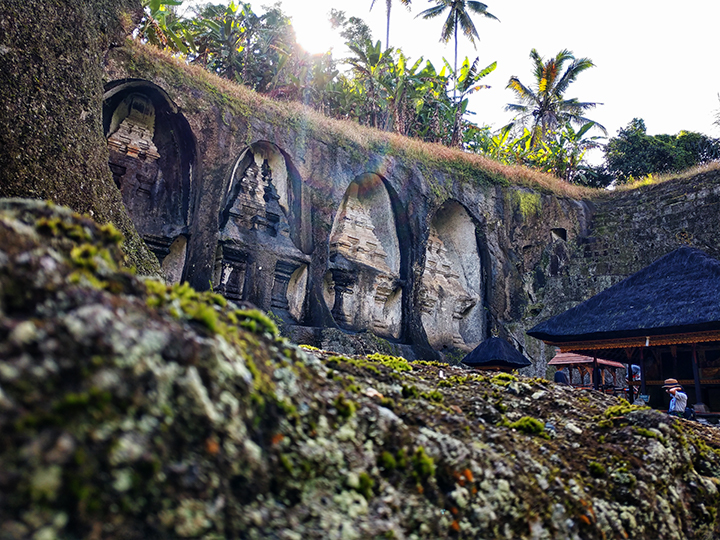 As we walked around the complex women were carrying buckets of wet cement to finish off areas of the temple grounds. The interesting thing was how the women carried the buckets, on their heads. I'd noticed that in other Asian countries, that people would carry different large items on their heads.
Chasing waterfalls
Ironically enough we stayed in Lovina, but didn't actually spend much time in the area. If we'd had more time we would've gone to the beach and went searching for dolphins. It was recommended to us that we could hire a boat trip for cheap and it'd be likely to spot dolphins. What we did do was visit as many waterfalls bertween Lovina and Ubud as we could (there are a lot in Bali). Here's our favorites:
Gitgit
There is an entrance fee of 40,000 IR and parking fee of 2,000 IR for the Gitgit waterfall. The collectors for the fees were organized and official looking despite places like Tagalalang rice terrace.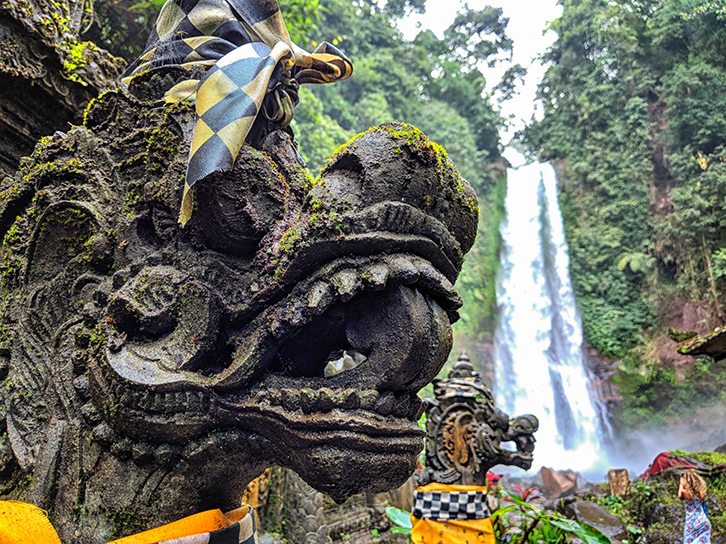 Gitgit twin (air terjun campuhan)
The scenario was identical to that of gitigit, entrance and parking fees were the same. There were vendors lined up along the way and the kids following us for a time trying to sell us trinkets. Since we don't usually pick up souvenirs along the way we only smiled and talked to them.
Tibumana Waterfall
When we came to Tibumana there was a local who was chasing us down trying to communicate with us. Turns out he was charging us an entry fee which we ended up paying after his friend explained. At first we thought it was another tourist trap, but he showed us the pay booth and we felt bad for the misunderstanding. We continued to talk with him though and there were no hard feelings.
The locals really are some of the sweetest people I've had the fortune of interacting with. When we would drive by on the scooter I would smile and wave at strangers and instantly they'd wave back with a huge smile on their face.
What's the country without the food?
It can be surprising how difficult it is to find authentically good food when traveling, particularly when trying to stay on budget. The Balinese food is amazing, we just had to search deep enough for it.
Our picks for restaraunts
Hana Warung: in indonesia a warung is a small, family owned business such as a cafe or restaurant. Warungs were our favorite cheap places to get authentic food. The Hana Warung was our favorite due to the wide variety, large portions, and delicious food. Make sure to try the kwetiau goreng, ayam kelapa, mie goreng, satay, nasi goreng and nasi kuning!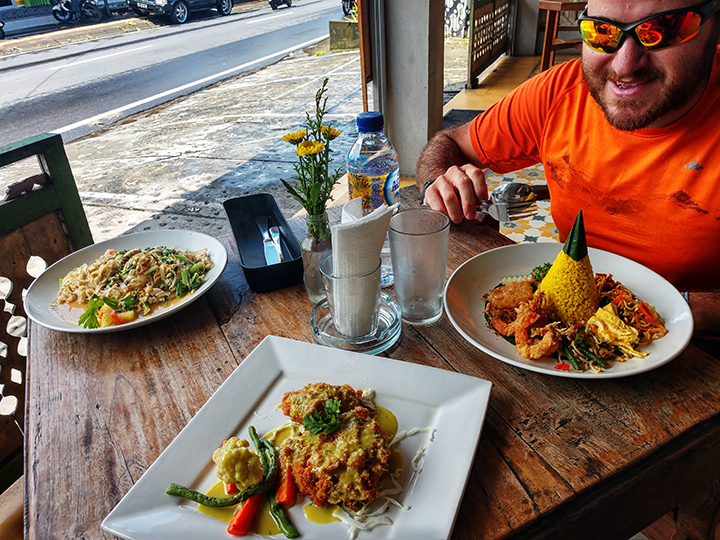 PIT STOP: a burger joint perfect for when you want a break from local cuisine and needing a piece of home. Burgers may not be a traditional Balinese food, but burgers at the Pit Stop make Johnny Rockets look bad.
JFC: a rip off of the KFC back in the states, but sadly no biscuits. This was an incredibly cheap but filling and tasty place to grab a bite. We got our meal consisting of a fried chicken piece and a ball of rice that we ate like a roll.
Green banana pancakes
Fortunately our home stay made us authentic Balinese breakfast every morning. This included rice pudding, urap jagung (sweet corn with coconut), coconut pancakes and green banana pancakes. The suji plant is what makes the pancakes green, then they add in other amazing ingredients (like honey and coconut) and you've got an addictive breakfast on your plate.
Each meal was served with fresh fruit- bananas, papaya, dragon fruit and watermelon. There were also fruit stands everywhere so we could make smoothies out of all the readily available produce. We were also able to sample new fruits we hadn't before, like the salek, or "snake" fruit.
Bali was all around pleasing to our palates, adventure seeking and relaxing island expectations. I hope our experiences have given you some inspiration for your travels to Bali. If you want more ideas of how to experience beautiful Bali check out our Bali By Scooter post, and if you have time for surfing check out our experience with one of the best surfing classes.
Have you been to Bali? What are your favorite places?