Ancient Temples of Java
After spending a relaxing 3 weeks in Bali we headed over to Central Java, into the city Yogyakarta (prounounced Jogjakarta or Jogja for short). Java is a province of Indonesia, just West of Bali and has a lot to offer tourists. Carlos and Melissa were joining us, and we were setting out to explore the ancient temples of Java.
Prambanan
After traveling through the night, Carlos and Melissa coming the long route from the U.S., we dropped off our bags at our Airbnb and headed out to the first temple; Prambanan.
As we made our way onto the temple complex a light rain started that quickly turned into a down pour. Tourists were running to seek shelter under the temple domes and we searched for an open spot. We ventured in the dome as deep as we could go shining our flashlights at the ancient carvings while the rain echoed in the background.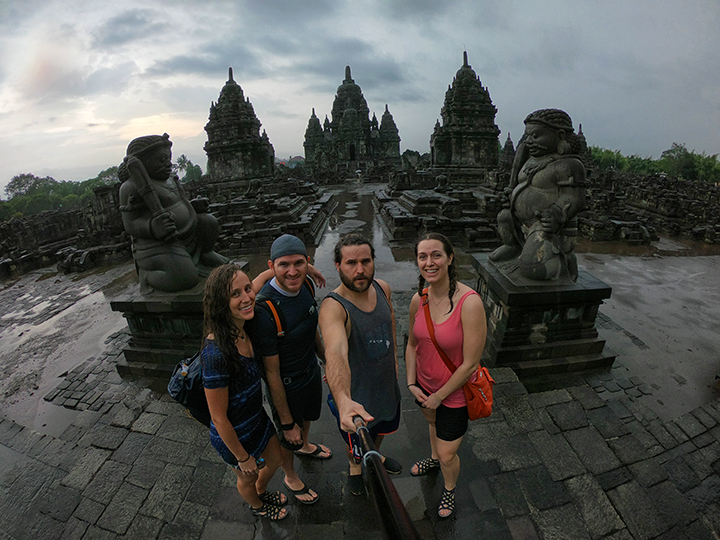 As we'd searched for a place to wait out the rain it hadn't taken long for our clothes to soak through. After a few minutes in the dome we decided that the rain wasn't going to let up so there was no point in waiting. The other tourists watched from the dry cover of the temples while we were splashing through the grounds and laughing at Carlos trying to ring out his shirt. Our jet lag seemed to have washed away with the rain.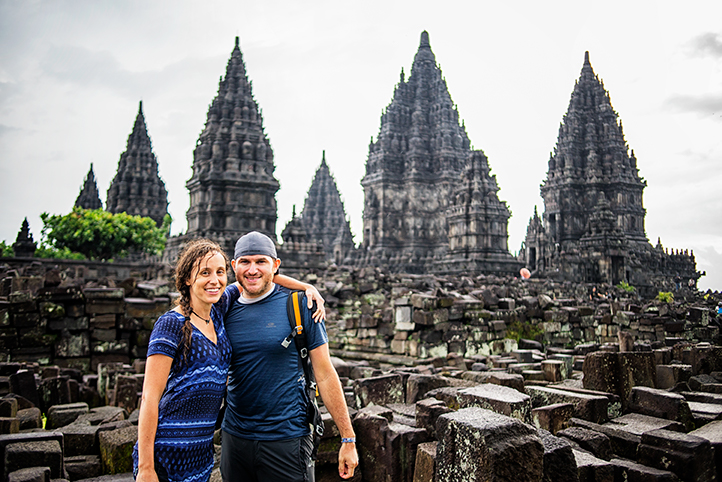 Borobudur
After a rainy first day in Prambanan our second day at the Borobudur Temple was sunny and hot. As we came up to the face of the temple I thought it looked like a seven layered cake with candles at the top. Maybe that was the heat stroke kicking in! It seemed like we were all melting as we climbed the stony steps and started watching for grey clouds.
Borobudur is the world's largest Buddhist temple and was built in the 9th century. I felt in awe being able to witness yet another ancient creation that has remained preserved from time. We sat at the top staring past the bell shaped stones at the jungle views. It's incredible to imagine how such architecture was created with simple tools.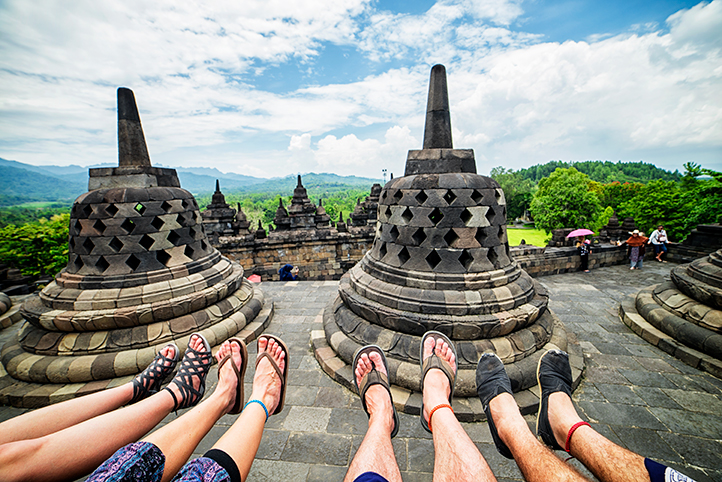 Just like we experienced in Prambanan there were kids swarming us wanting pictures as we walked the temple complex. These kids were pros at taking selfies and acted like they were taking pictures with movie stars! Or, more likely, that it was because they thought white people were funny looking…
Our inside man
After our first day in Prambanan we used a grab to get back to our place. Soaking wet we apologetically climbed into this local's car (which was a very nice car). After talking with the driver about nearby sites to see we asked him how much he would charge to drive us around to a few of them. He quoted us 400,000 IDR (29 USD), and we scheduled to meet him the next day.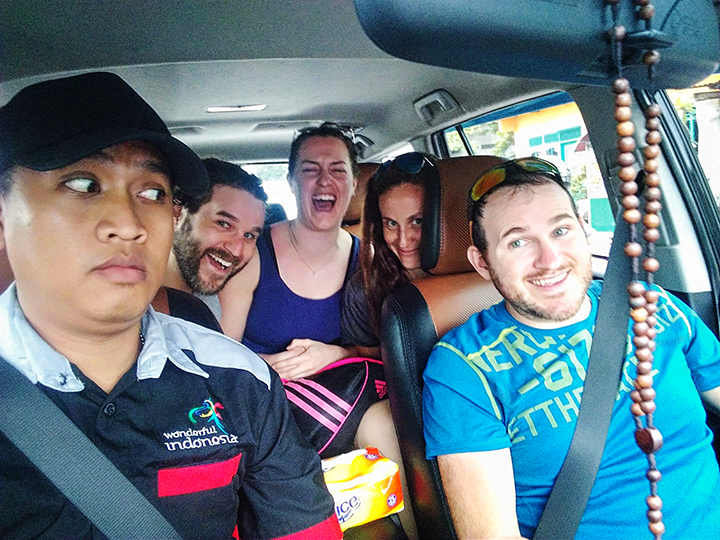 The first thing we noticed after getting in his car the next day was that he had a box of tissues displayed for us (just in case we risk soaking his car again). He spoke English pretty well, but when we talked fast we could tell it made it difficult. It was entertaining driving around because he would imitate us when we would sing or speak quickly.
Our driver, Angga, was a great tour guide as well. He walked us up to the temple entrance past the hoard of vendors and met us at the exit a couple hours later. He also took us out for lunch to a place where all the locals go and had an authentic experience. Some of the food was incredibly spicy (even though it wasn't near Indonesian's level of spicy). We talked to Angga about why we use utensils versus our hands and he thought that was strange.
Pinus Pengger Forest
After lunch we had time for one other place to visit. Angga drove us to Pinus Pengger Forest just under an hour away from Borobudur. The entry was free, and we just paid a small parking fee of 10,000 IDR (0.73 USD). Then we were free to explore as we followed the dirt paths to the different lookouts over the city.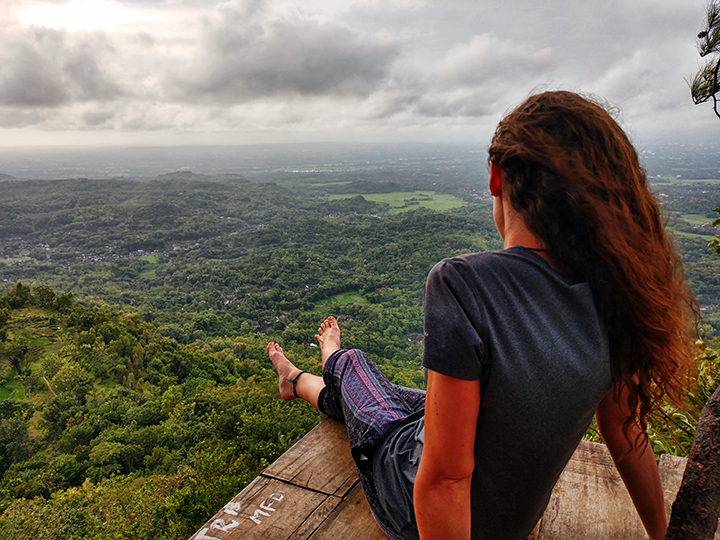 We felt like Tarzans and Janes as we climbed the swaying tree houses looking out at the jungle city. Then it felt like being a lost boy when we explored the artwork of tree homes spread out through the forest. As we walked through the whistling pines it all felt so random. The forest was strangely out of place in the middle of a tropical island!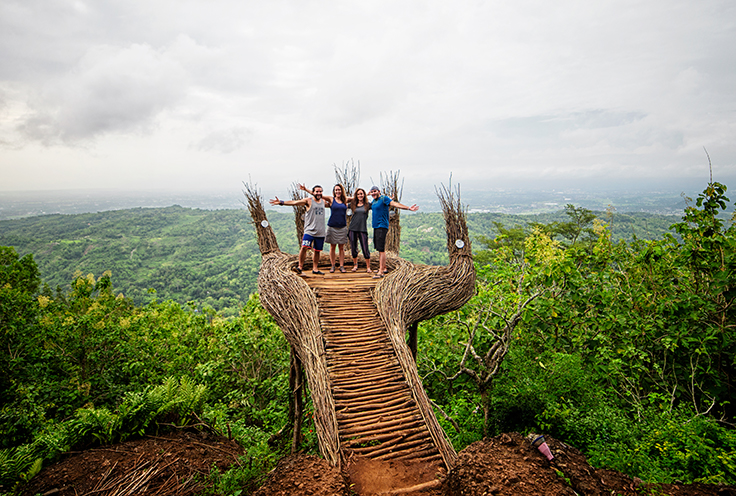 At the end of the day Angga invited us over to his house for dinner and we gratefully excepted. It took us a while to get to his home so it was later than we'd planned. Since we had to pick up our laundry from a local business before closing hours we couldn't stay as long as we would've liked. We spent a little time talking with Angga about his life in Indonesia and then headed back to our place.
It was very convenient to book with Angga to drive us to the airport the next morning. We organized for him to pick us up at the same place he did before, just down the street from where we were staying.
In just a couple of days we'd met a new friend, learned more about a different culture and made some fun memories. Our trip was starting out on a good foot and we hadn't even gotten to our most exciting places yet! We were onto our next adventure as we boarded our plane to Komodo Island.
How do you prefer to explore? By foot, car, bike or some other mode of travel?