NEWBORN Kosovo
We took a day trip to Kosovo while we were staying in Skopje, Macedonia (FYROM) and it was enough time to venture around the capital, Pristina.
We paid a visit to:
Bill Clinton Statue- Why are his hands so big compared to the rest of the statue?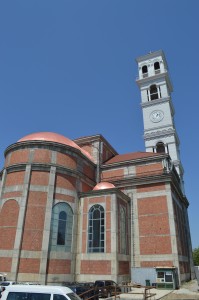 Mother Teresa Cathedral
Pristina National Library- Which seemed broken down and abandoned. Unfortunate because we were excited to see what it looked like on the inside. 
NEWBORN monument
Bazaar- a huge market for fruits, veggies, clothes and so many cigarettes
Xhamia e Llapit (Mosque)
Clock tower
NEWBORN Kosovo
Not all countries recognize Kosovo as a separate territory, which explains why on a Google maps Kosovo has a dotted lined territory instead of a solid line. However, Kosovo did declare their independence from Serbia in February 2008 as republic of Kosovo. On their independence day the NEWBORN monument was unveiled and with it a slogan: "NEW life is BORN," "NEW hope is BORN," NEW future is BORN," and "NEW country is BORN."
The monument is painted differently and unveiled again every February 17th. The monument has been painted: yellow with messages all over it, camouflage, flags, and when we went the monument was painted black with purposeful graffiti (not sure how else to describe it). We'd been hoping to see it painted with the flags on, but the graffiti was artistic and very cool nonetheless.
"Welcome to Clinton Boulevard"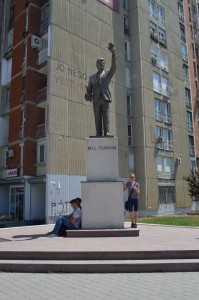 While Bill Clinton was President of the U.S. he helped the Republic of Kosovo during the Kosovo War, and in honor of him a statue was placed on a major street now called Bill Clinton Boulevard in Pristina. There are other areas of Kosovo with streets named after American Presidents, like George W. Bush and Woodrow Wilson. It was interesting to us as Americans to see how the U.S. was honored and I lost count of how many shirts I saw with the U.S. flag on it.
Traveling to Kosovo from Skopje
Mini buses go to Kosovo every hour until 6pm (summer hours-winter hours are cut back)

Mini buses go to Skopje every hour until 7pm (summer hours- winter hours are cut back)

We didn't buy our ticket back to Skopje from Kosovo until we were done sightseeing because we didn't know how long it would take us.

Generally takes about 2.5 hours drive (no stops except at the border)

If you plan to go to Kosovo make sure you don't go directly to Serbia after because you won't get stamped in. When you try to leave Serbia and don't have an entrance stamp they will have a problem with you. Serbia doesn't recognize Kosovo as it's own country so this generally creates conflict if you're traveling between the two.
A country isn't just monuments and buildings
Like with our experience in Albania, there was obvious poverty and the country is still rebuilding itself physically and mentally. We were a little petrified when we saw a grown women going to the bathroom right in front of us on the sidewalk and people are still living in coarse conditions, many searching through the dumpsters as a normal day thing. To be honest, the poverty and state of a country is what sticks to the back of my mind more than the monuments or tourist attractions. I find that saying we experienced the country by seeing monuments isn't really true when the real experience lies behind that- The people leave a stronger imprint on our experience.    
Below are photos from our trip to Kosovo