A blissful getaway on Krk Island
The timing couldn't have been better for a blissful getaway on Krk Island. We had started to feel like every spot we visited that would normally make our chins hang down to the ground were just worthy of a snap of the camera and off to the next spot. We weren't taking in the full value of where we were and what we were seeing and I hated that. Six countries in a month and we needed to slow things down.
Krk Island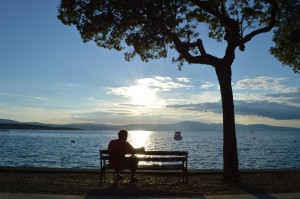 It took some work getting to Krk Island (9 hours of 3 bus rides), but once we got there we had nothing planned except to relax. No check list of places to see just swimsuits, water and sunsets. I couldn't have been happier, but then we tried the pizza and I was proven wrong. A place that had a beach, beautiful sunsets, delicious pizza and pasta is pretty close to heaven for me. If I just had all my friends and family with me to share it with, than I'd call that perfect!
We did end up taking a day boat excursion on the Krk Tajana which turned out to be a fantastic idea, seriously if you go to Croatia make sure you do an excursion of some type (there are several). We chose the excursion that went down to Rab Island stopping in Pag, and showing sights like Golden Beach along the way. We had roughly 2 hours at each stop to shop, swim and check out the town.
Pag
After our first stop in Rab we were served lunch along with drinks. We were given the choice between chicken or fish for lunch and we chose to have the fish even though we aren't big into seafood, but we like to try as much authentic food as we can! The fish did taste good, although I was slightly disturbed by the empty fish eyes staring at me the whole time. During lunch people were throwing food out to the seagulls encouraging them to follow our boat until we docked into Pag where they waited at the bank patiently for their next fill that never came.
When we exited the boat in Pag we had a guide who showed us around the Olive Tree Garden where we saw 1,000+ year old olive trees. After roaming around in the sun for a bit we came back to the boat and found a good amount of the tourists jumping off the back of the boat and swimming. I had to join, and Pablo did too! We were a bunch of strangers all having fun in the water before we had to head back to whence we came.
What's your idea of a perfect vacation?