Cuzco
What an awesome trip! I love Cuzco, Peru! Its been a little while since we have gone on a big trip. At least it feels that way. I have been to Peru before, in fact I lived there for 5 years! Awesome memories. My dad is from Peru and so his side of the family is down there. It was nice to go back and visit friends and family. It was even nicer to take Danielle down to Peru for her first time.
Knowing the language of the country you are visiting is a big plus. Knowing people in the country is even a bigger plus. We were in Peru for 10 days and only needed to hostel for 2 nights! This helped out a lot in traveling costs! Plus it helped to have a friend there to take pictures of the two of us.

On to the good stuff. We arrived in Lima at 12:30, our flight being delayed an hour. My uncle picked us up and took us to his house where we slept until 6am to go back to the airport for our Cuzco flight. My uncle took us back to the airport, such a nice guy. We left for Cuzco around 9 and got there just after 10. One of my friends, Israel, was there to pick us up.
Day 1: Cuzco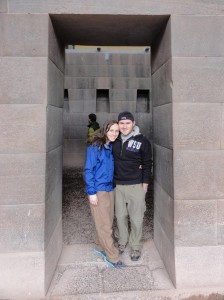 Our first day in Cuzco we ate yummy Arroz con Pollo, traditional Peruvian dish, and then headed to downtown to exchange money. The exchange while we were there was about $1 – S/. 2.82(Soles). Its always nice to get more money then you give, in this case almost triple! We then went to Qoricancha, an Inca ruin that has a cathedral built on top of it. This is about 1 block from the main plaza. We paid the small entrance fee (S/. 10/person) and probably looked around for 2 hours.
After that we ventured over to the main plaza. Most towns in Peru have a main Plaza, or town square. This one has two catholic cathedrals on it. We took a lot of pictures and then walked around looking at all the Inca walls with housing and commercial buildings on top. We had dinner at a small sandwich and juice restaurant. The fresh fruit in South America is amazing!
Day 2: Sacred Valley
Sunday we woke up early and took a 15 passenger van to Sacred Valley, about an hour drive. We stopped in Urubamba and visited with some friends before getting on another van to Ollantaytambo which was only about a 30 min drive. We had Lunch and found a nice cheap hostel(S/. 80) that included breakfast. We walked around some and then went to the Ollantaytambo ruins. You can get a ticket to visit multiple ruins in the area. I have Peruvian documentation so I can get a lot of the tickets for a discounted price. Danielle had to pay the full price – S/. 140, mine was S/. 70. You can get a student discount but you need to be under 25, student id with exp date or transcripts and documentation that shows how old you are… so passport works. Ollantaytambo is pretty cool, built up on the mountain at the end of the valley.
Day 3-4: Machu Picchu
Next day was our train ride to Aguas Calientes, well that is how I know the town by, its been changed to Machu Picchu Pueblo. The train is pretty expensive. You know there is something wrong when the train cost more than the main attraction. It was $55/person one-way! I could go on the national train for $5, but Danielle can't go on that train. Lame! We met up with another friend, William, who we ate lunch with, at Aguas Calientes. Danielle went all out and ordered the Alpaca. I had Lomo Saltado, which is a must if you are in Peru. We went to the hot springs at night and most just spent the day hanging out around town.
Machu Picchu! One of the main reasons people go to Peru, and for good reason too. I love Machu Picchu, been there like 15 times! My friend works with the Ministerio de Cultura or Ministry of Culture. Which means he gets in for free. It was S/. 140 for Danielle and S/. 90 for me to get in with Huayna Picchu included. There is also a 30 min bus ride up a small windy road that was $19 for Danielle and $13 for me. They sure do capitalize on visitors!
Machu Picchu is amazing! When we got there it was all cloudy, it was a little sad for pictures. It was very mystical looking for us but pictures don't do it justice. We made it to the temple on the north side and then made it over to Huayna Picchu for our 10am climb time. It took us about 45 of huffing and puffing… mostly from me. Having Knee surgery about a year ago means my legs are still very weak when it comes to steep mountains at high elevations! The hike to the top was fun, the view was ok at first… it was pretty cloudy so we couldn't really see Machu Picchu. We waited and waited. About 45 minutes after we reached the top the clouds started to move and we could see most of it. We got some good pictures then headed down the back to the temple of the moon. The temple of the moon is cool, but its pretty small. Its been a long time since I have been down there. My opinion… Not worth it. Takes way too much time and we were worn out!
We got back to Machu Picchu and made our way through the rest of the ruins taking lots of pictures. It had cleared by then so we went back to where we started and took some more pictures now that we could see everything! We then headed back to Aguas Calientes and had Dinner with William's family. Our train back to Ollantaytambo was at 7. We took a 45 min nap cause we were exhausted!

Day 5: Sacred Valley
The next day was our travel day back to Cuzco. We went a different route that takes us through Sacred Valley to the other end where some more ruins are, Pisaq. Pisaq is beautiful. It was built above the valley overlooking everything. There is now a town at the bottom with its plaza and shopping. We made it there and grabbed a taxi to the top. We negotiated a price for him to wait for us and bring us back down. It was S/. 50 which was pretty good. It took us about an hour and a half to hike from the road to Pisaq; visit, take pictures, and take it all in. Pisaq's consrtuction is awesome, the stone work is amazing. We ate lunch in the town of Pisaq at a restaurant, Ulrike's Cafe, owned by a German lady that has lived there for years. My family met her a long time ago. She cooks delicious food and I had a brownie for dessert!
After lunch we headed back to Cuzco. Before descending down into Cuzco valley there are some more ruins. We met up with Israel again and visited Qenqo and Saqsaywaman. Qenqo to me looks like a big meteorite that they carved into and used as a place to embalm people. Inside the rock is really cold so it helped preserve. Up on top of the rock they carved out different things, but it is all roped off on top so we couldn't go up this time. Saqsaywaman is a big fortress that sits above Cuzco. Some of the rocks there are huge! Estimates for the weight of the largest rocks vary from 140 tons to almost 220 tons! Most of the smaller rocker were taken to build all the cathedrals down in Cuzco. All that is left are the really big ones they couldn't move. We got poured on once we got there. Luckily Danielle had a waterproof jacket that is awesome! She never gets wet in it and I had a plastic poncho that cost $3 at shopko. I recommend taking rain gear during this time of the year, November-ish to March-ish is rainy season in Cuzco area.
This was also our last day in Cuzco. We made it down to the center again to change some more money and finally did some shopping. We bought a few things and then made it to dinner with some friends. We had some more yummy Lomo Saltado!
Day 6-9: Lima
Early the next day we made it to the airport and got checked in. I had checked my email a few days earlier and found out that our flight was an hour earlier. Definitely check your email for notification like this while you are traveling! In the long run it meant nothing, we waited on the plane for an hour and made it into Lima at the same time.
My Aunt and sister picked us up from the airport and we spent the last 3 and a half days of our trip with my family in Lima. We went to the plaza, catacombs, inquisition and a water park they have. By water park I mean a huge park with fountains you can walk through and play in. It was fun to see my extended family. Like all trips this one had come to an end.
Take a look at our sweet pics below!