Road Trip to Bled Castle
The nice thing about renting a car is the ability to get to places that would be hard to get to otherwise. Stationed in Northern Croatia we were able to hit Plitvice Lake National Park, and for our second day with our car rental we made it up to Slovenia for a nice road trip to Bled Castle.
Lost in Slovenia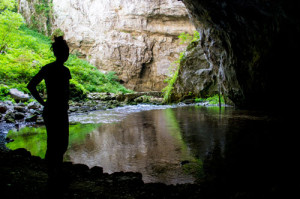 Before leaving for Bled Castle I'd found out about Škocjan Caves, which are supposed to be one of Slovenia's most famous caves. The caves were on our way to Bled with only a small detour off the main freeway so we all thought it would be nice to stop and see it. An hour and a half after passing through the Slovenian border and getting our vignette (road toll sticker) we were getting off the freeway into a small town. I'd looked up the cave on my Google Maps and it was leading straight to it. We weren't surprised when after leaving the small town onto a narrow dirt road that led to the middle of nowhere because we figured a cave would be out in the middle of nowhere… Right? We passed other tourists who we asked about the cave and they simply said "there is no cave!" and drove off.
We decided since we were very close to the spot on my map we should probably check it out. It was just an empty field with an abandoned cabin with a bunch of chopped up wood. We were a little worried about an axeman being out in the middle of nowhere with us. We followed the dirt road to another town, got some instructions, ended up past some other small towns and on another dirt road. Here we found a sign with a map of the park and it had some small caves. We ran into some more tourists and they had a Lonely Planet book. The book placed the caves we were looking for about an hour back towards the border, so if you attempt to go make sure you get the address from their website.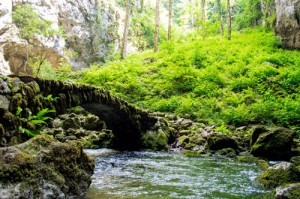 We settled for these smaller caves which were well worth it! The caves had collapsed at some point years ago which were now part cave and part tunnel for the river that ran through it. We saw some dare devils slack-lining across one of the cave openings with over a 100 foot drop. Luckily they had a safety rope attached to them. We climbed down to the cave and walked around the river through the left over cave tunnels. There was a man-made stone bridge and everywhere we hiked to was a beautiful site. Getting lost in Slovenia is not a bad idea!
Bled Castle, Bled Lake, Bled Island
After our little detour we continued to Bled for about another 1.5 hours. Bled Castle sits above Bled lake on a Rock hill overlooking the lake and town below. It was simply breath taking. We followed the signs to the castle which led up a steep road on the backside of the hill. The road ends quickly at a small parking lot where parking is free, but it was €9 each for the small castle (the sight from the castle is worth every cent). You can walk around the castle and see the history in some of the rooms, as well as stay and relax in some of the small cafes.
After touring the castle we headed down to a pizzeria at the bottom of the hill. Apparently the pizzeria serves pizzas with hot dogs on them. I didn't know this and picked one that i thought had sausages on it. Nope, just plain old hot dogs. From there we went down to the town and lake where we would have jumped in if we hadn't gotten there so late. It was a beautiful blue lake surrounded by a quaint town.
We walked around the lake a little and then drove the car all the way around. We stopped half a dozen times whenever we could to take advantage of the view. The whole place looked like something out of a fantasy novel. Alas, the time had come for us to make our trip back to Croatia. Taking a road trip to Bled Castle let us enjoy the scenery and have the freedom to drive around it. I recommend driving here if you can and do what we didn't do; stay here for a couple days.
Bled castle is definitely a must see in Slovenia. If you had more time there, where else would you recommend?