Plitvice Falls, Heaven On Earth
Everyone has their own idea of what Heaven is like, and occasionally we're blessed with experiencing places on Earth that are similar to our imaginations. In my mind that's exactly what it was- Plitvice Falls, Heaven on Earth.
Road Trip!
We had been staying in Pula with a couple of friends and rented a car to head out to one of our long awaited and greatly anticipated destination, Plitvice National Park. Traveling to Plitvice from Pula took about 3.5 hours in the car, but completely worth it. If you're going to Plitvice, I definitely recommend going by car, not by bus. It's absolutely worth the money and we calculated that it wasn't that different from the four of us taking a bus. We were able to stop and take pictures along the way, and stop when we needed a bathroom break or a yummy pastry.
Three Seasons
Like most popular destination spots in Europe there is a high season and a low season, but at Plitvice there is also a winter season to check out the falls. I'm so glad we went when we did (the last day in June) because it was the day before the prices went up for high season. Make sure you check the details of prices and etc. before going. Winter would be amazing I'm sure, but I would choose to see the falls in the summer/spring where the greens of the plants are bursting with color.
Waterfalls Galore!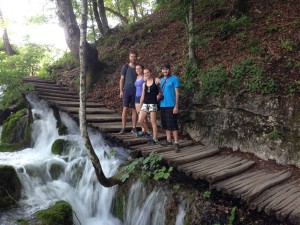 WE LOVE WATERFALLS. We're a bit obsessed with places that have waterfalls, and more specifically I'm obsessed with water. Plitvice is FILLED with waterfalls everywhere, making the hike thoroughly enjoyable and didn't feel like a hike at all. Like I said- Heaven on Earth. To add to the numerous amounts of waterfalls, the water was a miraculous azure and clear all the way to the bottom. The moss and various plants growing everywhere along with the crazy blue dragonflies made me feel like we were walking on Pandora.
There was a ferry that took us over the lake that lies between the hikes we did and it was so tranquil. The only downside of it all was that we were not allowed to swim in the tempting clear water. I felt like it was torture not to jump in, but it wasn't that hot under the shade of all the trees and I also would have felt bad ruining such a beautiful spot for people trying to take photos (we probably would've gotten a fine and kicked out as well). We made it to as many hiking spots as we could in the day and walked away feeling wowed. If given the opportunity, I would go back to Plitvice in a heartbeat.
Where's your Heaven on Earth?