Dubai in a day
First off, why travel to Dubai? What's there to do? Is it very safe? Despite how much we've traveled I still ask these questions before heading somewhere I'm not all too familiar with. Dubai in fact was safe and there were several beautiful places to see and fun things to occupy our time with.
We found ourselves heading to Dubai for a very long layover as a result of a cheap flight deal, but we were excited to explore as much as we could. Dubai is said to be the fastest growing city in the world and supplies tourists with many options for their holiday. With huge shopping malls, fancy hotels and city night life it's like the city revolves around tourism.
Pay a visit to the Burj Khalifa
Whether you want to see it from the top with the birds, or view it safely from the ground, the Burj Khalifa cannot be missed on your visit to Dubai… Literally though, you'd have to be trying not to see it because it stands at 828 meters! The Burj Khalifa is the tallest building in the world and is referred to as the vertical city.
We couldn't resist the chance to go to the top of the Burj Khalifa, and made sure to reserve tickets ahead of time online since it's the #1 tourist attraction in Dubai. While we waited for our time to go up we watched the water show just outside the gigantic mall. Once it was our turn we entered the elevator and watched the floor numbers fly past, not feeling the effects of the elevation change until our ears popped. A minute later we were at the top looking far down on the city and specks of cars. It definitely was a breathtaking view and the highlight of our trip to be at the top.
Visit the beach
The beaches in Dubai are filled with soft sand and covered in whole seashells that would give a collector an anxiety attack. The man made beaches are impressive, but better to see from above then on ground… If there's a helicopter ride you should try it!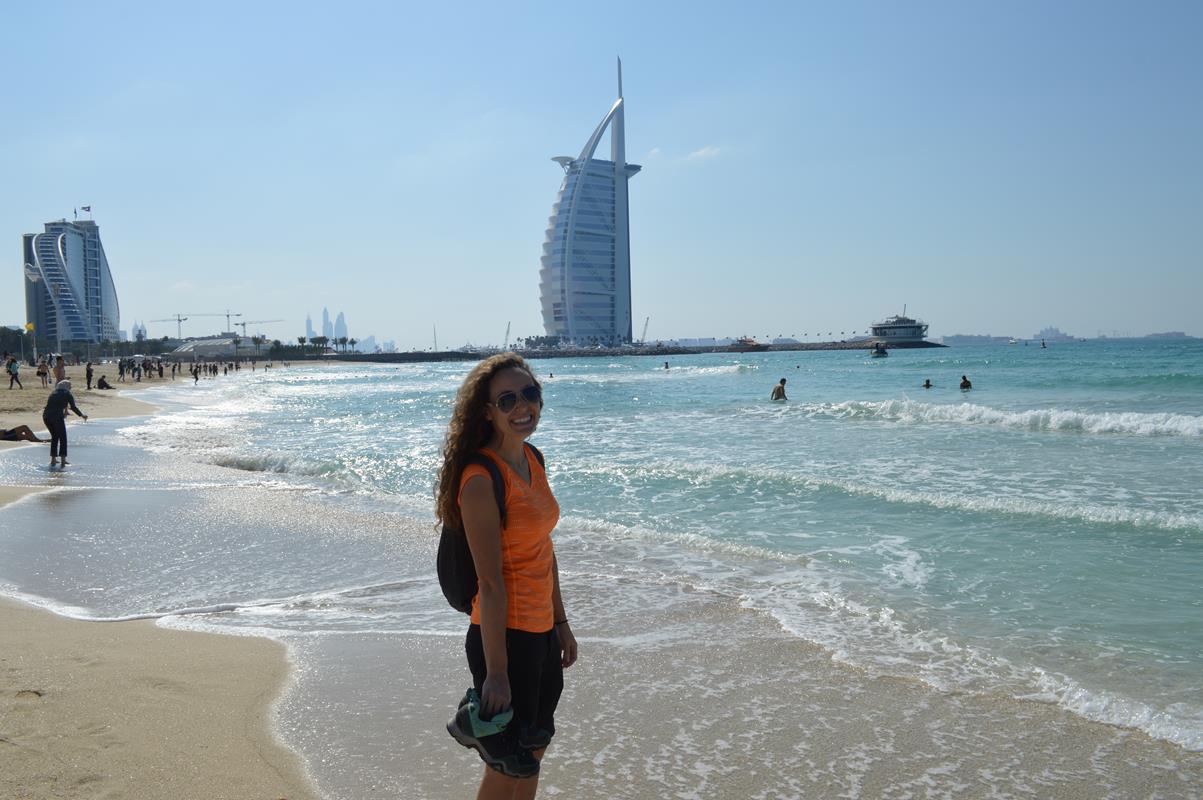 Roam through the malls
Dubai has the biggest mall in the World complete with indoor ski slopes, ice skating rink, aquarium, movie theater, food courts and too many stores for me to handle. I despise shopping, but I still was in awe of their never-ending malls.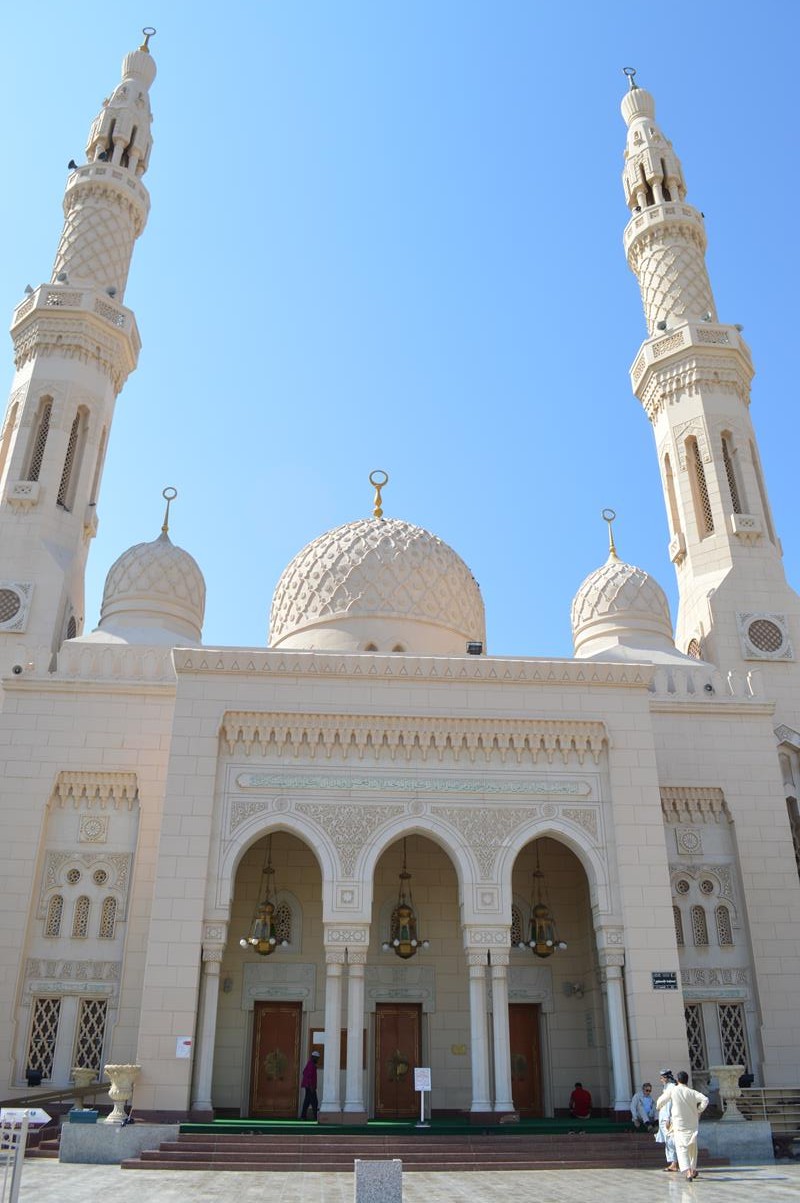 Enjoy the architecture
Walking through the city and taking in all the many buildings that are built and being built was cool in itself. We stopped to see some of the Mosques and hotels, specifically the Burj Al Arab Hotel (sail hotel) that costs up to $18,760 a night!
Extras
We'd heard about some fun excursions from other travelers but didn't get a chance to try them out for lack of time and money. However, if you're planning to go to Dubai and have the time look into doing one of the desert safaris, boat tours or Camel riding excursions. Let us know what you think if you end up doing any of them!
What would you do for your day in Dubai?
Helpful tips:
Out of everywhere we've stayed this is one the most expensive city we've stayed in and there are no such thing as cheap accommodations. Food isn't expensive though since there's plenty of fast food places, especially in the malls.
Our flight out of Dubai didn't show what terminal we were supposed to be in at the airport so we took the metro to terminal 1. Wrong choice, turned out we needed to be in terminal 2. There's no free shuttle service in the airport from terminal 1 to terminal 2 despite what it says online, so make sure you know ahead of time what terminal you need to be at. We asked everyone we could and the only option was to take a taxi that cost us 36.5AED (10USD) to get to a terminal right next to the other one. Our taxi driver inched as far as he could to squeeze as much money out of the drive too so we paid more just to walk back to the entrance of the terminal.
Another dumb system that Dubai has is their public transportation payments. You have to have a prepaid card to ride the bus or metro and you always have to have at least 7AED on the card to be able to get on transportation. In addition, we also had to pay for the actual card so in the end it was our souvenir with useless money on it since they don't reimburse for the card and what's left on it. Their response to us wanting to return it and get money was, "come back and use it again." Right… Thanks but no thanks Dubai, you've squeezed enough money out of us.