A stop in Berlin
While we were staying in Ansbach with our friend we took a couple days to head up to Berlin. Pablo's mom really wanted to make time for Berlin, but we weren't sure while we were planning if we would have enough time. Thank goodness for persistence because we ended up going and it turned out to be a great choice.
Transportation and Lodging
In the morning we took a train to Berlin from Ansbach, which was really nice. We took a couple cat naps, but still enjoyed the beautiful country in between. We walked with our packs to the nearest spots once we got into Berlin, but had to take the metro for the tourist attractions that were too far out on foot. We did a group pass which included up to 5 people trav
eling all day on the metro and bus until 3 AM for €16, which split between us was worth it.
It was hard for us to find a decently priced spot to stay, but found a room in a local's house to stay in. Our host didn't speak very much English, but he was able to get by and practiced with us a lot. He listened to Linkin Park to pick up on more of the English, but I'm not so sure that it was helping him a ton.
Pablo's mom flew back home after only a day in Berlin and then Pablo and I stayed an extra day, but it was enough for us to do what we wanted before heading back to Ansbach. Like I've said before, we're really not museum goers most of the time and Berlin has a lot of museums. There's Museum Island where all the museums are close to each other so those who love museums could spend many days here.
The Berlin Wall
The Berlin Wall was constructed after World War 2 separating East Germany from West Germany for almost 30 years. Over 100 people died in trying to escape, and it finally came down in November 1989. A large portion of the wall was used for reconstruction in building a new Germany, but other parts of it went to museums around the World and small pieces are sold to tourists. There's a museum that you have to pay to get in, which we didn't do, but you can also walk along a section of the wall that is still standing.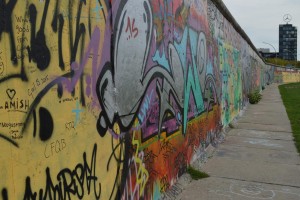 The main reason we wanted to visit Berlin was to see the Berlin Wall, or what's left of it. Pablo's mom had come to Europe traveling through several countries, including Germany, in the 1970's so at the time coming to Berlin was dangerous. It was meaningful to visit the Wall, and it meant a lot for her. It's entirely different to hear about the grim history in school and read it in books than to visit where events actually took place. There's so much more meaning behind the events, and it gives you more respect for them.
More to see than the Wall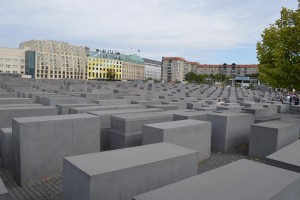 We stumbled upon the Holocaust Memorial, a memorial for the murdered Jews during the Holocaust. The Memorial has 2,711 concrete slabs, or stelae, arranged as an unevenly grounded grid pattern making it appear as a maze. We didn't know what exactly the blocks were for until later, but it would have been overwhelming to walk through all of them knowing what they represented.
Before running into the Holocaust Memorial we stopped by the Brandenburg Gate, which is a triumphal arch in Berlin. Brandenburg Gate is a very well known landmark of Germany because it's been a site for major historical events in history.
The nightlife and parties in Berlin are said to be some of the best in the World, but we don't know from personal experience just from what other travelers tell us. I can tell you from personal experience that you don't have to be around the party scene when traveling through Berlin and can easily avoid any of that if you want to. Enjoy the museums and the history in Berlin, have a schnitzel, curry wurst or a bockwurst and chalk it up to a nice vacation.
If you're planning to visit Berlin try to go in October so you don't miss the Festival of Lights. During October many of Berlin's buildings and monuments are lit up with beautiful lights along with music and more.
What did you like or would like to visit while in Berlin?