Yee-haw Macedonia!
Our next stop from Albania was Skopje, Macedonia. We didn't have anything in particular planned for Skopje and figured we would just walk around the city. I'm so glad to say our trip turned into more than just that!
The traveling hat continues to Skopje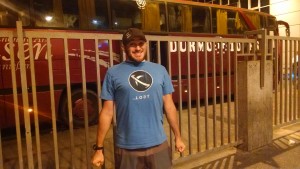 I don't know if anyone else has noticed in photos that Pablo is wearing his XI hat 99% of the time while we've been in Europe, but he is. After our crappy bus trip from Albania he almost lost his dearly beloved hat. We'd arrived so late into Skopje (1AM) and were rushed off the bus, as so many bus drivers like to get people off as quick as possible, but we were so groggy we didn't check everywhere. Once we'd realized we'd left left it behind it was too late. Did I mention how much Pablo loves this hat? He asked around and turns out the same bus was coming in the next night and his hat was miraculously still on it (not really miraculous, it's an old faded hat). We went back the next night around midnight and the bus arrived at 1am (3 hours late again). There on the bus waiting for Pablo was his hat and boy was he happy.
Why does Macedonia have the (FYROM) next to it on a map?
Well let me tell you. The naming of Macedonia has been a conflict since the separation of the Yugoslavic countries and is still an ongoing issue. Greece opposes the use of the name "Macedonia," and until an official name can be agreed on the country is referred to as FYROM, meaning Former Yugoslavia Republic of Macedonia.
The government has been putting a fair amount of money into the new city center where there are a lot of statues, fountains, bridges, restaurants and a shopping center. As a tourist I really appreciated the work being put in, and it was really nice to walk around. Bringing in more tourists usually means more money so I hope it pays off for Skopje.
People friends and animal friends
We met some friends at church while we were in Skopje who were visiting from Netherlands and they invited us to go horseback riding with them. They drove us out to Galicnik, Macedonia where we met our group, guides, and plenty of fun animals. There were several horses corralled, goats climbing nearby, chickens who seemed like they wanted attention from anyone, and two momma dogs with a litter of puppies that looked more like bear cubs with how large and fluffy they were.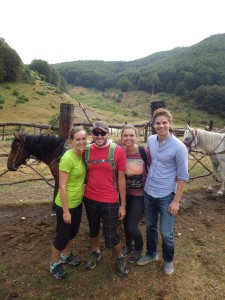 The horses we took to go riding had quite the personalities and loved to stop and eat along the way and then take off to catch up with the group. It felt great to be up high in the mountains and to see everything. There were some storms rolling in and thunder, but only a small amount of rainfall. After a couple hours of riding we came back for some sheep cheese sampling (very salty but delicious with tomatoes). We'd made friends with the people as well as some of the animals (the puppies were for sell and we were tempted for a fuzzy friend to bring backpacking with us), but it was time to go. We stopped during our drive back to enjoy the scenery of mountains and the sheep being herded every few miles. Even though we stay in so many capital cities, the mountains and woods feel like home.
Which do you like more, city or country?