The Fjords of Montenegro
The train we took to Podgorica, Montenegro made our personal record for the longest transportation so far on our travels, timing at an aggravating 14 hours. What was originally supposed to take 10 long hours was stretched an extra 4 hours due to stopping several times (the two longest were an hour and the other was an hour and a half). There were some mechanical problems with the train and the workers were trying to jimmy rig the pieces to stay attached. On the second stop, the cart was hooked onto another train and we were finally able to continue onto our next destination. This was supposed to be one of the best sightseeing trains providing beautiful views, especially during the last 2 hours. Since our train had been delayed all we could see was the black night during our most scenic route.
At this point it was midnight, we hadn't eaten much for the day and were sick of being on a bus, train, you name it. We had met another couple on the train who were going to Kotor as well and decided to split a taxi making it be around the same price as a bus and only half the time. Driving to Kotor we passed through the happening town of Budva, which I thought  looked like a mini Rio Di Jenero. Finally, after an hour and a half's drive we were dropped off at our hostel in Kotor. We hiked up to our room and passed out on our beds despite the heat and mosquitoes.
Castle of San Giovanni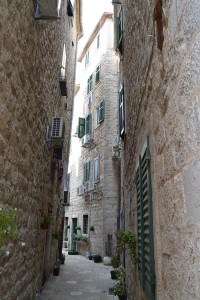 We only had a couple days planned out in Kotor so the next day we woke up, ate the free breakfast at the hostel and headed out. We stopped into the old city center and walked around the streets for a while. They looked just like the amazing streets in Dubrovnik, but better because they weren't crowded with people.
Just above the old winding streets of the city lies the remains of the fortress that looked like a dragon's spine resting on the mountain. We paid a couple euros and hiked up, up, up the slick narrow stairs. The view at every turn made the hike worth it, especially when we reached the top.
We could behold the fjords of Montenegro and on the back side of the fortress were goats climbing the steep rocks. It isn't an easy hike in the heat of the day so fortunately it's not very crowded at the top and we were able to enjoy a lot in solitude.
Perast
Perast is a cute bay town about 30 minutes (by bus) North-West of Kotor. This quaint area is popular to tourists for it's Church of Our Lady of the Rocks and Sveti Đorđe. The Church of Our Lady of the Rocks  has some cool legend to it if you want to read about it. The islet is only big enough for a small church with a museum inside and a gift shop next to it. We took a small ferry over to the islet and were able to view Sveti Đorđe closer from it. Sveti Đorđe is a natural island where not many people are privileged to go to (the ferry's seemed to only take people to Our Lady of the Rocks). On top of Sveti Đorđe is the Saint George Benedictine monastery and a graveyard for the ancient nobility.
We wish we could have spent more time in Kotor, but it was onto our next stop in Montenegro: Ulcinj.
Ulcinj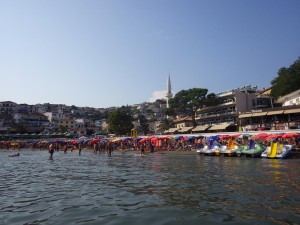 We'd only planned a couple days in Kotor and then set our sights on heading to Albania. We decided to visit lake Shkoder since it is close to the border of Montenegro and thought it would be a nice refuge from the heat to be at the lake. Since online didn't list any buses from Podgorica to Shkoder we took a two and a half hour bus to Ulcinj, a beach town on the way to Shkoder. We had booked a place to stay in Ulcinj for one night because online didn't list any bus times for later in the day. However, when we got into the station and checked there was a bus for later that day (A lot of the Balkan stations don't have updated times online FYI).
It would have been nice to just head out the same day to Shkoder, but we made the best of our brief visit to Ulcinj. We checked into our guest house, were offered drinks and had our ears talked off by our exuberant hosts that led us to a nearby authentic restaurant. The food at the restaurant was indeed fantastic and authentic. Per our hosts recommendation, we ordered Punjene paprike (stuffed peppers) and a goulash. Naturally, several of the dishes recommended to be authentic to a specific country derive from many other neighboring countries.
After dinner we began walking to the beach and into Old Town. I was surprised to see so many homeless people on the street asking for money, especially many children. Covered in dirt and rags they would come up to tourists and locals with sad faces holding out their hands for alms.
By the beach there is a fortress that is covered in restaurants and not much of a sight to walk through. The city definitely was different from those we've been to recently and was the first obvious poverty stricken country we had come across in Europe.
Have you ever made it to Montenegro?