What Makes Estonia Unique?
Even though Latvia was a pearl and Lithuania had it's mysteries, I'd have to say Estonia has been my favorite Baltic so far. There was a lot more to see and great food – needless to say there was no beat soup. Question is, what makes Estonia so Unique to it's neighbors?
Easter in Estonia
It was the beginning of May when we visited Estonia, during their Easter celebrations. Members were walking in and out of Alexander Nevsky Cathedral and we followed suit. I'm very curious and love to see how holidays are celebrated in other countries. Considering that Estonia is one of the World's least religious countries it was lucky we came on Easter so we could see the church acitivities.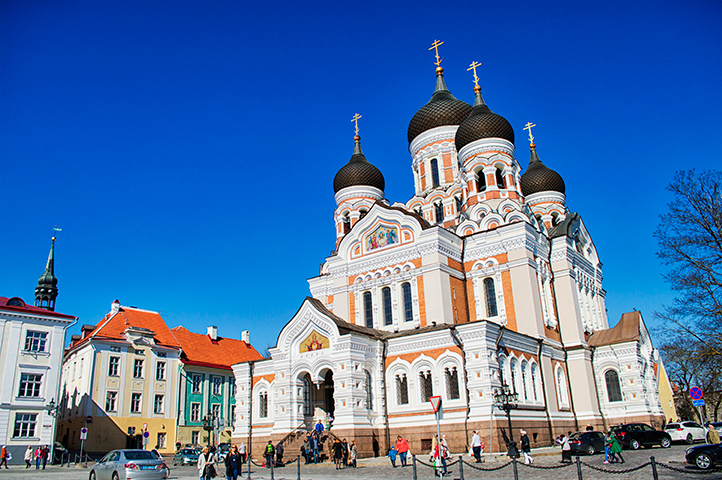 There was a type of panettone (sweet bread- basically like a fruit cake) that looked like this. The people were handing out the bread wrapped in baskets and I so badly wanted to try it. Despite our recent church attendance they weren't handing over the bread.
International foods
Grudgingly we carried on to find our own treats. It didn't take us long before we found a recommended pancake restaurant called Kompressor. Their pancakes were more like crepes, and they were deliciously filling. You need to go here while in Estonia!
Well isn't that a Kiek in de Kök
Awe we come across such great names in our travels. The Kiek in de Kök was built in 1475 as an artillery tower. It was named Kiek in de Kök because it gave the vantage point into the neighbors kitchens. It translates from German to Peep into the kitchen. We came across the Kiek in de Kök while we were walking through Old Town.
Castle walls Old Town
In the center of Old Town is Raekoja Plats, the town square. It's such a fun square to be with so much going on. You can sit at one of the cafes and people watch for hours basking in the warm sun. The square has beautiful buildings squaring it off, including the town hall.
Pirita Convent
Only a 20 min. bus trip from our Airbnb we headed out to ruins of the Pirita Convent. We had the area to ourselves most the time void of other tourists. We may have taken advantage of the space by gallivanting the grounds.
Kadriorg Palace
On our way back from Pirita Cloost we got off the bus to see Kadriorg Palace. The palace was built for Katherine 1 of Russia as a summer residence. It now houses the foreign works of the Estonian art museum. We walked by the gardens and through Kadriogr Park, but you can buy tickets at Kadriorg for the Museum.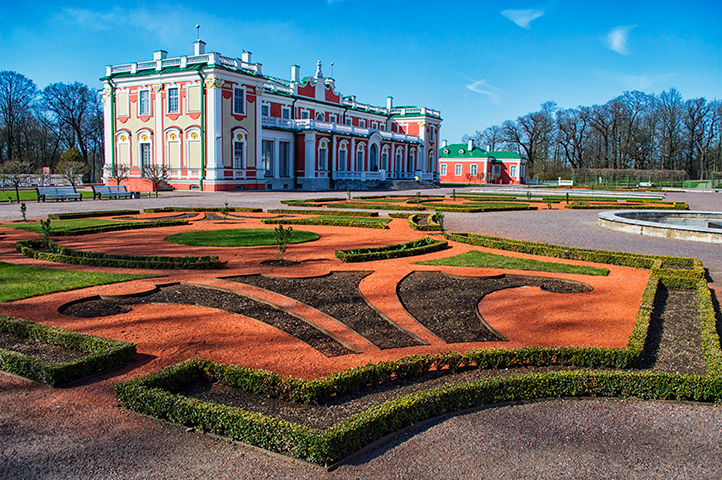 St. Olav's Church viewpoint
From the top of Olav's Church, situated in Old Town, we climbed to the top of the bell tower. The Church is the tallest Medieval structure in Tallin's Old Town and it was the best viewing point. Tickets were cheap, and while there are many spots that we could pay to view the inside of the Castle Walls, I guarantee this will give you the grandest view.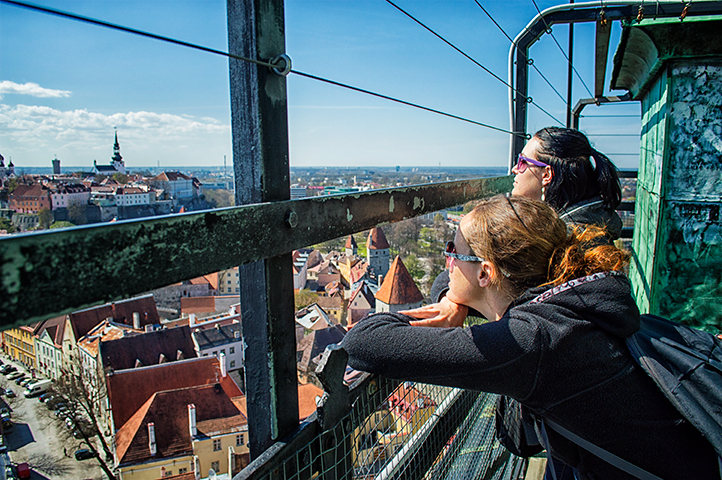 Leaping the language barrier
It actually hasn't been too bad with the language barrier in most of our travels. We've had several live and learn moments though. You make due with what skills you have in charades. Everything that follows is just chance.
We were at the store in Estonia and had to look up what some of the obscure items were. We were looking for ground up Turkey and couldn't find it (trust me it wasn't obvious).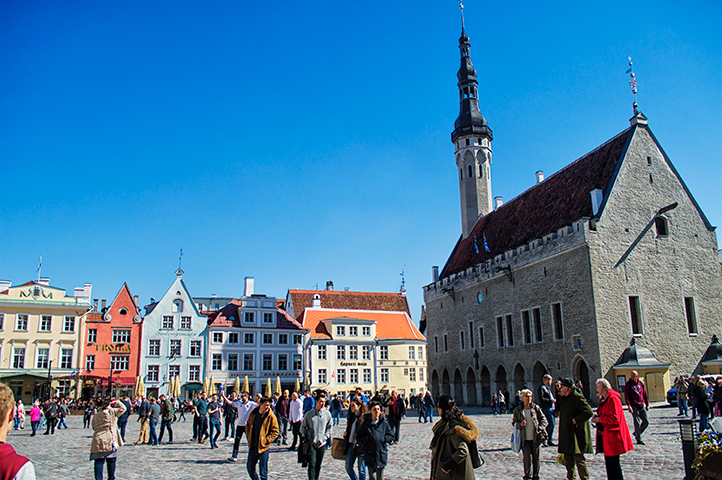 A local came over to us to help and we tried asking her. When she didn't understand what a turkey was me and Melissa instantly and simultaneously started to act out turkeys. Thanks to our amazing acting skills we were able to get the turkey.
Simply Unique
I loved Tallinn's Old Town more than any of the Old Town's I'd seen in the Baltics. It's a clean and fun city that has a nice clash between the modern and antiquated styles. One minute your perusing a tile floored contemporary art store with a fashion-forward store clerk. Next you're walking out onto the cobble stoned street glancing at the home made soaps on a wooden cart being sold by someone who just walked out of Shakespearean times.
If our experiences from visiting Estonia haven't convinced you of it's uniqueness here's a few tid bits you should know:
It's one of Europe's least populated countries
It's one of Europe's greenest countries
52% of the country is forest and that number is rising!
With 2,222 islands and islets it's a great cruising spot
They love singing, swinging, skyping, literacy and wife carrying so it's a great place to find a date
If these attributes don't convince you than I have nothing more to add. However, if you find yourself wanting to visit the Baltics I suggest starting with Estonia. There's a pass that can get you into all the great tourist spots and includes transportation. Check it out!
Where have you been that you consider to be completely unique?