Second Week in Prague
We decided to stay in Prague because there was a lot to see, and we had to fit some work in as well. We took a few days sightseeing and then had time to work and relax. My favorite part of visiting Prague was just walking around the streets and seeing what would be around the corner. We would be heading to the grocery store and find different architecture everywhere.
Prague Castle, St. Vitus Cathedral and Golden Lane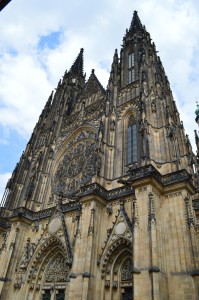 Prague Castle is listed in the Guinness Book of World Records as the largest ancient castle in the world. This castle is where the President of Czech Republic lives, and where Emperors to Bohemian kings used to live. That seems cooler than living in the White house, but I haven't been able to compare the inside of both. The castle grounds contain the St. Vitus Cathedral which has amazing architecture. We took a tour on the inside (right after mass), and the stained glass windows were beautiful as well as the carvings. I would be distracted if I had so much to look at during church.
The Golden Lane is just beyond the Cathedral, still inside the Castle grounds. It is the last remaining small-scale architecture of the Castle where peasants and marksmen used to live. Inside were displays of all sorts of suits of armor and weaponry, and since it was from medieval times; torture rooms in the prisoner's area. From the outside it looked like a quaint, colorful village.
Josefov
Josefov is the Jewish quarter in Prague, also known as the Jewish Ghetto, where the Jews in Prague were forced to live in the 13th century. Hitler preserved the area during the Nazi reign to use it as a Museum for what he called, "the extinct race." We went to the Old Jewish Cemetery, the Jewish Museum and the Spanish Synagogue that were all included in our ticket that we purchased.
We actually met up with some friends from high school that I hadn't seen for a few years, but why not meet up in Europe right? After going to the museum we went out to eat and tried some authentic food. The grilled cheese with cranberries (literally just cheese that was grilled- not really a substantial meal), and the  Svíčková na smetaně (dumplings in gravy and pork with whipped cream and cranberries on top). Both were odd, but yummy.
My 2 Czech Korunas worth
Prague is cheaper than Western Europe when it comes to beer and tours (most tours are free), but hotels, airbnbs and hostels cost more than what you'd expect. The government here makes sure the beer is cheap since the minimum wage is low so that if people ever want to protest, they decide to drink instead to forget their concerns and get back to work the next day.
Most tours here are free, and the tour companies probably make more money this way because everybody is expected to tip at the end. People seemed more willing to go on the tour, and at the end of it more willing to tip. We recommend one of these free tours because they are fun, and the guide has to work for the tips at the end so there's more effort in making it an enjoyable tour. The tour we used was the Sandeman tour, educational on the history and a lot of great tips to start your trip out with.
Most food services here are bad, the waiters do not care to be friendly or work for a tip. We learned from our tour guide that this is actually because of older times when those who were in the food service industry actually had a lot of power. Their power went away over time, but their rudeness did not. Our guide said that to counteract this problem you can either be very nice to them, try to make them smile, or you can be very rude and put them in their place saying, "I'm the customer, you do not treat me like this." Pablo and I have only tried the first of course, I don't think we would be able to be so blunt and bold to someone who might spit in our food. We have gone to Czech Restaurants here and the waiters have been nice enough. When it comes time to being charged for things, they try to trick us into paying more for things like a "service fee" or have charged us for napkins. We haven't been tipping very often, and have been told by several people who are from here that that is normal.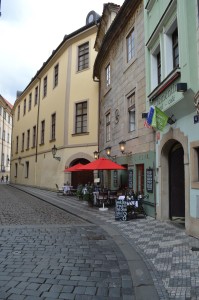 Taxi cabs are not recommended in Prague. Cab drivers will drive you on the longest routes to get to your destination and then drive some more to increase your bill. You won't be helped with this problem by the police either because a lot of police work as cab drivers at night and so they are good friends with each other. If you need to get somewhere use either the bus, the tram or walk (most places are within walking distance anyways).
Tram tickets are purchased by time increments of 30 min. and 90 min. We could hop on a tram as many times as we wanted to as long as it was within the time we had first gotten on and had our tickets stamped. We never got checked for tickets, but I had some friends visiting at the same time and they were caught without a ticket and fined 30€ (about $32) each. They thought they could get tickets on the tram like a lot of places in Europe, but you have to purchase them beforehand at a market or booth.
Whenever and wherever you are exchanging money, make sure you are not given any 50 CZK (their bill, the Czech koruna/crown) because those are no longer valid. People will try to give them out usually to tourists who are unsuspecting. There are places to exchange money that have 0% commission so you get the biggest bang for your buck.
If you've been to Prague, what was your favorite part?