Mount Rushmore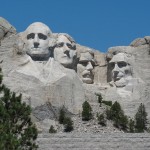 Well we did the famous American road trip to Mount Rushmore!  Mount Rushmore needs no introduction, everyone knows about our 4 President's faces carved into the Black Hills mountains. This was an adventurous trip with all the Figs! We rented a RV for 10 and made the 11 hour journey from Utah to South Dakota. We left around 6pm on Wednesday July 23rd and stopped on the way at a rest stop. We continued early the next day and made it to Hot Springs, SD for a few attractions before making it to our camp in Custer. We were there until Sunday when we had to make our trip back to Utah.

Renting an RV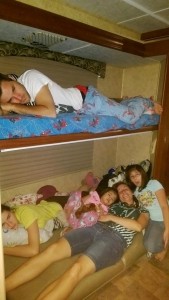 Well Renting an RV is a little more expensive than we expected. There are a lot of costs involved and they just keep adding up. It was really fun trip and if you can stand being in a confined area with your family member I highly recommend it. But be prepared to pay a lot. Here is the break down:
Base Rental Cost
Miles (there are free miles/day after that you pay like .35-.55 cents/mile)
Pre-paid dumping(recommend – means you don't have to do the deep sewer cleaning when you get back)
Generator (you need it. Runs your AC and what not when you are not plugged in)
Pre-paid Cleaning (they say it takes them about 3 hours on the big ones)
Insurance (you need to get liability if your insurance doesn't cover it)
GAS! I think our RV was maybe 10 mpg. We spent a lot on gas.
I am sure there might be some other little ones we are missing. All that aside, its all about the memories, right?
Mount Rushmore
Well this was the whole purpose of the trip. Make it to Mount Rushmore and take some pictures. Yep, its amazing. It was really cool to get to the memorial and then take the trail that gets right up under it. It was $11/vehicle, so like a $1.10 each, not bad at all. They had a nice visitor center with a theater with an informational movie and of course some gift shops. There is a lot of history there and cool trivia to learn. Construction started in 1927 and was opened to the public in 1941.
Other Activities
Well all that driving meant we were not going to turn around after seeing Mount Rushmore. There is a lot to do around the area. Here is what we were able to do: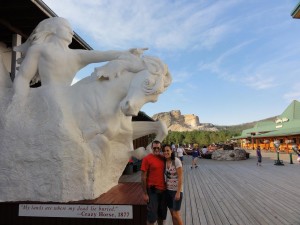 Pretty good list for a 5 day trip. The Mammoth Site is an active dig site where they are still uncovering Mammoth fossils. It was a fun museum. Evan's Plunge was a nice time out of the hot sun. Most of it is covered but there is an outside pool. There was a lot to do there, swinging ropes, slides, water basketball, and water volleyball. Both of these were in Hot Springs so we stopped, stretched our legs and had some fun before making it to Custer for our campsite.
Next day was Mount Rushmore and then we tried to make it to the Jewel Cave, but got there a little late. We did make it over to Crazy Horse Monument. It is really cool and very big! All of Mount Rushmore fits inside Crazy Horse's head. So once they get it all finished it will be amazing! It is all privately funded through the tours, gift shops and what ever else you pay for when you get there.

Saturday we got up early and made it to the Jewel Cave. It is the 3rd largest cave in the world! We did the historic lantern trail with real oil lanterns. The cave is always at 49 degrees so the heat from the oil lamps was nice. The Gold mine was pretty fun, the history is kind of sad. They only found like 10-20 ounces of gold in 35 years! Not enough to pay the bills. We paid for the gold panning as well. Found a few small shavings. Probably 5 cents worth, but still fun.
On Sunday we had to start our trip back. We made it to the Reptile garden before leaving. They have the 3 Aldabra Tortoises, which are the second largest tortoises in the world. Lots of African Spurred(sulcatas) tortoises, Alligators, Crocodiles, More Venomous snakes than you knew existed, lizards, frogs, and some turtles. They pretty much cover all the reptiles you would ever want to see. I love reptiles so this was fun to go to. We were able to watch an alligator show and a snake show that were pretty entertaining.
Our trip home was long. We did take a wrong turn that added an hour and we didn't have attractions to look forward to. This was a really fun trip and recommend a long road trip to bond with those you love! Check out our map below and don't forget to go to our Mount Rushmore photo gallery!
Mount Rushmore | My new trip on Roadtrippers.com!