Kraków
Poland wasn't set in any of our traveling plans, but when we started considering going there at some point we knew that it was now or never to go. Aside from the Salt Mine and Auschwitz we also visited an awesome castle called Wawel and the cathedral inside looked like it was pieced together over time because nothing on it seemed to match! This unique attribute made it all the more interesting to us since we've been seeing a lot of cathedrals and sad to say it but… they're all starting to look pretty similar.

The Night Train
Our trip to Poland started with taking the night train from Vienna. I don't know why, but I've been excited with every new thing we try here. Granted, we've been on a night train before so it's not technically new, but it's in Europe so it could be different. It saved us some money to take a train during the night and not the day since we didn't have to pay separately for transportation AND a place to stay the night. We hopped on our train after hanging out and talking with an older gentleman who said he'd lost his wife at the previous stop where she didn't have any money and he needed to go back and get her. We hope they were reunited and that she wasn't too upset with him.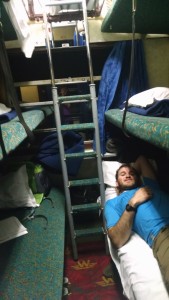 Our room was set up like a pack of sardines, with 3 beds stacked on each side of the stuffy room. The guy above me had wicked gas so I hung out in the hall with my face out the window enjoying watching everything speed by. We were the last train car (i.e. "the caboose," but do they say that in Europe?) so we got to watch out the back windows.
After the room seemed to air out and cool off a bit, we went to sleep. The rhythmic rocking of the train seemed soothing and we were all asleep quickly. I didn't wake up until the train started making it's first stops in the morning. The sun was just starting to show it's colors over the horizon and the dew on the fields and trees was so beautiful a picture wouldn't have sufficed. Albeit, I still wish I'd taken a photo, but my grogginess took over and I laid my head back down only to keep looking up at every stop until the sun had started to show over the trees.
Worth mentioning
To avoid boring readers I don't fit in everything we do, and unfortunately some places are ignored. Here is a list of all the beautiful so called "in between spots" that are worth mentioning and by clicking on each spot you can see our personal photos of them.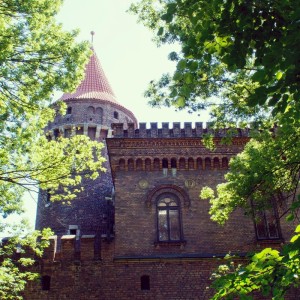 Walking through Planty Park, we passed by the Kraków Barbican and into the castle grounds towards the Main Square where everything is happening and many tourist spots surround the area. This includes the St. Mary's Basilica, Saints Peter and Paul Church, the collegium maius, Wawel Royal Castle and the Wawel Cathedral. Just outside Planty park we found the Kazimierz district Tempel Synagogue, Remuh Cemetery, Corpus Christi Basilica.
We had heard that Ojców National Park has fantastic views and should be visited. We were planning on going on one of our last days, but it didn't end up happening which was probably a good thing. Here are pictures if you plan to visit, let me know how it is if you do!
Arguing with the bus driver
On most buses in Kraków we could buy tickets from a machine on the bus, but on our way to our place one of the buses did not have the machine. Pablo went up to ask the bus driver for tickets and a few minutes of them arguing in different languages on what kind of tickets we wanted one of the locals came up to help translate (again, transportation employees usually didn't speak English to us and were generally frustrating to deal with). He was out of the tickets we wanted so we just got off the bus. By that point we were just one stop from where we were planning to get off so it worked out pretty well for us.
Soooo much B.O.
One particular time when we were getting on the bus in the morning there were so many people on it I was expecting their faces to be smooshed into the windows and limbs sticking out, it looked so funny. It wasn't funny however when I had to squeeze through and push my way onto the bus. There was shoving and words in languages that I gratefully didn't understand and also the body odor. Oh man, I have never smelled so much body odor before but there were copious amounts of it here. I felt like the smell was attaching itself to me and that I should have taken a shower right after getting off.
Tyniec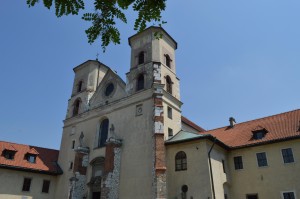 Since we didn't make it to the national park we went to our other option, Tyniec. Tyniec was easier for us to get to and not as far as Ojców. We don't know much about the history of Tyniec, but if you feel like brushing up on it check out this site. We do know that the cathedral and castle grounds were certainly cool looking from the bank of the river.
Have you been to Ojców National Park? What was it like?