Independence Day Road Trip
My favorite holiday hands down is the U.S. Independence Day. The weather is always hot and sunny which means shorts and sandals. There's always a BBQ and water activities. To top it off, fireworks after a beautiful sunset. This year we were spending the best holiday in the most American way possible- on an RV road trip!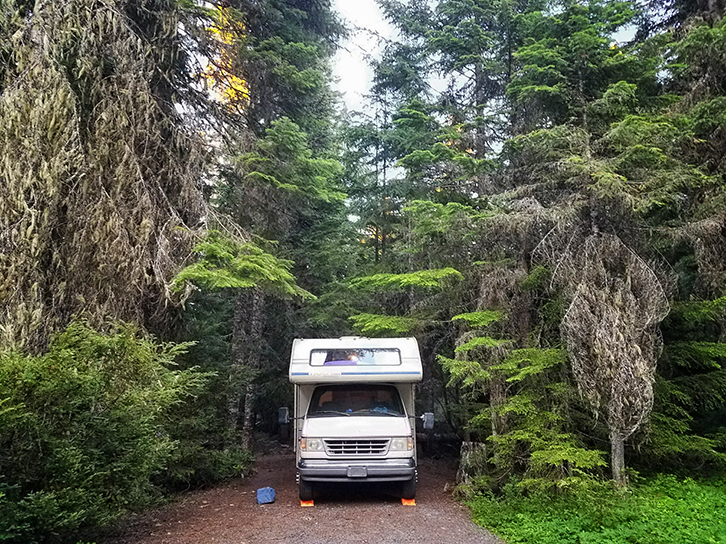 This was a big family trip with people of all ages, and it was different from our usual travel style. It took longer for us to get to places and we didn't pack in as much as usual. However, we had a festive time with Pablo's family and tons of laughs. As usual, there were many fond memories made.
On the road again
We stayed up until midnight packing the RV with Jef, Amber and their two kids. Packing last minute is such a bad idea, but we seem to do it pretty often. It's a great way to forget things, like a raft that would've buoyed our weight unlike the flotation device we ended up using.
We headed out at 7 in the morning as the sun was rising and drove North-West through Twin Falls and Boise.
Why is it Scenic Idaho?
It was perfect that we had to drive past crops and cows at this point. Many of us needed to catch up on some z's and didn't have the urge to look out the window at the scenery. Luckily we all happened to be awake when we passed through the occasional gorge with a flowing river and waterfall. It was the only beautiful thing we saw on the way through Idaho besides a Cinnabon.
Honestly though, I've seen pictures of the National Parks in Idaho and they are BEA-utiful! We need to make it further North next time we're there, because it's a shame to be so close and to not to!
Oregon
We crossed the border into Oregon and arrived at 6 PM to the Boardman Marina Campsite. The campsite is right on the Columbia River and we had a spot with a view. The campsite was well groomed, with hardly any trees, but me and Pablo scoped out the 3 by us to hang up our hammocks. The rest of our caravan was there making our group 12 people. We were still missing a few people from the family, but one of them would be joining us later on. As usual, the bigger the Figueroa clan the more boisterous we get.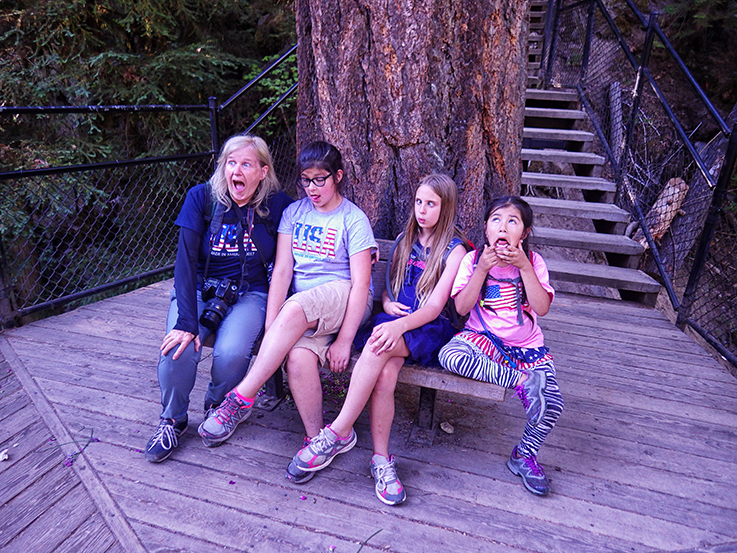 We played in the water with the kids and watched the sunset. The girls had their sketch pads and imitated the sun's colors with their pencils. Fellow RV people had U.S. flags on their RVs with red and blue lights strung around. Pablo and I slept outside in our hammocks until birds in the trees started fighting in the early hours. After breakfast we headed out for Mt. Hood.
Mt. Hood
On our way to Mt. Hood we stopped at Multnomah Falls right on the Historic Highway. It was ridiculous for us to drive our 27 ft. long RV through the narrow historic highway and we held our breath on many occasions. If you go early enough in the morning on a weekend, or go on a weekday there's a good chance you'll find parking. If you're in a similar situation as we were; in an RV or going on a holiday weekend, then make sure to park off of Veterans Memorial Highway from the East side.
Mutlnomah Falls was gorgeous, but way too crowded for my liking. Go when you'll have some personal space and don't have to wait in line to cross a bridge!

After Multnomah Falls we drove to Mt. Hood. I began to see all the trees that Oregon is known for and had my face out the window most the drive. Seriously there were no bald spots between trees. I was in love. We walked up to Mt. Hood and threw snowballs at each other. Snowballs! In July!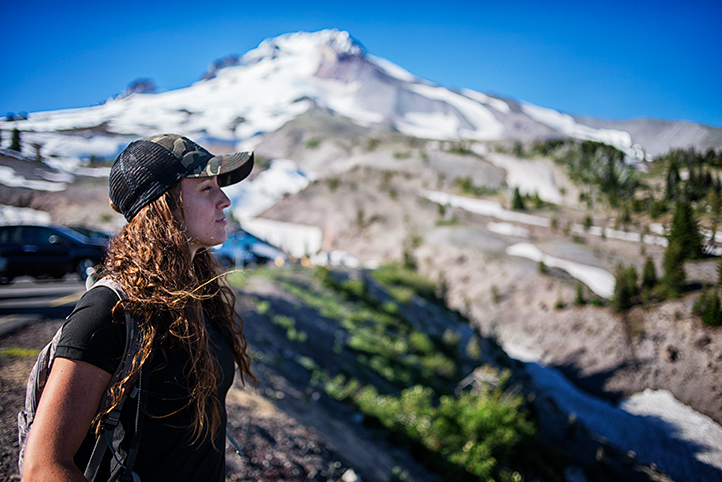 No showers? No problem!
We made it to the Clackamus Lake Campground and my euphoria thickened as the trees did. The campground was definitely deep in the beautiful woods, which meant something else- no water system. Guess none of us were showering for another couple days! What's camping without getting dirty anyways!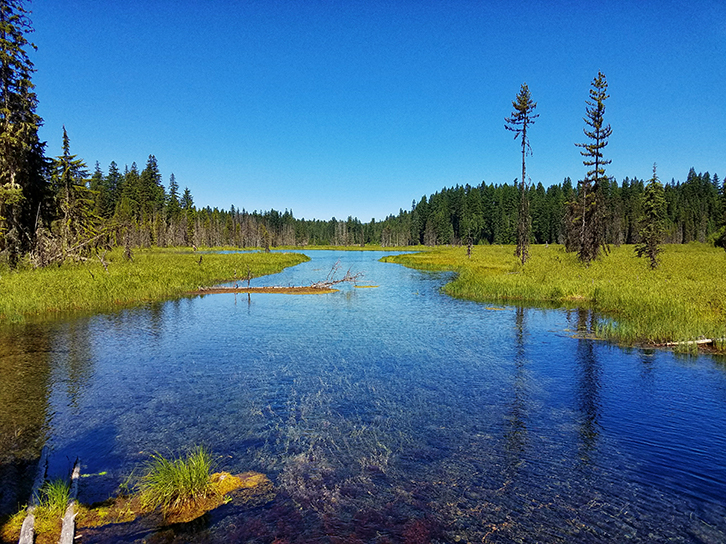 We hung up our hammocks, this time having an ample supply of trees. We had a hammock party that night after dinner, swinging by the fire and talking. The moon was close to being full, but we could still see more stars than we would at home.
Clacka who?
The next morning we had to figure out as a group what we wanted to do. Making plans with 12 people is not my favorite thing, but most of us were pretty chill with whatever. We decided to skip going to Portland for Voodoo donuts and walking the streets, but instead chose to stick to the wilderness. Close to our campsite was the Clackamus Lake and we were excited to wash off some dirt.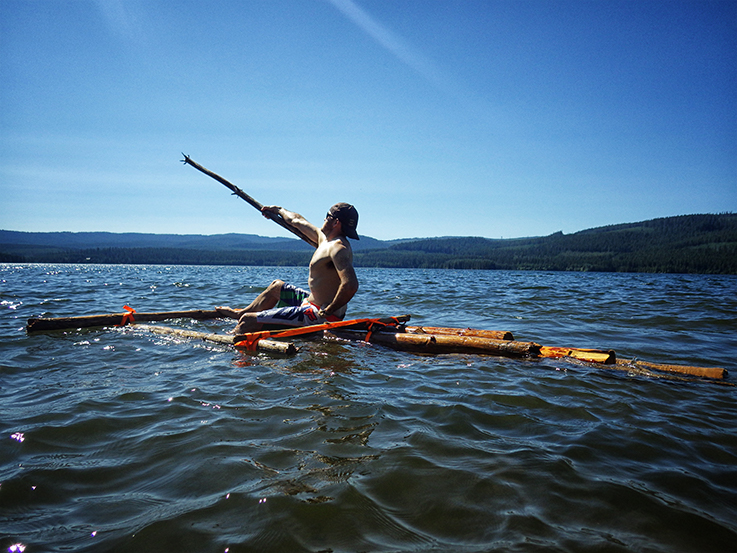 I was really annoyed about forgetting our raft when we got to the lake, but soon forgot about it when the guys made a raft of their own. They tied together the logs from the beach and we took turns floating on it. The water was cold, but we paid no mind as we spent a couple hours on the raft and jumping off the dock. We came back to camp to warm up over a fire, hot dogs and our favorite camping dessert- banana boats.
Since we would take a long time getting ready we decided to have drivers wake up early the next morning to start driving while everyone slept. This is a huge perk of traveling in an RV!
Crater Lake
We arrived at the Crater Lake RV Park in time for lunch. Everyone was excited about the showers and running water at this campsite, but there weren't nearly as many trees. I would've preferred trees over showers. We drove out to Giants Rock Walk and explored. While we were wading in the river I found the huge pine cone I was hoping to find on this trip. We headed back to camp and everyone was anxious to shower.
Happy Independence Day!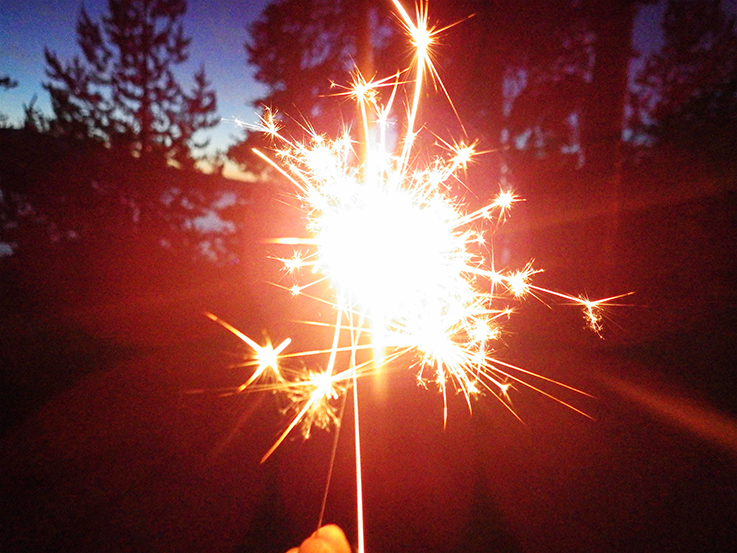 It was Independence day and we were headed to Crater Lake. As you could imagine, it was packed and we had a hard time finding parking spots. A lot of the hikes were closed due to snow and repairs, but it didn't matter because our group moves slower than a herd of snails traveling through peanut butter. We enjoyed looking out over Crater Lake and the kids received their junior ranger badges after learning about snails, poison oak and other fun nature.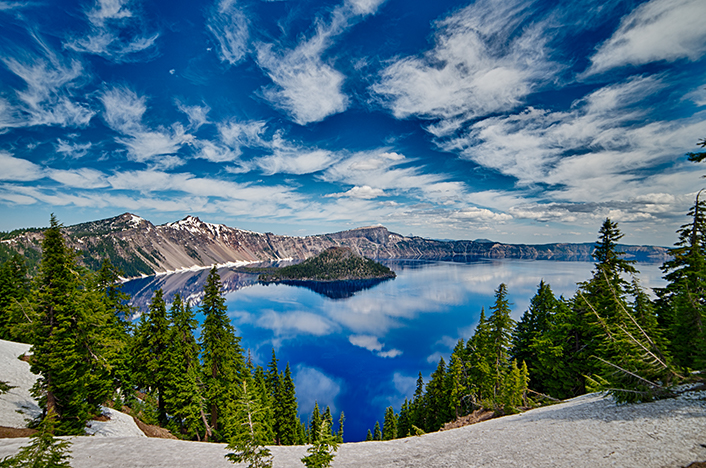 We drove to Whitehorse Waterfall and Toketee Falls for awesome pictures. In the late afternoon we scoped out a scenic spot at Diamond Lake where we ate and watched fireworks. Me and one of the kids inflated a small flotation device and paddled out onto the lake to watch the fireworks. We took in more water and had to hang our legs over the side into the cold water. We were getting eaten by mosquitoes and freaking each other out that there was something in the water wanting to pull us in. It was still worth it for the view!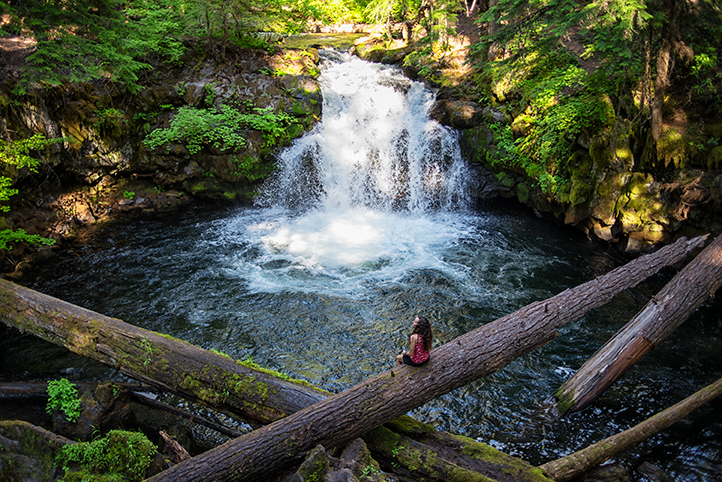 The Redwoods
We left Oregon and headed to California to our next big destination: The Redwoods. We left early and had to make stops at the laundry mat and Wal-Mart, but made it into Redwoods State Park around 4:30. Our campsite was by a stream that was perfect for our traditional family boat races.
The boat races started with Pablo and Jef on our road trip to Mt. Rushmore, continued on when we went to Moab and now it's become a road trip tradition. Each contestant makes his/her boat to race and no one can add an engine. Some really get into the competition while others bring a block of wood that ends up winning in the end.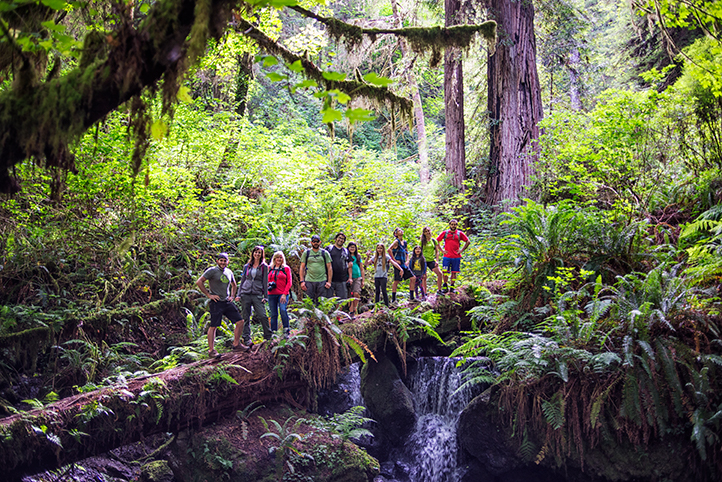 After racing our boats we hung around the campsite playing soccer on the dirt road. This campsite was the best of both our last campsites- it had thick trees everywhere, a distance between sites and running water. We had to pay for the showers, but at least it was an option.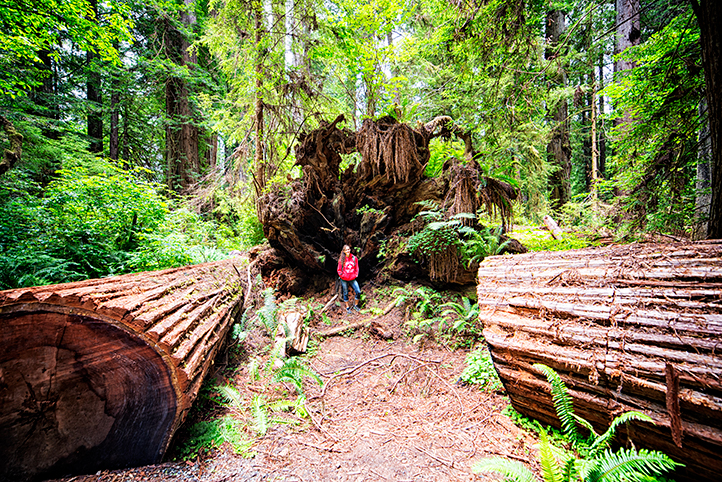 We drove down 101 and took the scenic route. Our first hike was to Big Tree, very aptly named, and I felt like we were walking through Fern Gully. While those assigned for lunch that day cooked the rest of us played soccer in the field by the visitor's center. Every time we go to a National Park we like to ask what hikes are recommended for our group. Our large group couldn't do a lot that was in the Redwoods due to the length of hikes and permits, but we did one other hike (sorry can't remember the name). Both hikes were beautiful and we were able to see several large trees and green everywhere.

Crescent City
On our last day we went to Crescent City for beach activities. We walked to the lighthouse and the pier searching for starfish and crabs. There were mesmerizing starfish vibrant with orange and purple colors stuck to the rocks along the pier. We played soccer on the beach for a couple hours until people started getting injured. We ended the day by going out for ice cream and cooking tin foil dinners over the fire. Pretty much sums up everything I could want in a day.
The Long Journey Home
The journey home began with an ETA in roughly 16 hours later… but it turned out to be so much more. The other RV in our party started having engine issues a half hour out of Lakeview. We pulled off and let it cool for a bit, and decided to load everyone but the driver into our RV. He met us in Lakeview where we'd stopped for lunch at the Polar Bear Diner and we were happy to escape the heat. We didn't want to run the AC in our RV so we were melting. I think our group overwhelmed the staff at this small town diner.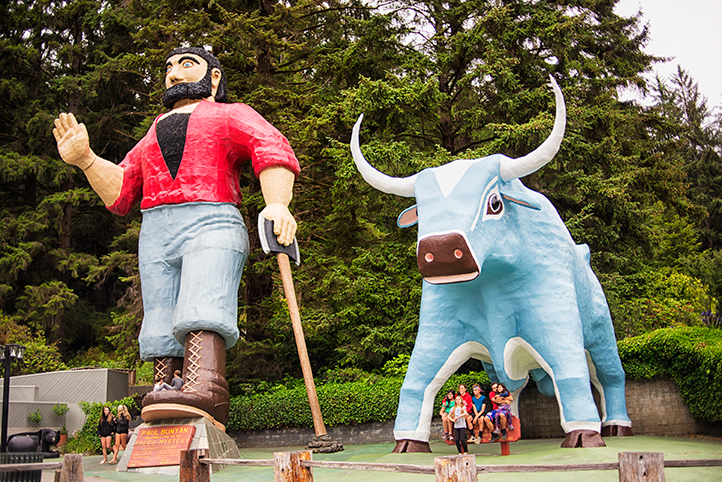 The car store we stopped at didn't have the parts he needed so we pushed our luck after filling up at the gas station. We split groups into each RV and we were doing fine until our RV lost power just before Winnemucca. The guys checked the levels and everything seemed normal. We took it slow to Winnemucca and stopped for fueling the RV's and our tummies.
Stranded
Pushing our luck some more we headed to Elko. 30 minutes out of Elko the RV lost power again, this time it couldn't be started. We were stranded on the side of the freeway at 2:30 AM tired from the long day of driving and the heat. I had fallen asleep already before it broke down for the final time, dehydrated and hoping that I wouldn't need a bathroom. I woke up the next day to Pablo on the phone with the tow company and the RV shaking as a semi truck passed by it. He hadn't slept much through the night, trying to figure out a plan. A highway patrolman had stopped by at 3:15 AM to help us get it off the road as much as possible.
Luckily, Jef had a friend in Elko who came to help. He drove a few of us to town where we could get restroom breaks and pick up food. While we hung out at McDonald's Jef, Pablo and the friend put in a new alternator. As we drove it down the road from his house we could tell that hadn't fixed the problem. It looked like we weren't getting home by way of RV on this trip.
The other RV in our group had made it home and the driver came back to Elko to pick us up. We left our RV with the friend and hoped we'd see it again. Hopefully this wouldn't be the end of our travels in our beasty old RV!
What's been your experience with RV road trips?