Moab
Moab, Utah, The gateway to red rock canyons and landscape. This is an easy little trip we make all the time. Moab offers a lot to do so we just keep going back for more. My brother lived here for a year or two and learned a lot of routes and other fun things to do. Every time we go back we end up doing something new and some of the old fun stuff as well.

Arches National Park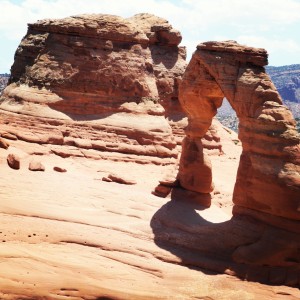 There is over 2,000 natural stone arches, I guess that's that why its the Arches National Park! The park is about 3-4 miles from Moab and is 76,359 acres of red rock fun. It also has the world famous Delicate Arch which is about a 3 mile round trip hike from the guest parking lot. To get into this park you have to pay some fees. The best way to go about it is to pile into one car since you can pay the fee/car, but its not to bad at $10/car for 7 days.
Canyoneering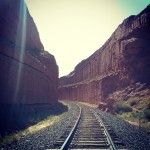 Southern Utah has a lot of locations you can go canyoneering, Moab being one of the best places. We have gone twice to two different trails. Canyoneering includes, but is not limited to: walking, scrambling, climbing, jumping, rappelling and sometimes swimming. You really get to do a little of everything! Our first time we went on the Pleiades Canyon in the La Sals which is a  technical wet trail. A wet suit is recommended since there is ice cold water throughout most of the canyon. Naturally most of us in the party were wearing shorts and light rain jackets, and one guy decided it's easier not to have a shirt at all since it will just stick to him and make him colder.  Hey however you wanna do it, we warned you! We pretty much hiked into this slot canyon with the spring and down we went. There was 7 rappels we had to do and some really cool photo shots! We were pretty much wet the whole time and even though we went in July it was cold in that water. The trail took us 2-3 hours but it was well worth it.
Our second canyoneering trail was to the Rock of Ages where we had to drive up a tricky road for about 20 min and then hike up one of the canyons to get to. This trail has amazing views, one that needs mentioning is the sandstone fins. There were a few water spots and a really amazing hidden arch! Once you get to the top you loop around to another canyon where it starts to get a little tricky. Here you have to stretch yourself across some slots that have water in them trying to not get wet! We had to have our hands on one wall and our feet on another to get past it. Some didn't make it and fell in, it was only about 3-4 feet deep. The fun part was the challenge. We all ended up getting wet because there is no way around it. Make sure you have technical gear, because there are two areas where you have to rappel down (the last rappel being the Chimney Arch).

 ATV time!
You can't go through Moab without experiencing the ATV side of it. We rented a razr and joined a friend of ours who owns a couple and took them out on the Hell's Revenge and Lion's Back trails. There were 8 of us in 3 different razrs and we took turns driving the different terrain. I was a bit ecstatic about the water and getting it to splash everywhere, and I loved the mess! We did have to take them to a car wash and get them cleaned before returning it, but well worth it. There were several white knuckling spots, so I wouldn't recommend this for those who aren't willing to drive through steep inclines/declines, through deep water holes, or on thin areas where tumbling is possible.
One of the arches we hiked to had some people set up to jump and swing off of it! Take a look below: