Cruising the Caribbean
It seems to be the dream for those of us living in a landlocked state to get away on a Caribbean cruise during the ugly winter days. That is to say at least, those of us Utahns who aren't hitting the ski slopes but instead counting down the days until Summer! Well stop dreaming fellow sunshine cravers, this isn't a dream it's a possibility! Let me tell you how…
Keep looking for those deals
Our cruise was only $503 for 7 days porting on 5 islands that Pablo found on Royal Caribbean. By using the reward points from our Chase Sapphire credit card we were able to redeem $960 of the cruise. Basically we only had to pay for what little was left over and our flights.
As for the flights we spent our entire Saturday bouncing all over the U.S. with connections from SLC to Denver, Detroit, DC… and then we arrived in San Juan, Puerto Rico on Sunday at 2AM. We were beat and tried catching some z's on the airport floor since the chairs were surprisingly more uncomfortable. Between the noise and cold tile we weren't very successful so we headed out to walk the city. We were a little thrown off by the Latin culture mixed with the American style as we saw food chain after food chain, but surrounded by Spanish speakers. We stopped in at a Dee's and I was starting to like the mix of cultures since it brought the best of both.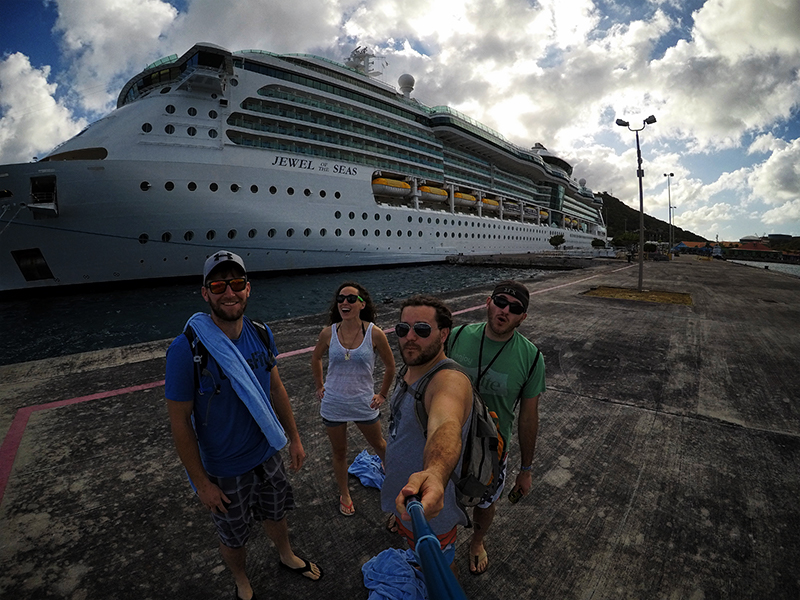 It was around 9Am and we were finally able to board our ship so we called an Uber. We checked in to the cruise, first having to answer questions about any illnesses and were given our ID cards. We were so beat and despite the excitement of embarking on a cruise we passed out in the lobby couches with our bags around us. I'm sure the guests boarding the cruise ship were disappointed with our lack of enthusiasm. However, after a nap and a visit to the buffet we were replenished and ready for adventure!
Our Itinerary
Day 1: Leave port from San Juan, Puerto Rico
Day 2: Arrive in St. Thomas
Day 3: Arrive in St. Kitts
Day 4: Arrive in Antigua
Day 5: Arrive in St. Lucia
Day 6: Arrive in Barbados
Day 6: Day at Sea
Day 7: Arrive back in San Juan
Every day the ship would port at 8 AM and set sail at 5 PM providing us time to find something fun to do. Like with any cruise ship, I recommend NEVER buying excursion packages or anything of the such on the cruise ship, they're a rip off. The only benefit is the guaranteed return to the ship on time. Plan what you want to do ahead and find a deal on the port when you arrive. There are many different options and someone's bound to bargain down to get you in their tour. Part of the adventure is the thrill of doing things spur of the moment!
St. Thomas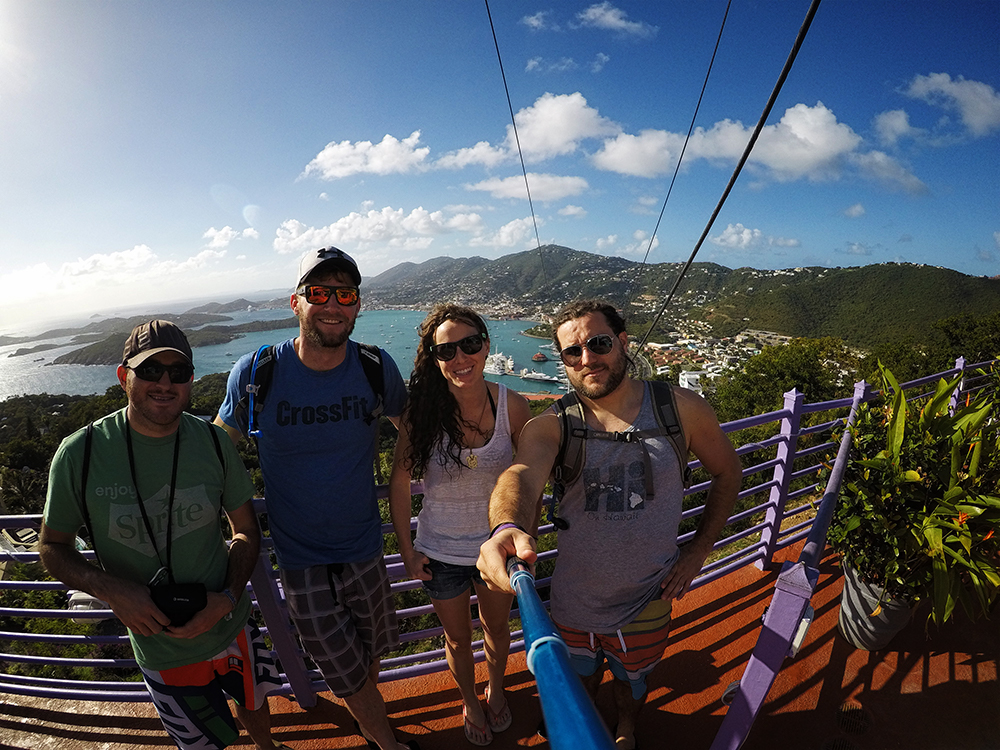 The only things on my mind for the ports were sun, beach, water and repeat. The guys brought me back down to Earth and decided to do a tour of the island, one of the stops being a beach. Our tour guide drove us around in a F350 truck where the bed had been transformed into a 5 row seating arrangement. He told us cultural facts about the Island (most of which were made up) over the PA and then chuckled so we never knew what was true. We stopped at lookouts as we made a full circle around the island. By the time we got to the beach the clear skies had clouded over and began to spit on us. Didn't matter anyways we jumped in the water before our tour guide, "Chicago," took us back around the island.
St. Kitts
There was a nice walk into town right by the port in St. Kitts. We weren't interested in shopping, which seemed to be one of the common draw to tourists on these Caribbean Islands so we skipped past the row of shops. We passed a monkey tied up and wearing a diaper, no doubt meant for tourist's photo opportunities. We flagged down a taxi to a recommended beach and spent the day seashell searching. I instantly was regretting not packing my snorkel gear.
Antigua
There was a common factor between all these Caribbean Islands that was becoming apparent to us… taking a taxi was required to get anywhere interesting, and they weren't cheap. We ventured into the city and found a taxi driver who turned out to be very unique… he drove balancing a can of soda on his head. Purely for the sake of entertaining tourists, which it certainly did, he played some Bob Marley and drove as if the can was an extension of his head. He told us about his life, how he was a refugee from Haiti, we talked about religion on the island and the culture while colorful house after colorful house passed us by.
We arrived at the beach and it had to have been the most gorgeous beach out of any of the Caribbean Islands we ported on. The water was clear, the sand was soft (unless you tried kicking a rolled up ball of it) and the coral was perfect for snorkeling too (except for the big waves smacking us into it). We were enjoying the beach and sun so much that we came back to the cruise ship as tomatoes.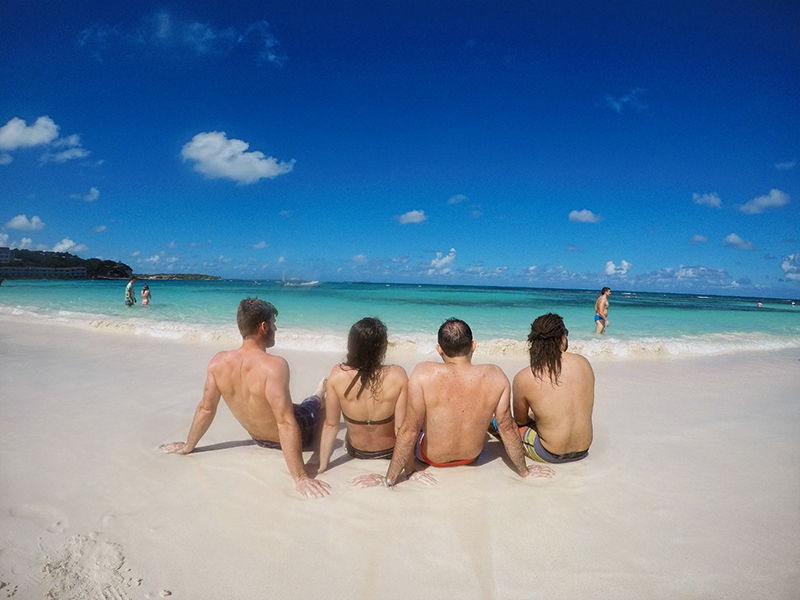 The mud baths of St. Lucia
St. Lucia was an island that we would've been happy spending a couple days on. There were two pitons (volcanic plugs), called Gros and Petit Piton that would be amazing to climb. Not to mention the several waterfalls and beaches that would take time to explore. We went to the mud baths where volcanoes supplied hot water to the hottest springs I've ever been in. I felt like my skin would fall off, but I applied the clay onto my wet skin and felt it's smoothing magical powers. After rinsing off we smelled like sulfur, but had baby soft skin.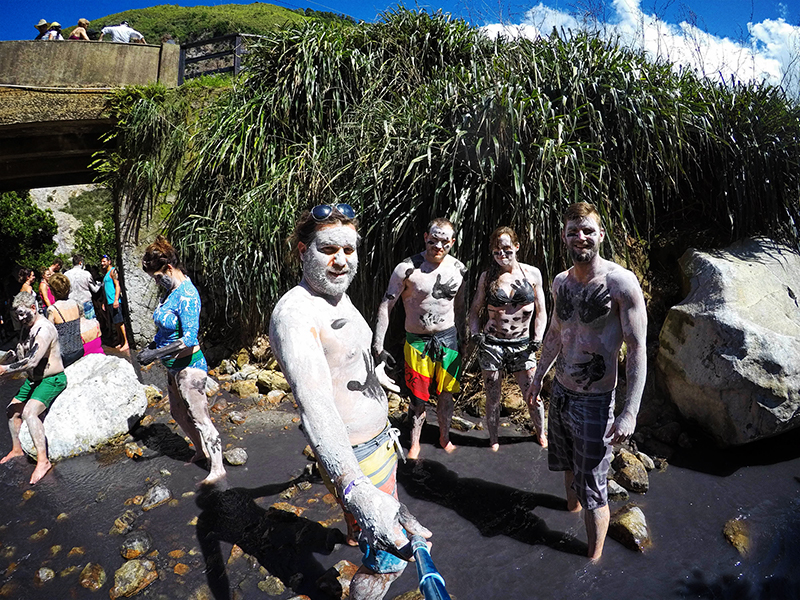 Luckily, right after the mud baths we were able to wash off some of that sulfur smell in the Toraille Waterfall. We stood underneath and let the heavy falls scrub our scalps. Afterwards we drove off again until stopping at a view point. There was a local with his family selling his unique art. Using the gourds from the national St. Lucia tree, a calabash(or crescentia), he would dry them out and carve different designs into them.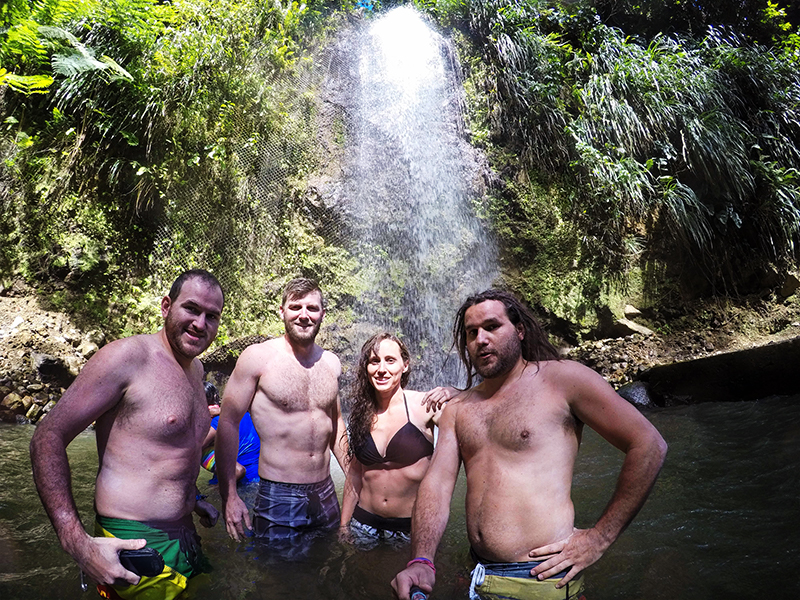 The sunken ships of Barbados
There were high expectations of Barbados since several people had told us it was something special. I think Barbados did turn out to be our favorite Caribbean Island to visit because of the snorkeling at Carlisle Beach. The shores of Carlisle were strewn with purposefully sunken ships that are amazing to snorkel to with coral reef fish swimming all around us.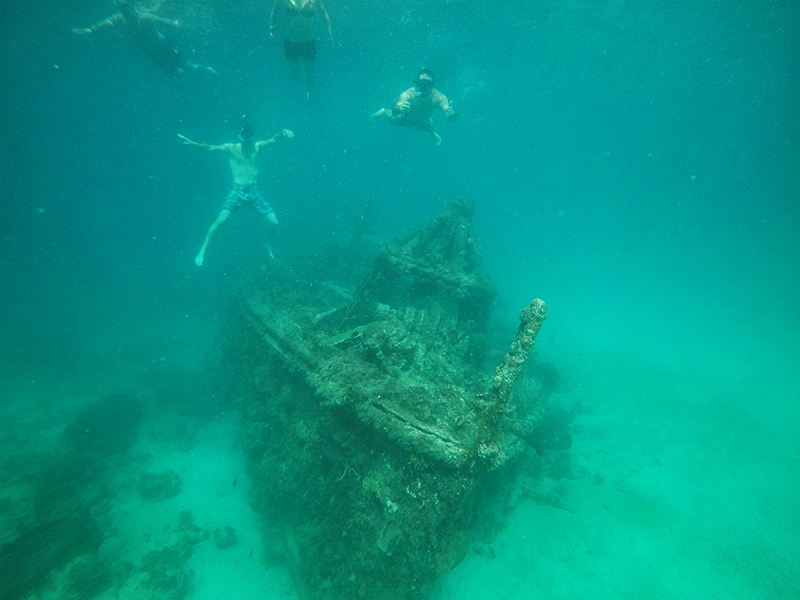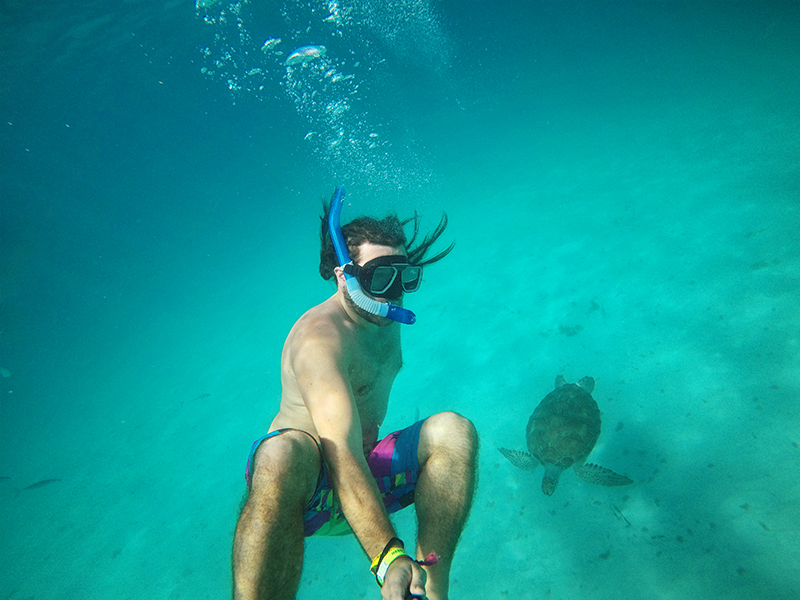 We arrived at the Carlisle Beach and found one of the many boats there that would take tourists directly to the closest sunken ship and then over to a spot where sea turtles swarm. Both these spots were easily within swimming distance so if you have your own snorkel gear I highly recommend you just swim out on your own and explore in the time frame that you want. We were happy to spend the money for the boat ride however because it included our umbrella beach beds that we napped in.
The reappearing Romanian
One of the best things you can do while traveling is make friends with people you'd otherwise never talk to or consider spending time with. On our cruise we'd met several people that we kept running into, one of which was our restaurant waiter. Obviously we would run into him every night when we went to dinner, but he would pop up out of nowhere and it became a running joke with us. We'd be talking at the table and suddenly he was there. He would pop out at us on the cruise ship when we weren't expecting it and again when we were at the beach in Barbados.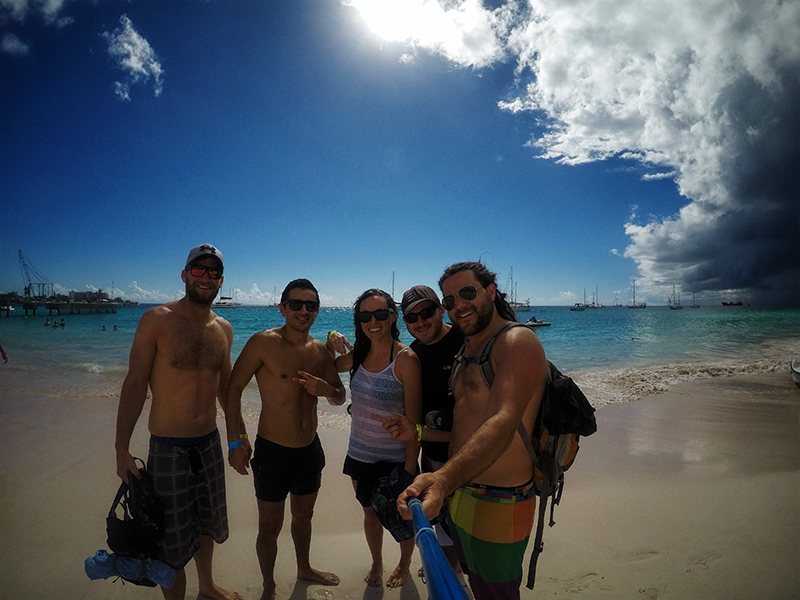 It's not a cruise if we don't get drenched at port!
On our last cruise on the Mexican Riviera we were walking around town and it began to rain, A LOT. The locals stayed inside waiting it out while all the gringos played in the flooded streets. On this cruise we were walking back to our ship instead of taking the bus over because we wanted to walk in the rain. When we finally arrived back to the ship we were as wet as if we'd swam over.
Anything can happen on a day at sea
Our last day at sea was filled with belly flopping, a scavenger hunt, Carlos attempting to be the sexiest man on Earth, pool volleyball competitions, singing, dancing, hot tubing, buffet eating, basketball, and lots of laughs. Basically we were sad to get off the cruise where we'd been pampered.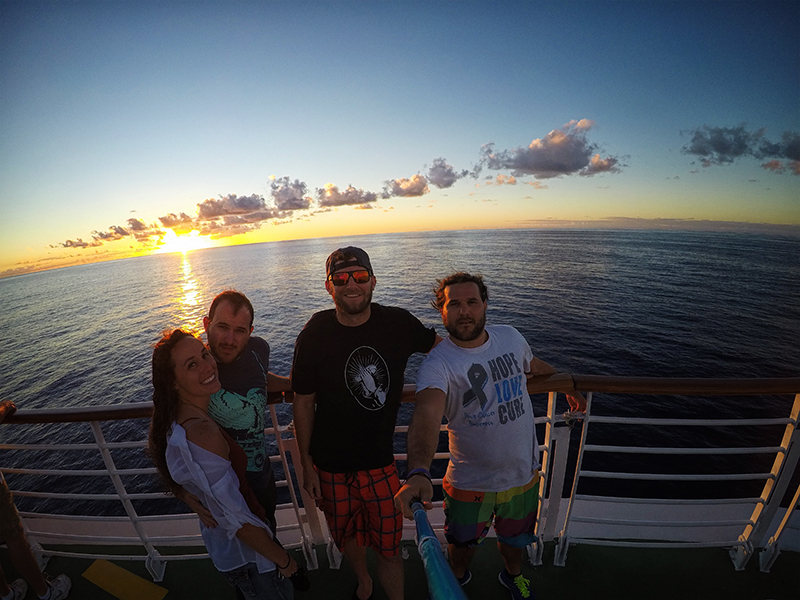 A cruise is a great way to vacation if you want to take it easy. It's nice because you don't have to do much during the trip, but you have the option to adventure on when you get to ports. We enjoyed this cruise because it ported almost everyday with something new to see. It wasn't the best in entertainment, food or pool space compared to other cruise ships, but it satisfied our needs. Email us or comment below with any questions about our cruise, or about what kind of cruise you should choose to do.