Mexican Riviera Cruise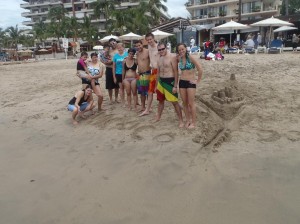 Mexican Riviera cruise! Our first cruise together. We ended up having a group of 12 and got a pretty good deal. This all started back in January when we got together with Andy, who went with us on our last family cruise. We said it was about time to go and so we booked by March it seemed like. We tried filling the rooms, 4 per room, to get the best deal. So we asked everyone. Like I said, we ended up with 12 people: Dani and I, Andy, Tess, Carlos, Makenzie, Rachel, TerryLynn(mom), Victor, Sonia, Miski, Chaska. Whew!

Here was our itinerary:
Sun
Los Angeles (Long Beach), CA
4:30 PM
Mon
Fun Day At Sea
Tue
Cabo San Lucas, Mexico
9:30 AM
6:00 PM
Wed
Cabo San Lucas, Mexico
7:00 AM
4:00 PM
Thu
Puerto Vallarta, Mexico
9:00 AM
9:00 PM
Fri
Fun Day At Sea
Sat
Fun Day At Sea
Sun
Los Angeles (Long Beach), CA
9:00 AM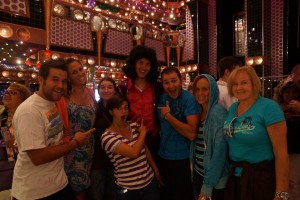 We ended up being two days in Puerto Vallarta instead of two in Cabo because of a storm that was coming for Cabo. Cabo was just a relaxing day at the beach. We explored the city a little and had some tacos while we were walking around. Mostly just spent time at the beach.
Puerto Vallarta was a little more fun. We tried getting a good excursion when we got off the boat but they were about $40/person. As poor college students we decided to just explore the city. We jumped on a bus and talked to some of the locals. They told us we could take the bus to the town center and jump on another bus to get a tourist spot. The bus was super cheap, round trip was like $5 and we went really far! We got to the spot and they charged us $10/person to go on a small boat ride to the a little rock island where we would snorkel. We ended up doing the $40 excursion for $15/person. Not bad! We got to hold a star fish, octopus, and a pucker fish! It was a fun excursion.
On our way back it started raining, as in pouring! we got off at the end of the ride and walked in the rain! We got soaked, but it was so hot it was nice. The roads there turn into small rivers. Everyone was looking at us. We did some shopping, stopped at Walmart for some sunscreen and made it back to the cruise boat.
Andy ended up being part of one of the show and sang a song for all of us on stage. Cruises are nice cause there is lots of food and lots of entertainment.
Our flight home wasn't until later in the day after we ported. So Dani, my mom and I rented a car and spent the day in Santa Monica. The rest of the group had to start there long drive home.
I definitely recommend to do a cruise at some point in your life. For us that live in western USA the Mexican Riviera cruise is a really good one! I have been on two now, and want to go on more. Its fun to have a place to stay with all your food, but have new places to visit everyday. To save room for this awesome video click here to see our full photo gallery!