When in Rome… Stay there because it's amazing!
I. Love. Rome. Go there, please.
Roma Amor
It's no wonder why Roma spelled backwards is Amor (which means "love" in Spanish) because it is a place everyone loves. I was really excited for Rome from watching movies set there, but was also wondering how much people make it seem better than it is. Well they don't exagerate, and if someone doesn't like Rome than I'm very sorry… maybe you should give it another try.
I can sum up why Rome is rated one of my favorites: food, art, architecture, atmosphere and food.

Colosseum Under the Moon
Juba from the movie Gladiator: "I didn't know men could build such things." The Colosseum is indeed very colossal, and that's saying something considering that it has levels missing from it's original construction. The actual name of the Colosseum is The Flavian Amphitheatre, but the nickname Colosseum (which came from the name of The Colossus of Nero Statue that once stood by the Colosseum, and possibly as well as it's colossal size) stuck better.
We toured the Colosseum at night which was very cool under the moon, but we couldn't see as well and I wouldn't mind going through again during the day. There were benefits to going at night, I think there's less crowds and it was significantly cooler in temperature. We walked down below the main level to the labyrinth where the gladiators would prepare to fight and where the animals were held before an event.
Curse you construction
I would go back to Rome gladly, especially since the Trevi Fountain was under construction. I haven't mentioned, but so far on our travels a lot of things seem to be under construction. It's great that people are maintaining the beautiful monuments and structures that we want others to see, but the timing is so bad.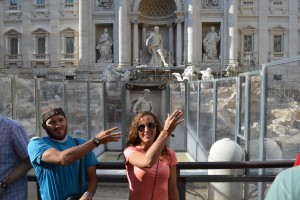 There wasn't much we could do about the construction, but we'd heard about the Trevi Fountain coin tradition and still wanted to try it. The tradition is that throwing one coin into the fountain ensures that you'll come back to Rome. Throwing two coins ensures romance with a Roman, and three coins ensures marriage with that Roman. Well, Pablo and I both used our right hands and flipped one coin over our left shoulders into the Fountain as the tradition instructs. Here's to wishing. The result of so many tourists participating in this tradition adds up to 600,000 euros a year for authorities.
Other highlights of Rome
The Pantheon is another architectural masterpiece that is one of the best preserved of all ancient Roman buildings. We got to the Pantheon as it was starting to rain a lot and there were several people taking shelter there. It was cool to watch the water drop through the hole in the top of the dome and it was a great spot for us to get stuck for a while.
The Circus Maximus was once a marvelous chariot racing stadium and events venue. Sadly, in our current day all that is left of the stadium is a large field and crumbling rubble on each end. There were blueprints of what the stadium looked like and knowing how much work went into it causes me to appreciate it more.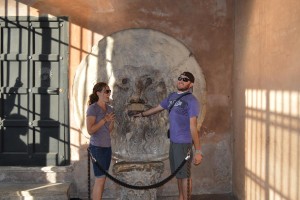 Bocca della Verità, meaning the Mouth of Truth, is a marble carving of a man's face with his mouth open. The sculpture is located inside the Church of Santa Maria and is said to have come from an ancient Roman fountain. It's said that if you stick your hand into the mouth and tell a lie that the statue's mouth will close down and bite off your hand. Everyone took turns sticking their hands in and some were brave enough to tell a lie to see if the statue would return their hand.
We only got a piece of what Rome has to offer, because there is so much more to it than what we saw in 3 days. We only purchased tickets for the Colosseum and the Vatican (both museums and towers), and enjoyed walking around the outside of everything else. There's so much to see from the outside of buildings that I wouldn't waste time going to the inside (except the Pantheon which is free anyways). Even with only getting a small amount of Rome and in a fast forward view it was amazing and I'll take whatever I can get from visiting there.
The Vatican
My favorite time seeing the Vatican was at night when there weren't crowds of people and it looked beautiful lit up. We went during the day to tour the Vatican Museums, where we saw the Sistine Chapel and so many beautiful works that we were shuffled quickly past. This took a good portion of the day, but we definitely saved time by buying online beforehand. There was a line that we were able to skip and were able to ignore all the people trying to sell tickets.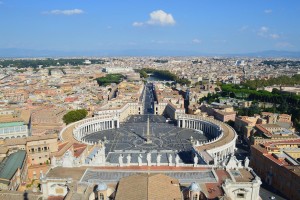 We paid extra to climb up to the dome of St. Peter's Basilica which involved a good amount of slanted and thin steps. The views were all amazing, we were able to see the beautiful St. Peter's domed ceiling up close as well as the breathtaking St. Peter's Square. We were enjoying the views when we saw someone's camera lens cap go rolling off the roof top. We turned around and saw Jef holding his mom's cap-less camera looking perplexed.
Meet at the Colosseum at 10
Since we were such a large group it was expected for someone to get lost. We jokingly made a plan to meet at the Colosseum (clear on the other side of the city from where we were site seeing) at 10 PM because that's when we had tickets to tour the Colosseum. Not even an hour after that being said we lost track of Pablo's mom. Everyone started realizing she wasn't close by at all and we all spread out looking for her. About a half hour later Jef finds her in front of the Pantheon making her way to the Colosseum. Needless to say, we made a better plan after that.
Stuck in an elevator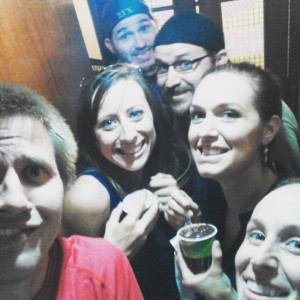 We'd just gotten gelato at our favorite place down the street from our Airbnb and were so tired from the full day of walking. Even though there were 6 of us we piled into the elevator that had a maximum limit for 4 people. Our apartment was on the 5th floor and halfway to the 4th floor the elevator screeched to a halt. After pushing every possible button on the pad and actually bracing ourselves and jumping we knew that the elevator wasn't going to budge. We texted Carlos who was already in the apartment and he came out laughing. He managed to pull the outside doors open (this was one of those old-school elevators with a door on the inside and outside) and one by one we had to slide through the half opened doors and fall to the floor. It was actually a lot scarier of a situation considering all the things that could have gone wrong, but thankfully we were able to nervously laugh about it and eat our gelato.
After we'd spent as much time as we could visiting Rome I was sad to leave such an amazing city, but I look forward to the time I'll be able to come back. On the plus side, we were headed to one of my long awaited dream destinations- VENICE!
What did you think of Rome when you went there? If you haven't been, do you have an interest in going now?