Vienna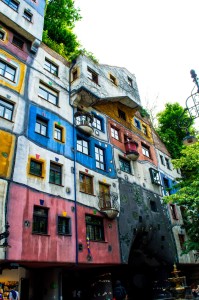 When we were planning to go to Austria I pictured rolling hills (like those in the sound of music), dirndl and lederhosen outfits. Unfortunately we did not make it to the area where they filmed Sound of Music (Salzburg, Austria), however we did make it to a wonderful city full of beautiful architecture.  Every corner we'd turn, look up at buildings and I'd hear Pablo say, "that's cool!"
How would I describe Vienna? It was similar to Denmark, in the way where the area seemed friendlier, more spread out, less tourist filled (unlike Prague), and a big-time bike town. We are starting to associate our bike filled towns with friendly culture. Ironically, our host told us that Austrian people don't consider themselves as nice.
We were also very thrilled when we arrived to our Airbnb, because it was a beautiful, artistic apartment! I was so thrilled I felt like singing to the rooftops at the dramatic difference from the place where we stayed in Prague to our new temporary home. I'm hoping that we don't have to cross our fingers every time we are traveling to our next stop whispering, "please, just let it be a decent place!" So far our number's are in our favor, 2 out of 3 Airbnbs being good experiences.
Seeing the City
What saved us from a lot of walking was the week rail pass that allowed us to take the tram, bus or metro as many times as we wanted in any direction for a week. Now make sure you buy the pass on a Monday or as early in the week as you can because it expires on Sundays. I don't regret spending the €16 on the week pass, loved it! There are also the city bikes that I would have loved to try if we hadn't purchased the week pass. I would recommend checking it out.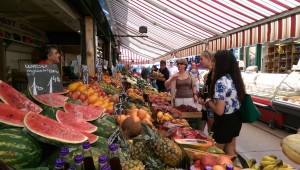 First thing we did after getting cash was stock up on groceries for the week. We had a couple places that we wanted to try authentic food, but Vienna isn't cheap so we could only eat out a couple times. We headed over to the big market that Vienna has called Naschmarkt. We found a lot of fresh veggies and fruits, there's also authentic restaurants, bakeries (we had to stop and get pastries), clothes etc. It was fun just walking through it all.
Don't accept things that people on the streets try to hand you- women tried handing me or Pablo a rose, once you accept it they harass you for money for it. We were walking through the market and they kept trying to hand us free samples of dried fruits. We ended up buying something from them so it was okay, but I think they would have made a fit if we hadn't. The only exception we found was the samples of packaged mini cheese that were handed out daily on one of the corners we crossed. We would walk by practically everyday and count on that as one of our snacks.
St. Stephen's Cathedral
Stephen's Cathedral caught our attention when we arrived since we could see the tallest tower on the cathedral standing high over the buildings. The cathedral was very impressive in the Gothic style that the Europeans seemed to like so much. Of course, like every other building we went to there was construction on it so the ugly scaffoldings were ruining our pictures. We remedied this problem by blocking it with our huge faces.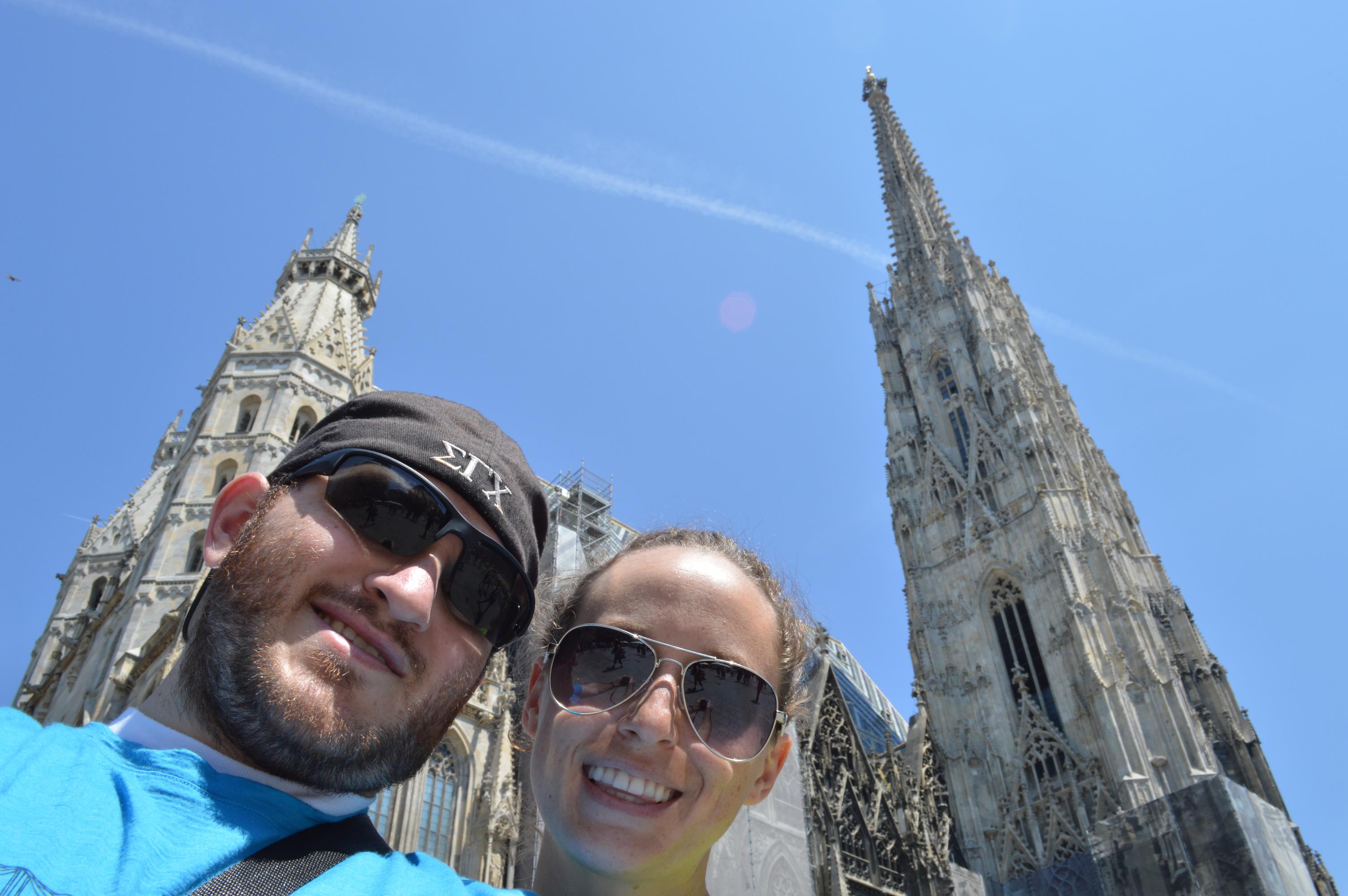 We did a tour of the catacombs underneath the cathedral which didn't seem to last very long, but still fascinating (me and Pablo seem to have a weird fascination with catacombs). There weren't any photos allowed (boo) otherwise we would show you how fascinating. However, Pablo likes to ignore the no camera rule and sneak pictures when possible. Here's proof: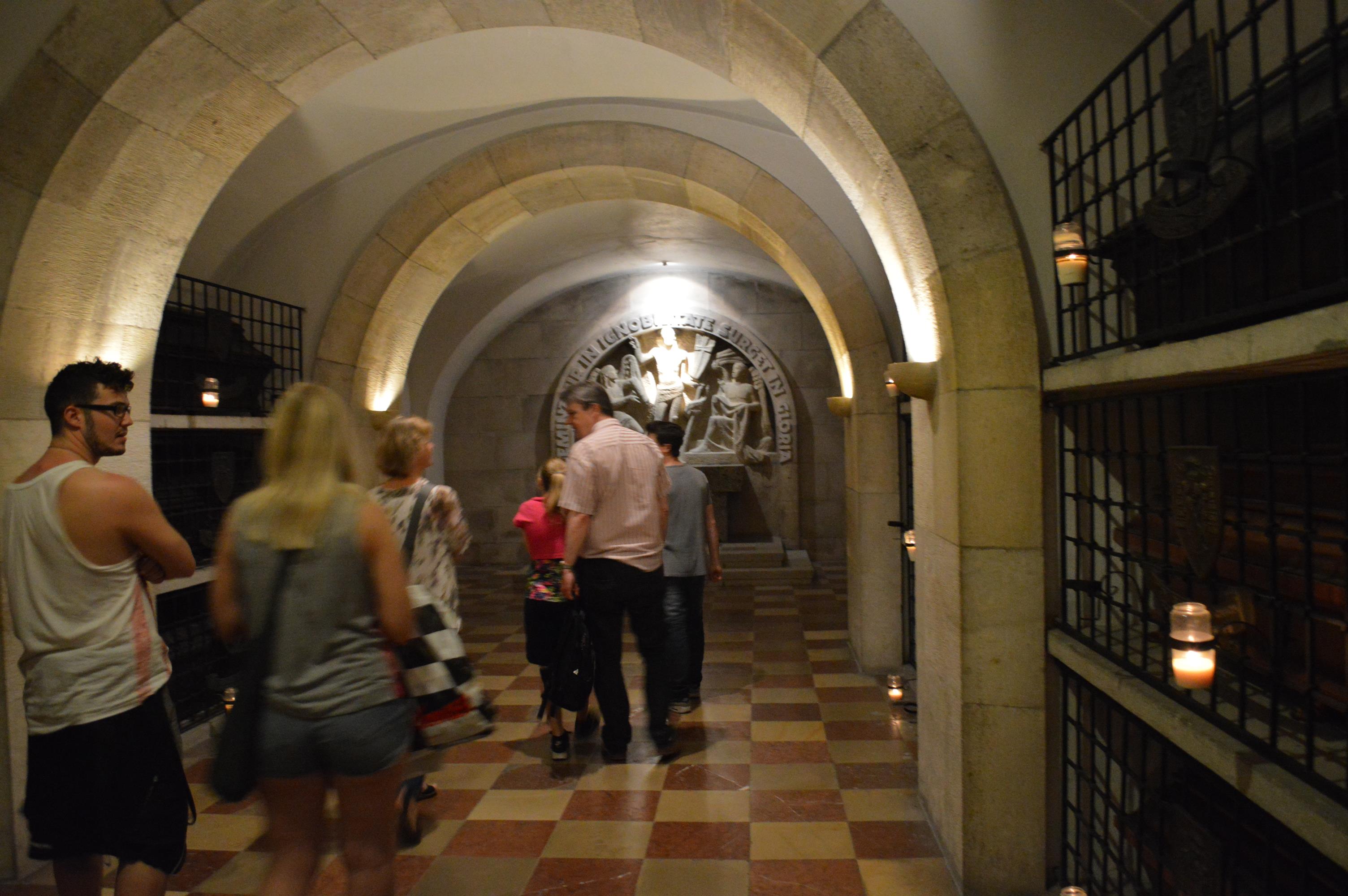 Schönbrunn Palace
The two palaces we visited (Belvedere and Schönbrunn) were my favorite spots in Vienna. I think it was because of the huge garden areas filled with statues and fountains around each of them. Schönbrunn Palace was seemed like 3 times the size of Belvedere, had horses everywhere, as well as a maze, greenhouses with plants from around the world and a zoo next to it. If I chose which one to have as my summer palace, Schönbrunn would be my choice. We hiked up the incline to the Palace Garden Gloriette that gave us a panoramic view of the palace. We were walking through the gardens for a few hours doing our fast forward version, but one could easily spend their whole day here.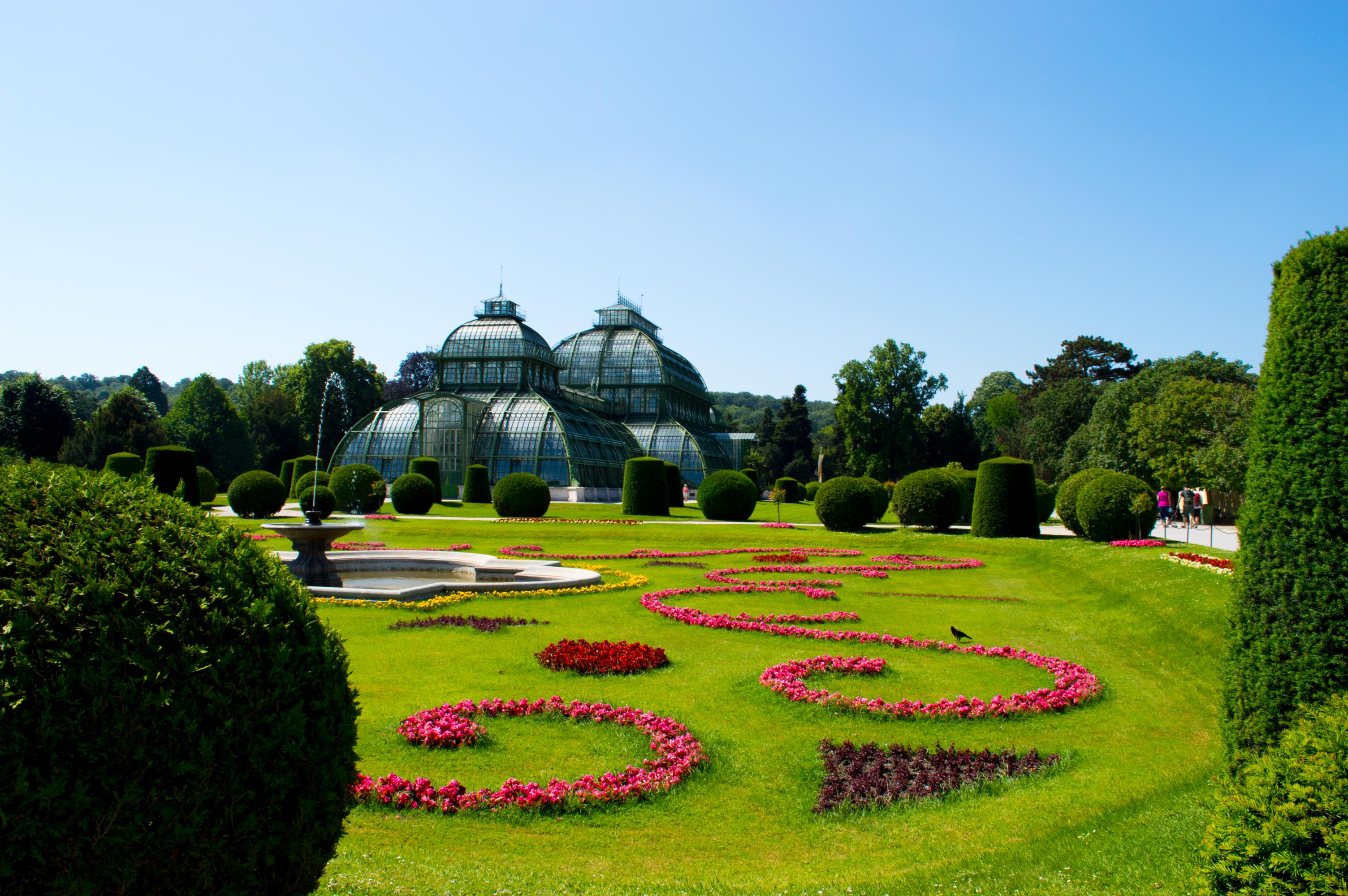 Foodies
Of course with all the walking around we needed food sustenance. On a couple occasions we tried the Vienna hot dogs, or Frankfurter Würstel. I had a smoked one and a Frankfurter Würstchen, and Pablo had a Frankfurter Würstchen and another one with cheese inside. They put them in a bun with hot dog and "mustard." Delicious, but one each was not quite filling for us.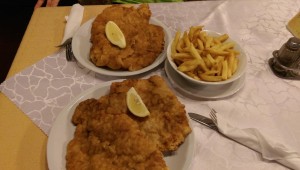 We were recommended to go to a wiener schnitzel haus (Schnitzelwirt Zeiner) that was only a couple blocks from our place. We both ordered the wiener schnitzel, because we were so excited to try it, and got 2 big schnitzels each. We were so full and happy after eating that much!
Like every European country we've been to, we were getting pastries from the bakery for breakfast at least a couple times. However, in our searching we didn't see an apfelstrudel. On our last day in Vienna we were a little disappointed that we hadn't found a bakery that had apfelstrudel. Low and behold, when we got to the train station they had some at their bakery! The apple strudel tasted amazing, as promised.
Line Shopping
Every time we switch to a different country we are thrown off by something, whether it's the process of paying for transportation, holidays we don't know about, or the food market closing early. In this case, it was the food market closing early every single day. We had a couple occasions where we wanted to go out at 7pm and get a specific something, walk there and… bummer, CLOSED.
When we had first arrived in Vienna we had to walk quite a ways just to find food for our very hungry tummies. We finally found one, and had to wait in line to get in! There was an employee who stood at the entrance, once the line moved up a little through the aisles he would remove the red rope barrier and allow a few people in at a time to join the line and grab their groceries at the pace of the line moving. I couldn't believe that this was normal for people and they didn't try to cut through. I thought it was hilarious.
Where's your favorite place in Europe?