The best panoramic views of Budapest
Budapest has so many lookout points, it's beyond words to explain how amazing the city looks at all the different times of the day and at all the different view points. My favorite part of the day to see the best panoramic views of Budapest was at dusk when the the city starts to light up. It's also not as hot so this makes it a lot easier as well!
Several locals sat along the Danube having drinks and gazing at the amazing view point of Parliament and the Chain Bridge lit up. A must see on the list!
Elizabeth Tower Lookout
On top of the tallest of the Buda Hills, János-hegy, stands the Elizabeth Lookout Tower named after the Empress Elisabeth. To get to this tower there are a couple of ways, we chose the lazy man's way by going on the Zugligeti Libegő- Chair Lift, and let me tell you I'm glad we did! Not only did it save us from a long hike uphill, but it also provided a beautiful view along the way.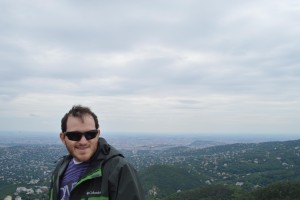 We still had to hike up after getting off the chair lift, but it wasn't very far. The tower is free to go up, surprising since almost everything you want to go in and see seems to cost. The sky was a little hazy but we could still see a great distance across the valley as well as feel the gust of wind that was swiping across the hill.
Fisherman's Bastion
Not only does Fisherman's Bastion have a great lookout point towards the Pest side of the Danube, but it also has impressive surroundings. The Fisherman's Bastion is next to the Church of Matthias which is another impressive building. The Fisherman's Bastion terrace alone is captivating with it's Romanesque Revival style.
Buda Castle
Just South of the Fisherman's Bastion and Matthias Church is the Buda Castle. What I found fascinating about the castle is that there is a labyrinth underneath that is unfortunately closed for unknown reasons. I could only imagine how cool it must have been back when the labyrinth was originally built to navigate through the underground caves.
Which view point do you like most?