Our 5 days in Belgrade
If you're planning a trip to the Balkan Countries be sure to not overlook Serbia. We discovered a couple traveling tidbits from our 5 days in Belgrade that we wish someone had passed onto us. As the saying goes, we live and we learn, but how about you learn a little from this post.
To minibus or not to minibus
From Sarajevo we took a minibus through GEA Tours to Belgrade. The minibus was really a 9 seater van that we're still not sure if we preferred over the large buses that we're used to. The upside of taking a minibus was that we were picked up and dropped off close to where we were staying. We also got to our destination quicker and took less breaks (could be bad if you have a small bladder). The downside of taking the minibus was that our driver weaved between traffic like a maniac and had a led foot. So if you have a big bladder, don't get carsick easily and like blurry scenery then I completely recommend it. My favorite part was when we passed a small car that had a couple live sheep stuffed in the back seat!
No control eh?
The different systems for the local transportation can throw any tourist through a loop hole leaving them amazed if they come out of the experience without any run ins with control officers. We ran into a doozy in Serbia…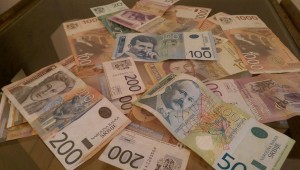 We tried paying for tickets when we got on the local bus, but thanks to the ATM we had too big of bills and the bus driver said he didn't have any change. Since we couldn't buy a ticket on the bus we were getting off to buy at a ticket booth and a local tells us, "free ride, no control." We looked at each other, then just smiled at her and got off.
After finally getting our card that had our ride passes registered to it we got back on the bus, followed the instructions we were given when purchasing the pass by selecting a two person option and scanning the card. Low and behold at the next stop who of all people should get on but a control officer. She scans Pablo's card and when we tell her it's for both of us she tells us to get off. I stay in my seat and tell her I'm not going anywhere because I have no idea why I should, we scanned our card. The bus driver however isn't going anywhere so grudgingly I get off. The control officer tells us that our card only registered for one person and that we now have to pay a fine. We told her we weren't paying a fine and that we were being taken advantage of as tourists (especially since the local sitting next to me on the bus got caught as well, but she argued her way off). She just stared at us shaking her head so I pulled out the paper that the ticket booth employee who sold us the card told us to select on the machine when scanning the card and showed it to her. (If it wasn't for that paper we probably wouldn't have had much to prove). 
After some more arguing another control comes up and gets involved. She tells us that we had 3 seconds when selecting the two person pass to hold up the card, otherwise it only puts it at a 1 person ride. Make sure you do it right if you're traveling in Belgrade! They let us go without a fine and gave us back our pass, but told us we couldn't scan the card again for another hour and a half so we had to walk. It was frustrating that we put such an effort in to do it the right way and ended up getting kicked to the curb, but at least we didn't have to pay a fine.
In good company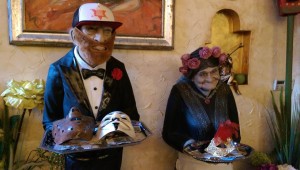 We were fortunate to cross paths with an american family living in Belgrade (the father of the family works for the embassy) and to spend time with them. We met them at church and they invited us over to their house afterwards for lunch. We spent the rest of the day playing a game (telestrations– must try with family and friends), talking, watching a movie and also staying for dinner.
When it came time for us to go back to our place they invited us to go out for dinner the next day. We went to a restaurant called Lorenzo and KaKalamBa that was the most entertaining place I've eaten in my life! From the chastity belts in the bathrooms to the paintings of naked cartoon people on the walls this establishment was as eclectic as they come. My favorite part was when our waitress used a pepper shaker almost as tall as me and lifted it over my food. The food was authentic and fabulous and we were in such great company. So glad we could make new friends and experience the weirdest restaurant we will probably ever come across!
We also were invited by the LDS missionaries to join them for dinner at a members house. (I promise we're not moochers, the people were just really nice). The members were a couple from Serbia who didn't speak English, but that didn't stop them from having a conversation with us. The poor sister missionaries had to translate non-stop and we ended up staying later than planned. I was surprised that we were the center of the conversation the whole time, but we've discovered locals love to travel even when they don't have the funds to so they were interested in trading traveling information.
They offered us hot drinks while we were talking and said that it helps cool yourself down from the hot weather (interesting theory- haven't noticed it working yet). When it came time for dinner our hosts had already eaten and stood by to make sure we were satisfied during our meal (apparently a common thing for Serbian hosts to do). We had a 3 course meal- starting with an egg-dumpling soup and delicious hot bread, then a side-salad with potato/sauce/chicken deliciousness and of course more bread. Finally, for dessert we had plum tart (our host kept saying "because plums are in season"). It was all delicious to say the least and they kept trying to get us to eat more. If there's one thing I've learned about the people here is that they know how to be fantastic hosts.
Time for sightseeing
Our experience in Serbia was less sightseeing than it was spending time with friends, but we had such a great time that way. We did manage to get out a couple times to go explore the nearby areas past the Bajrakli Mosque and Church of Saint Sava. The Church of Saint Sava is one of the largest Orthodox churches in the world as well as one of the largest church buildings. The church was under construction, as well as a lot of the other buildings we've come across and construction seems to be slow- lasting for years on end.
My favorite spot was the man made lake called Ada Ciganlija that was a short bus ride to. The water was oddly warm, and there were plenty of people, but I love to swim. Pablo's favorite spot was the Belgrade Fortress, overlooking the city and waterways (we're so predictable).
So if you find yourself making your way into Belgrade make sure you know how to correctly purchase bus tickets, take a dip in the Ada Ciganlija, visit the Belgrade Fortress and Church of Saint Sava as well as stop in at Lorenzo and Kakalamba for some entertaining dinner!
Have you ever argued your way out of a ticket? What happened?