Oslo for the weekend
Over the past 6 months Pablo and I have been able to see more of Europe than we could've imagined and with still more to come. We'd talked about Asia as a possibility during our time backpacking abroad, but thought that it would be too expensive to get there. With Ireland and the UK turning out to be a lot more expensive to travel in than we'd budgeted we started to keep an eye on the Norwegian flights to Asia. Pablo found one-way tickets from Oslo to Bangkok for only $250 and so off we go! Since the flight was from Oslo we thought, well hey let's go to Oslo for a weekend!
We'd put Norway on our traveling bucket list a few months back when we saw pictures of the beautiful hikes and camping areas, specifically near Trolltunga. My interest had also been sparked when I'd learned of the Christmas celebrations in the Northern parts of Norway and seeing the Northern lights at their best would be amazing! It was a bit odd for us to visit Norway for the first time with a completely different travel agenda, instead of going North we stayed in Oslo. Knowing that the Northern lights and Christmas Celebrations were going on so close but so far away was tempting us the whole time.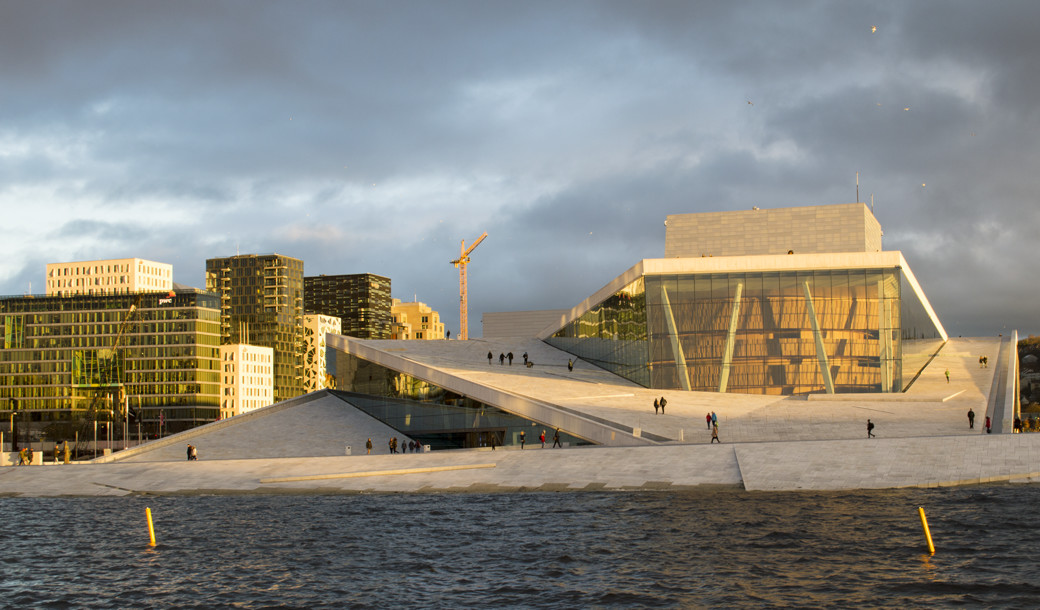 The reason we hadn't already gone to Norway up to this point was because it can be incredibly expensive, and in fact is one of the most expensive countries to travel to.  We had to pay 546 nok ($63) round trip for two on the airport shuttle, which took about an hour since the airport is very far from the city. After the shuttle we had to take the metro from where the bus dropped us off and a metro ticket cost 30 nok ($3.5) each. Finding a place to stay was expensive, food is expensive and like the metro, any transportation in the city is expensive.
For Free?!
Even though it's expensive to get to your destination in Oslo there are plenty of free things you can do once you get there. If you're a huge fan of museums you could probably spend more than a weekend in Oslo visiting all the museums they have to offer because there are a ton. Not all museums are free, but there are a lot including the Maritime Museum and the Armed Forces Museum. The Armed Forces Museum is a very cool museum to visit, and it's close to the Akershus Fortress and the Oslo Opera House which are great places to visit as well. 
There are also several free galleries to visit and outdoor attractions. One in particular was the Frogner Park where Norwegian inspiring artist, Gustav Vigeland has his sculptures displayed. To find more free museums and attractions for your Oslo trip click here.
Another fun thing to do in Oslo is window shop. Make sure to stop by the Oslo Royal Palace and straight down from that is the large shopping center where it'd be easy to spend a weekend there. Not enough ideas to fill your weekend in Oslo? Then venture out and discover!
Vinterland
We love going out and finding what local things are happening, and in Oslo we happened across their Vinterland Festival- so we didn't completely miss out on Christmas Festivals! There were several booths with their local and foreign foods, knitted clothes and hats, and all kinds of fun stuff. There was an ice skating show going on and a Ferris wheel- definitely a family event that you should go to if you visit during Christmas time. We particularly loved trying the food, especially the moose burger. It tasted delicious, and we sat around the fire on wood logs with others eating.
It was already chilly walking around the city, but when the sun would set around 3:30 the cold became a little too much. Make sure to pack some warm layers or hang out in the shops, the locals like to keep the heat up high in their buildings. Good thing about the sun setting so early was that we got to see every sunset while walking around and they were definitely beautiful. During the summer in the most Northern part of Norway the sun never really sets so they call it the midnight sun. That's something else I would love to see so there's another reason to come back!
Overall
Despite Norway's costly setbacks, I would definitely find it a worthwhile country to travel back to. Even though we enjoyed the time that we had in Oslo, it was probably longer than we needed to spend in the city. If you're planning on going I would say a day or two is enough, especially when there are so many places to visit in the short amount of time there is to travel!
What country would you want to see the Northern Lights from?