Lucky to visit Ireland
The funny thing about traveling non-stop is that occasionally it loses it's glamour or energy and it becomes a way of living. Than a weekend road trip or day excursion comes along and it snaps us out of our routine and the unexpected scenery reminds me of our constantly changing situation. In one day we can experience two different climates, cultures, languages, currencies, time zones and etc. You would think that should always be exciting, right? Well, it is exciting a majority of the time, and I know that we are truly blessed to have these experiences. On the other hand, I think it's important that we get time to take a break and have a little of our old routines. We were lucky to have this time in Ireland to do just that.
Ennis
We've never been so lazy on our Europe trip as we were during our weeks in Ireland, but it seemed to be the perfect place to spend time indoors. The wind and rain outside was temperamental to say the least, but it's Ireland in the winter… what should we expect? Thanks to our hosts in Ennis, it was easy to feel at home with a substantial amount of movies, books and TV shows as well as a place to sit in front of the fire with a cuddly dog. I was in a pretty comfortable state that couldn't get me to go outside. There wasn't much to do in the town besides shop so when we did go out walking it was to get groceries and on the way we were getting hit in the face pretty hard with rain and I was hanging onto Pablo for dear life.
Despite how it sounds, we did get out and sightsee, but it was easiest when we rented a car. Really, renting a car is probably the only way to properly see Ireland in all it's glory. There's so much you'd be missing out if you didn't, and the transportation is near impossible at times. We rented with Enterprise this time and got a decent deal renting a manual mini car for 3 days at €10 a day. A lot of the places we wanted to see were on West Ireland so we stayed in Ennis and drove from there. One day we went North, one we went South, the other we went South-East and we'll share with you our highlights from all directions.
Kilkenny
We stayed in a smaller town called Kilkenny for a week and it turned out to have more for us than we expected. Even though it would turn from blue skies to overcast and rain in a matter of mere minutes, we trekked through the town and explored. Kilkenny had it's own enchanting castle, which is impressive for this tiny town since not all castles live up to their name. As always there were an abundant supply of cathedrals in one small area with St Canice's Cathedral, St. Mary's Cathedral and The Black Abbey where we sat in on a Saturday mass (very cool- literally because it's in a stone building with no heating). If you have the time on your Ireland excursions, Kilkenny is definitely worth a stop in for a day.
Caution goats on roof
Can I just say, Europe has the best signs that I've ever seen in my life. They really make me happy, but also make me ponder if there's more to life than I realize, like according to the road sign I should be searching for goats on roofs. The roads in Ireland were some of the most exciting- several were big enough for one car, but was a two way road and the speed: 100km/h! We would be driving along and cows would be in the road, or tractors and we'd just wait. One time, without warning, the road just ended at a cow pasture.
Despite the rain and ugly clouds, we were able to glimpse sunshine on the fields speckled with sheep as we drove around Dingle Peninsula. Dingle was one of the highlights for me in Ireland because it was so beautiful in the sun and we were able to drive to the "sheep's highway." We'd stopped and talked to a local in one of the towns in Dingle and asked her if she knew where it was. We were surprised when she replied that it wasn't far from there and that her neighbor is the herder who occasionally uses the highway. He brings the sheep to the adjourning island where they graze for a while and then are brought back to the mainland. It was such a cool and delightful drive to see as well as the drive there.
The Cliffs of Insanity!
The Cliffs of Moher are the number one tourist spot in Ireland, and with that title comes all the annoying tourist traps that you'd expect EXCEPT THEY'RE FREE TO ENTER. The fine print- you just have to hunt down a parking spot. I'm disappointed with how our experience went down with the staff and the whole parking situation, but here's how you can avoid the drama: just pay for their over-priced parking because it's better than having to spend time looking for a spot, hiking and than getting scolded by some farmer telling you to get off the property.
We walked up the road alongside farmer's pastures (that were marked with signs for the way to the Cliffs, mind you), but had to avoid a running herd of cows and were scolded by farmer's for "being on their property." Despite that, we saw some amazing scenery on our drive and hike in our searches and it's always an interesting story when things don't go the way you'd like them to.
When we made it to the cliffs the winds were impressive but terrifying, so much so that I didn't dare get as close as I usually would to the edge. The cliffs really were inconceivable and seemed never-ending as one proceeded behind the other. As we were enjoying these giant's of nature the rain of course started to hit hard and the only structure nearby was a deteriorating roofless tower that seemed like it should be swaying with the wind. We had to head out before we were either drenched or thrown off the cliff, just our luck!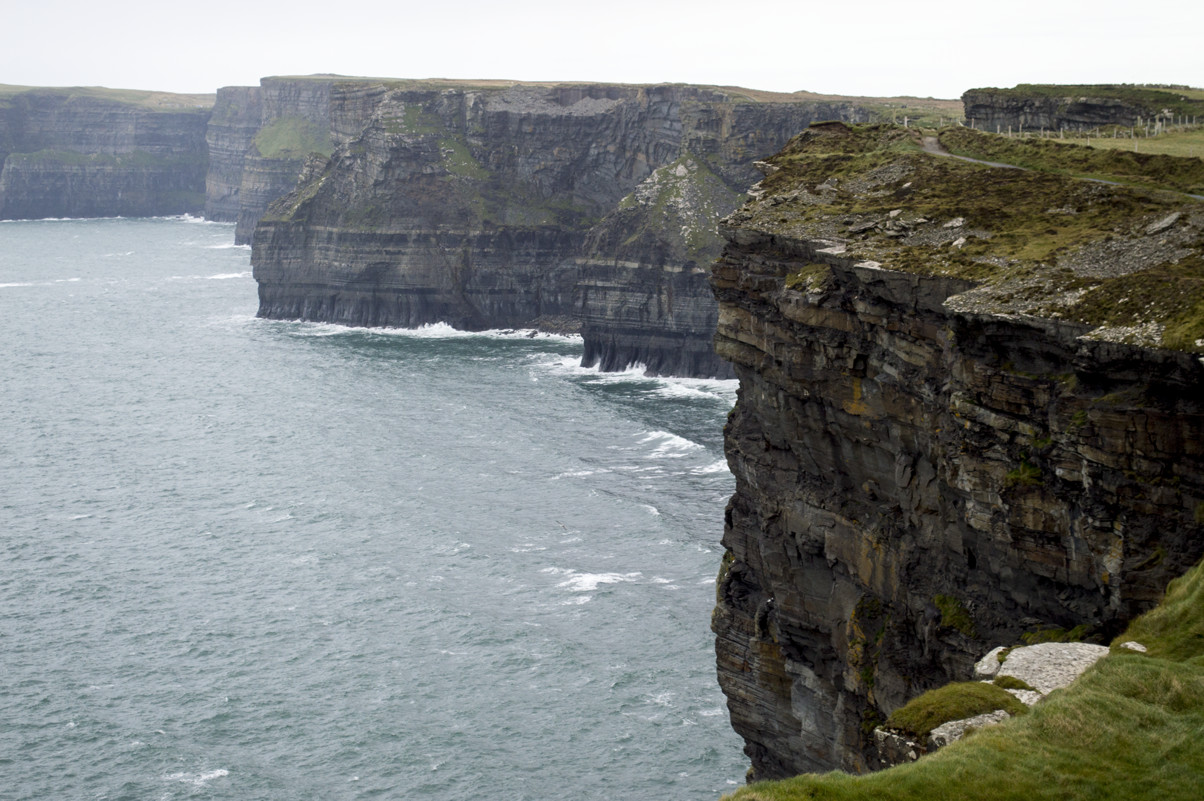 Castles, Castles, Castles
The majority of castles throughout Ireland are crumbling because they don't have a great restoration system, but are still epic looking perched on their dramatic sea fronts. My favorite part was seeing random castle ruins throughout small towns and fields that don't cost anything to go up to, and they would just appear out of nowhere. There's Ross Castle (with a flooded parking lot), Bunratty Castle (where you can go to a banquet), Cahir Castle, Ashford Castle, Doe Castle and of course Blarney Castle just to name a few!
Second piece of most important advice when traveling to Ireland– look into the heritage card pass, it costs €25 and gets you into A LOT of sites (including castles) around Europe. The card doesn't get you into every castle though so make sure you look up what's included, and some sites are closed during the off season so take that into consideration as well! Other than that though, it's completely worth it if you have time to visit at least 3 spots on the list and is a good way of looking up what's worth seeing in Ireland.
Dublin
For anyone taking a holiday in Ireland I would recommend only planning for 2 days in Dublin, at most. There wasn't a lot to do (besides drink Guinness and go to the Guinness factory for a tour) and since that doesn't interest us in the slightest we had even less to do while in Dublin. Our fellow hostel goers seemed to agree as well since none of them seemed to stay more than a couple of days. The highlight of visiting was walking through the Veterans Blvd all decked out in Christmas decorations and window shopping. There are plenty of pubs to choose from, most of which play Celtic music to help you enjoy the full Irish experience.
They're after yer lucky charms!
I'm incredibly sad to report that we did not find any lucky charms in the stores in Ireland. I couldn't believe it, was it all just a sham? Sorry, bad pun. Apparently people didn't like the lucky charms cereal so it was taken off the market. We also didn't find any clovers, let alone 4 leaf clovers. On the plus side, we saw a rainbow pretty much everyday and we were lucky to see Ireland!
Do you believe in luck?
Want to see more photos of castles? Go to our Photo Gallery!