A little piece of Pisa
Back when the planning for our family trip was in motion we were all wanting to go to Pisa to visit the Leaning Tower, but weren't quite sure how to squeeze it in. We finally decided that we would fit it in and even though we'd only get a little piece of Pisa, it was still something. We rented a 9 person van from Rome early in the morning and drove off to Pisa.
Road trips are the best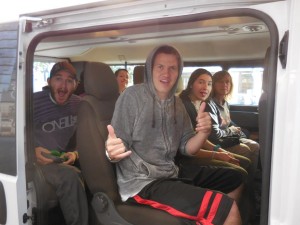 I guess it depends on the group when it comes to road trips, and that being said this was a great road trip! There were 3 people per row in our big van and we ended up playing musical chairs from all the pit stops and card games. There were snacks everywhere and plenty of cool scenery to help keep the group entertained.
Yay for car insurance!
We hadn't been driving for too long when the van jolted a little, we heard a scraping noise along with a gasp up front and everyone went silent. The person driving had hit the middle barricade because the car next to us was too close for comfort. We stopped at a gas station and checked… there was definitely a scrape that would not go unnoticed. The good news, we'd paid the extra for car insurance! We hoped that would cover it and were grateful that we'd purchased it.
The Leaning Tower of Pisa
Construction of the Tower started in 1178 and took 344 years to complete. There were two incredibly long pauses on construction since the tower wasn't exactly standing up to it's expectations (as well as battles going on in those times). The subsoil underneath the Tower was weak and so began the Leaning Tower of Pisa. What was planned to be a simple bell tower is now one of the Seven Wonders of the Medieval World!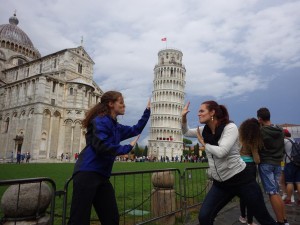 As we were arriving into the little Town of Pisa the rain was coming down hard and we were sort of lost. We had to hurry to the Tower after finding a parking spot and locking bags up in lockers because they're not allowed in the tower (very odd). We'd bought tickets to go up the Tower for a certain time and barely made it before we were told to wait in a line. We got to the top and from there we had a great view of the town and the underestimated church nearby (which a lot of Assassin Creed fans would recognize). The best view, however was from the outside looking at the Tower.
It's cool to see a building still standing when it's leaning so much and I loved visiting Pisa… but I think it was bad timing because my tolerance for tons of people around was limited. There were a lot of tourists for such a rainy day, which made me glad we weren't there on a nice day with even more tourists. It was unavoidable to do the cliché poses of pushing the tower down or holding it up, and we were incredibly bad at said poses but what's a tourist to do??
The Hangries
Hangry according to the Urban Dictionary: "When you are so hungry that your lack of food causes you to become angry, frustrated or both." I'm guessing any mom should know this one.
Maybe it was because we'd been in the car for too long. Or maybe because we were rushing to get to the Pisa Tower for our time slot to climb up the Tower, but were running late trying to find a parking spot in this incredibly small town. It could have been because there was a creepy vendor dude who stood behind our van looking at all of our luggage and hovered around waiting for us to leave. Another possibility for the hangries could have been because some tourists stood blocking the doorway through the Tower and wouldn't move when we asked them. Most likely it was because we couldn't step on the grass for photos and some were a bit tired of limitations to their poses. It's probably reasonable to say that we got the worst case of hangries in Pisa.
How did we defeat this horrific foe called the hangries? By eating Pizza in front of the Leaning Tower of Pisa! All was forgiven and we went back to the happfulls (so happy because you're tummy is full).
After stopping in Pisa for only a couple of hours we had our share of stories and experiencing so we headed off to Venice.
When was your worst case of the hangries?