Copenhagen
The beginning to our Europe adventure started in Copenhagen because of the cheap airplane ticket we found flying us from Los Angeles to Copenhagen. We decided to have a weekend vacation before our long stay in Europe and before working.
We got into Copenhagen around 5PM, boarded the metro and hopped onto the bus (took us a day to figure out the bus system, they charge per zones every time we got on). We finally arrived to the flat we found on Air BnB, got settled in and walked off our jetlag to a nearby park. The area we were staying in was called Brønshøj that was a friendly neighborhood and only a short bus trip to the places we wanted to visit.
Sightseeing
We walked around to visit sites like the Little Mermaid Sculpture, Rosenborg Castle and Gardens, Frederik's Church, Gefion Fountain, behind that- Churchill Park, Amalienborg Palace and walking along Langelinie. All were great sites and it was worth walking the beautiful streets. A lot of people spoke English and were helpful if we ever needed translating or directions. 
Tivoli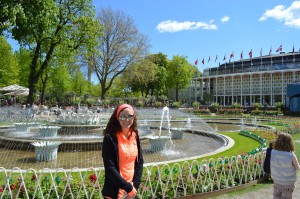 I had been recommended to go to Tivoli Gardens a few times, but I myself would not recommend it for people traveling here. It is the second oldest amusement park and cool to see, but not worth the money and it took us only a couple hours to do all that we wanted. There are some concerts there, so it may be more worth it if you go then.
Freetown Christiania
I had been inspired to visit Christiania because of the artwork, the buildings and a completely different way of how people live. The atmosphere seemed to instantly change as we crossed the imaginary border into this freetown from the busy city full of people hurrying to get somewhere to a relaxed foot traffic neighborhood full of people hanging out. Cannabis (weed) is illegal in Copenhagen and even though Christiania is technically in Copenhagen the police have to have reason, or proof to raid Christiania for drugs. For this reason, photography was hugely prohibited in the town and a lot of the dealers wore masks. There is plenty of weed there, as well as art and vegan/organic food. There was as expected art everywhere, but some areas also appeared as what a town would look like post zombie apocalypse.
Our Favorite Spots
We really enjoyed Nyhavn, an old commercial port that has been transformed into a popular tourist area lined with restaurants and entertainment. Since we wanted to sit and relax we picked up some hot dogs at a little vendor cart and watched the sunset create a beautiful view. Our AirBnB host told us that hanging around the Nyhavn area and eating one of the vendor cart hot dogs was a true Danish moment. One of the cool things about Nyhavn was that the famous Danish fairytale author Hans Christian Andersen lived in several of the Nyhaven apartments as well as other famous authors.
Another place we enjoyed was the round tower, which was worth going up and getting a bird's eye view of the beautiful city. This was also helpful to us to see where places were that we were trying to find past all the tall buildings. You can also pay to go up in the tower of The Church of Our Saviour which is closer to Christiania. At the time we were there it was cheaper to go to the Round Tower and it is more central to all the other cool sites so I would recommend that.
We also had a relaxing time at the Rosenborg Gardens taking a nap on the lawn. There were people everywhere drinking wine, napping and having a good time. The weather was fortunately warm on our first day walking around and there was no rain, unlike the rest of our weekend.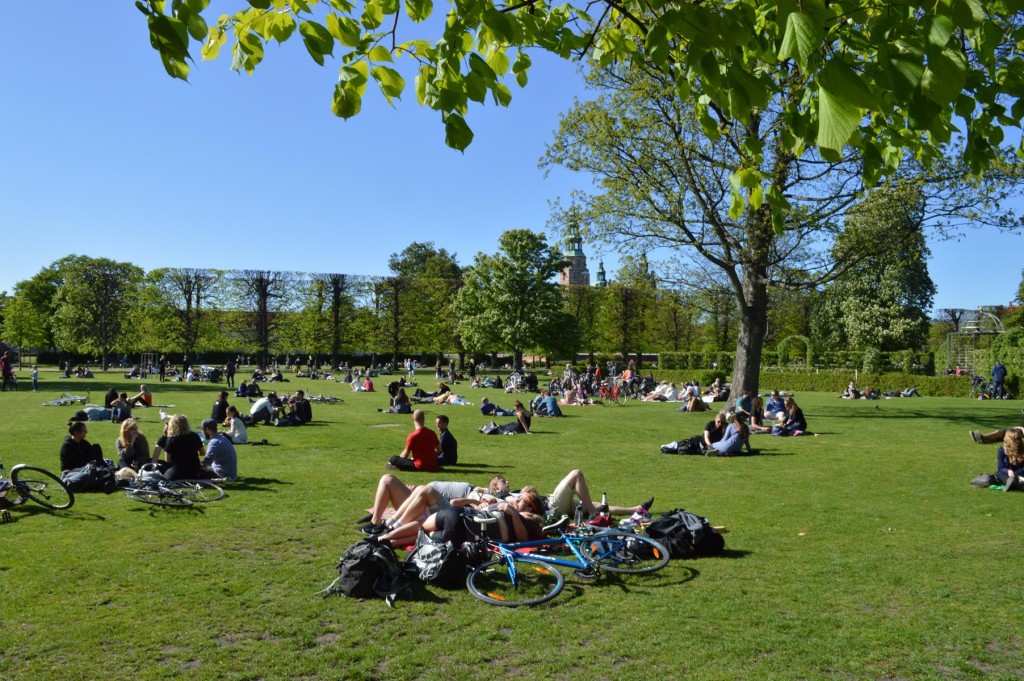 Danish pastries, Yum!
We stopped at a couple danish pastry shops and I wish we had gone everyday to get a danish. There was a Kirsten's Bakery down the street from us that had several yummy items. All the pastry shops were marked with a pretzel that had a crown on top of it, so keep an eye out for those.
Check out our Copenhagen photo gallery
Did we miss anything fun? What other locations would you recommend?