O Canada!
2017 marked Canada's sesquicentennial, or 150th birthday celebration. We celebrated by going to as many Canadian national parks as we could fit in a 10 day period. The parks were free to enter, and we managed to make it to 5 of them: Banff, Jasper, Waterton, Yoho, Kootenay and the American National Park, Glacier. Coming from Utah this route was the best, and the parks were some of the best I've been to.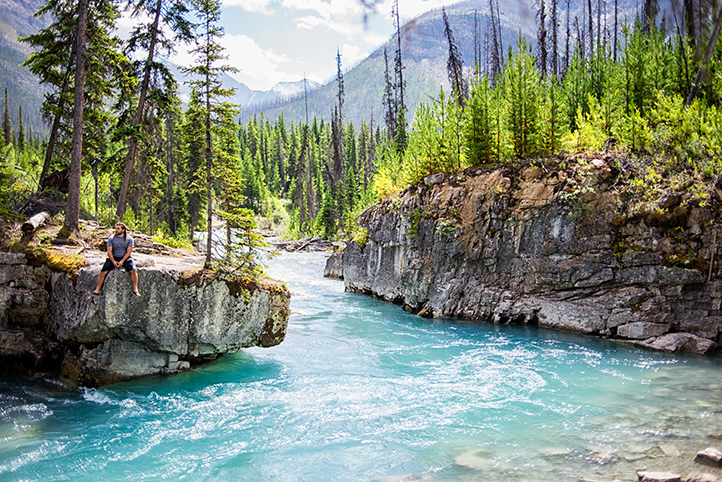 It was 3:30 PM when we left SLC and drove until we hit Kalispell, Montanna. When we got to Kalispell we didn't have a place to stay for the night and it was 1 AM. We hunkered down in a Walmart parking lot and attempted to sleep in the car. 4 people squished in a small car loaded with luggage went as well as you would expect it to. We woke up just before 5 AM suffocating with the lack of pure oxygen. Deciding we weren't going to get much sleep after that we continued on.
Kootenay – 1 day
Upon arrival at the border we were asked a few questions about firearms and fruit, and then we were in Canada! Up first was Olive Lake in Kootenay– no olives, but beautiful nonetheless. Next was Marble Canyon where we crisscrossed on bridges over the canyon. Once we'd walked the scenic 1 mile out and back trail we headed to Banff. Thankfully we had a campsite booked for that night in Tunnel Mountain and it's an understatement to say we were excited to have a space to sleep.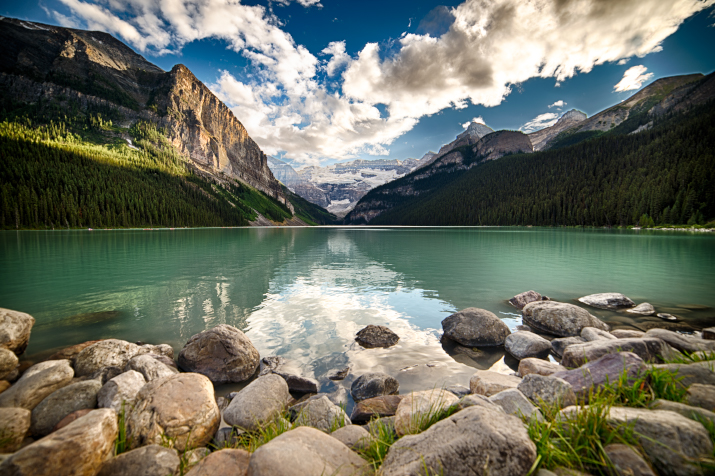 Yoho – 2 days
The next morning we had to find a camping spot. When booking ahead we were able to find camping spots for every night except for this one so we were crossing our fingers. There were way too many people there for the 150th celebration, but we managed to find one of the coolest camping spots in Takakkaw Falls. Our site had a huge waterfall visible from our tent and hikes in our backyard. The only downfall was that we had to hike from our car to the spot with our belongings in tow.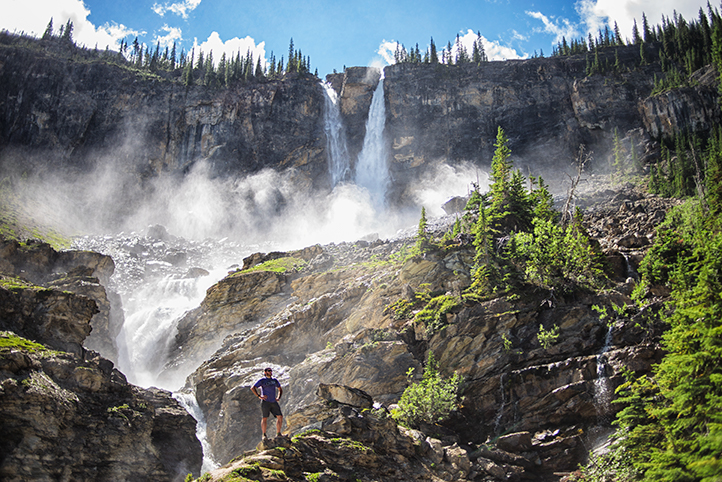 We hiked to Laughing Falls and Twin Falls the next day. It was an amazing hike, definitely worth the 4 hours it took us to see the Twin Falls at the end. That evening we drove to Moraine Lake where me and Carlos dared to jump in the ice cold water. Some Canadians just waded in the water like it was no big deal.
Banff
Leaving Yoho behind we headed to Johnson Canyon where we hiked the lower and upper falls. The falls were easy enough to hike to, we just had to wade through the large amount of people there. We also hiked to the ink pots, but we didn't find it worth the time or effort and wouldn't recommend it. Afterwards we went to Emerald Lake and I'd recommend renting a kayak if you have the time! To wrap things up we ate at Eddie's in downtown Banff where they had delicious burgers and poutine. We also tried beaver tales and bacon/syrup crepes.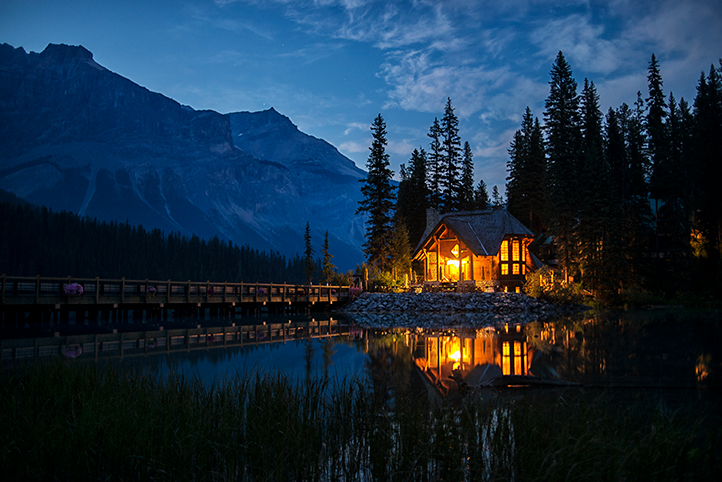 There were several fires going on while we were driving through the parks. A lot of the places we went to weren't as majestic with the smokey/hazy sky, but luckily we were able to do the route we wanted. We were told Canada frequently has natural fires that are left to burn out (controlled of course) so that nature does it's thing. In several areas we saw dead trees, but in their place was regrowth.
Jasper – 3 days
We headed out of Yoho and drove to Peyto Lake where a giant ice field is located. Since it didn't seem worth paying over $40 to go on the ice field we moved on to Athabasca Falls. We made camp in the Wabasco campsite and then headed to the Miette Hot Springs an hour away. After not showering for 5 days of camping and driving it felt amazing to sit and soak in the springs.
The next day as we woke up and headed out to Maligne Lake I was thinking I could live like this, sleeping on the ground and hiking everyday. I need to rethink my life back home!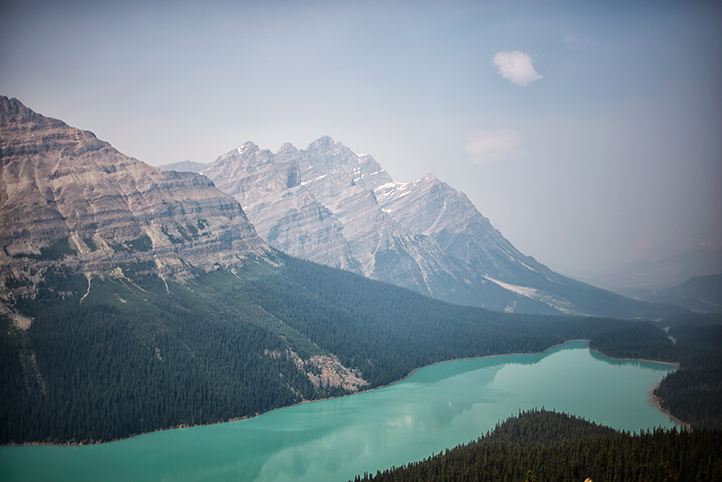 We hiked the Mary Schaffer Loop Trail around Maligne Lake and stopped for lunch. We debated on renting a kayak to go out on the lake, but we had a tight schedule! Onto the Valley of the Five Lakes, but not without stopping into Jasper for dinner at the Jasper Brew Co. At the Valley of Five Lakes we mostly had the trail to ourselves which was a nice change of tranquility.
Back to Banff
Day 6 in Canada and I felt like we'd seen and done so much already- my kind of vacation! We drove back to Banff from Jasper and stopped along the way at fun spots:
Goats and Glaciers
Sunwapta Falls
Tangle Falls
Bow Lake
Herbert Lake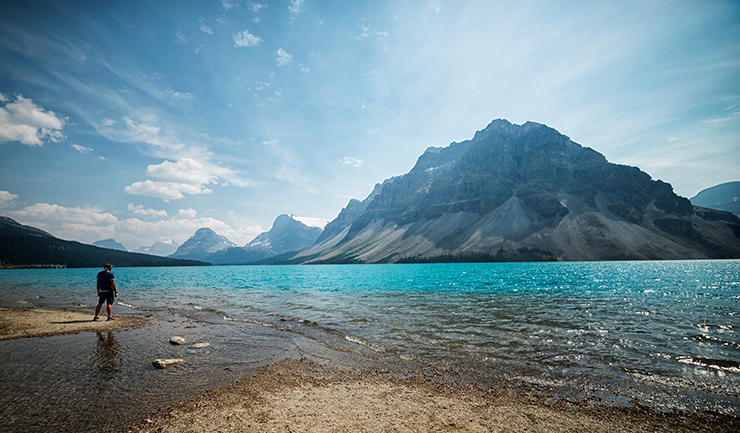 We set up camp at Two Jack Main, where many bears had been spotted. This will sound strange, but we were actually hoping to spot a bear while in Canada- a safe distance away from one of course. On all our hikes there were bear warnings and hikers wearing bells to warn off the bears if they came close to crossing paths. It was recommended to make loud noises while hiking since it would be better to not surprise a bear.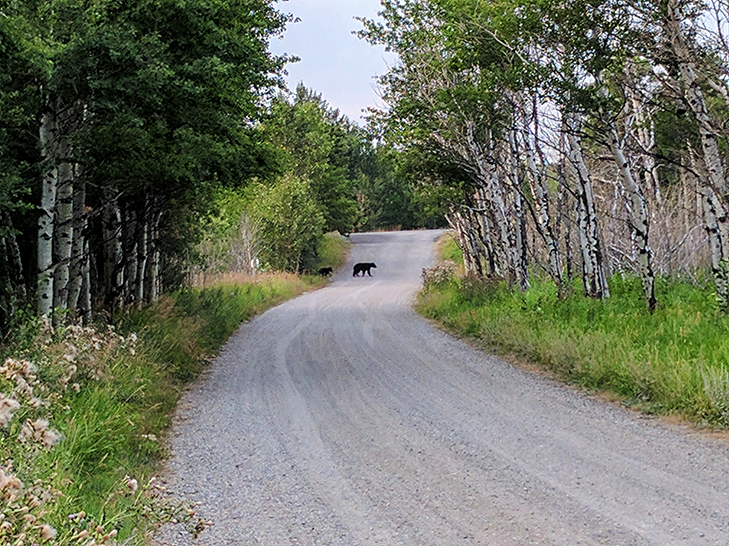 I was stoked to finally hang up my hammock at the site, although it was hardly used since the only down time we had was when cooking meals. After eating we went out again to check out Two Jack Lake where we saw mountain goats! At the end of the day we went to upper Banff Hot Springs, which we didn't like as much as the Miette Hot Springs. The Miette had more space and different temperature baths so I'd recommend that over the two.
Waterton
Our last day in Canada, oh no! We went out with a bang by doing several fun hikes. Since we live close to Moab and other red rock areas we weren't too impressed by the Red Rock Canyon, but still fun to hike through. We cliff jumped at Blakiston Falls and had enough time to slip in Bears Hump Hike and Alderson-Carthew Waterfall. We stopped at Waterton Lake at the end of it all and enjoyed watching the rain drops ripple the water.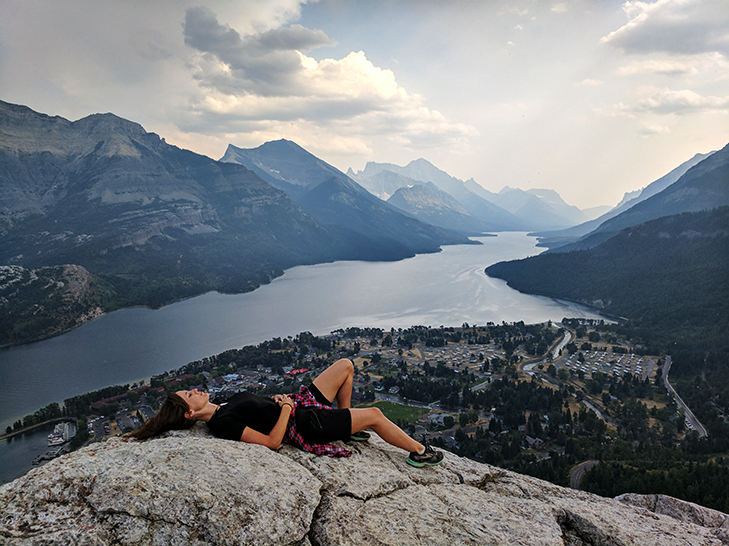 When we were heading back to camp Pablo spotted a black momma bear and her two cubs crossing a field. We pulled over and watched as they made there way through the brush. The bears started to stand up and look around alert. Turns out we weren't the only observers, a guy with a drone was filming them and they seemed panicked by the attention. After watching them for a while longer they ran out of sight and we continued on. Finally we were able to watch bears in their natural habitat (minus the drone)! That was a first for me to see a bear outside of a zoo.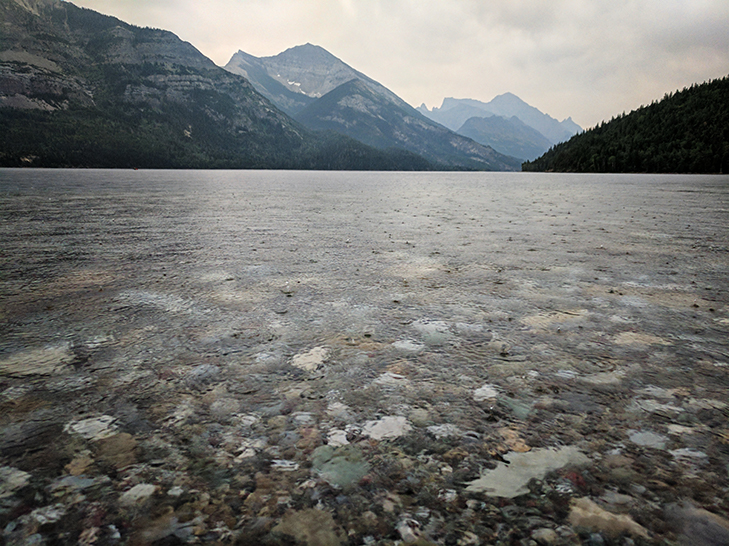 That night we played card games and had some relaxation time. We'd had plenty of time on the road, on hikes and roughing it together for every minute over the past week. I had a great time getting to know everyone more, listening to podcasts, and telling stories to entertain the minutes. It was another instance of how we can gain stronger relationships with people by traveling with them.
Glacier National Park… Or not so Glacier National Park
Hello 'merica, we're back! We easily crossed over the border to the U.S. and drove straight to the Glacier Visitor's center for hiking info. We asked the rangers what were the best hikes for us active folks and they recommended us to several including the Many Glacier hike that brought us to Grinnell Lake Overlook. This was one of my top favorite hikes of this trip, and ironically it wasn't on the Canadian side.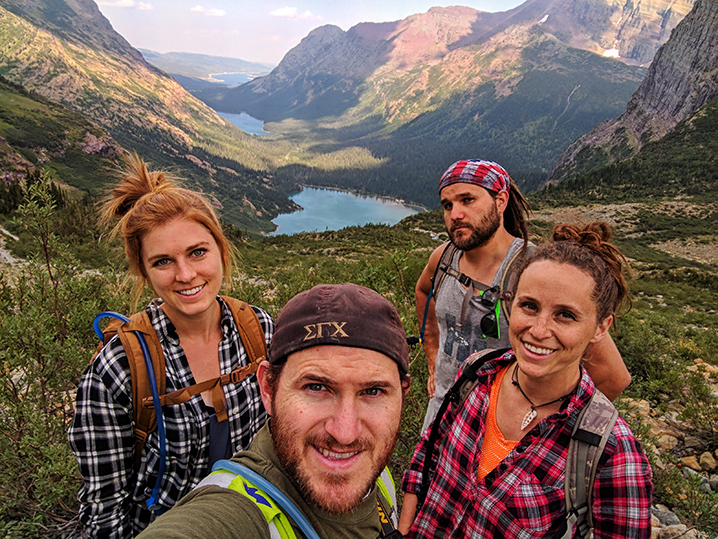 The hike to the top at Grinnell Lake Overlook is an intense one, but I have no doubt it's worth it. With a 1,600 ft. elevation gain and 10.6 mile trip it took most of our day. The views were breathtaking all the way up and especially at the top. There were small glaciers at the top, but we'd learned that several of the glaciers in the park had been melting alarmingly fast over the past 51 years. 40% of the glaciers have melted and studies show that they will be completely gone in our lifetime. How sad!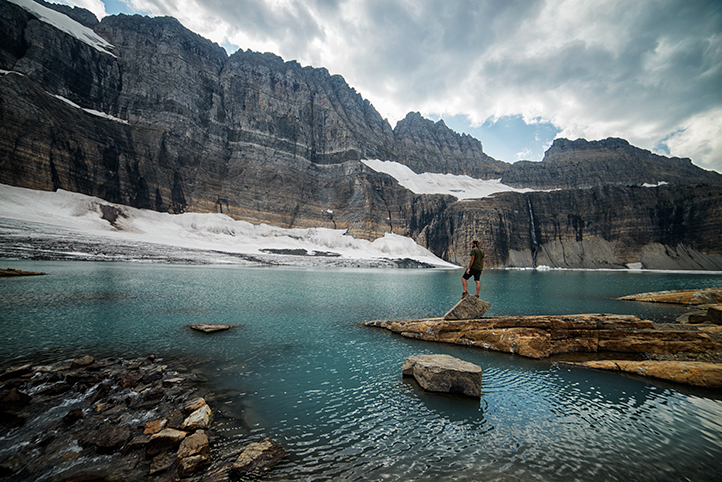 Not only were the views breathtaking, but also the glacier water at Grinnell. We walked into the water and it was like small needles pricking the skin and numbing it. It's the type of water that makes me concerned about potentially damaging my insides. Carlos slid right into the water and it was painful just to watch.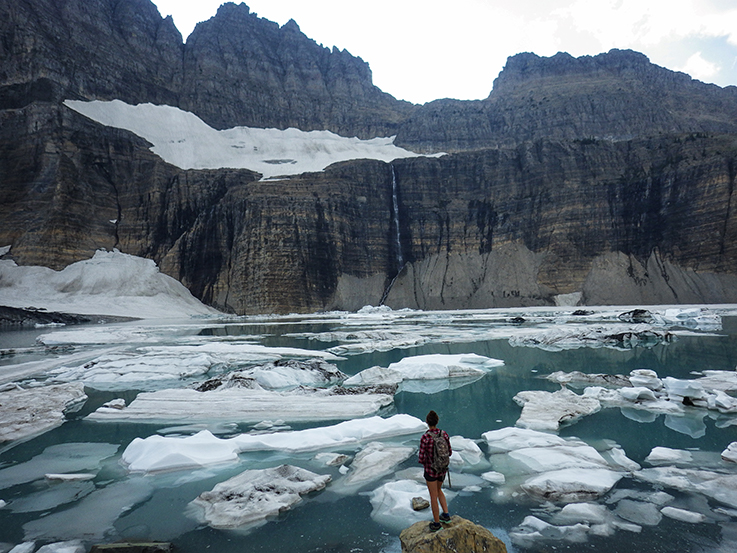 When we got back down to the trail head we ran into a woman who was lost and looking for the path to the Many Glacier Hotel. We offered her a ride and when we dropped her off she insisted on giving us money for the ride. After we refused a few times she dropped money on the middle console, said thanks and got out. She funded a big pizza for us that night. After eating we drove to Logan's Pass and came across another bear. This time it was a baby bear crossing the road back and forth a couple times until he picked a side.
Going to the Sun Road
Points you should know about the Going to the Sun Road; it's a beautiful, windy, distracting and possibly dangerous road to drive. Larger vehicles have a harder time on it due to it's narrowness and most RV's aren't allowed. We took the shuttle so we didn't have to worry about it.
Downside of taking the shuttle was the time wasted on waiting (2 hours spent playing cards and getting to know our fellow sufferers). We waited at the visitors center where only 23 passengers were allowed to board each bus at a time. Once we'd finally gotten on we stopped at a campsite 1/2 mile down the street where there wasn't a line of people. If we'd known that was an option we would've hiked down and saved a couple hours!
Once we were on the Going to the Sun Road we had amazing views of the mountains, waterfalls and mountain goats. We hiked to Risky Hidden Lake with some of our fellow passengers. Afterwards, we took a shuttle to Mary and Virginia falls, cliff jumping into the icy clear water. When we finally got back to camp at the end of the day we cooked all the last of our food and had a feast.
Despite having to sleep in campsites where there always seemed to be something making noise (between the trains, cows and crows) I would've been happy to keep the trip going. The next morning however we had to pack up camp and head home.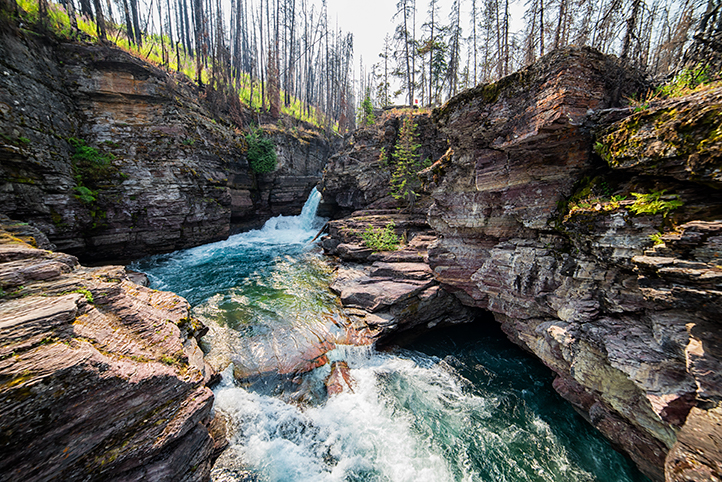 Quotes to remember:
There are too many inside jokes and memories made on trips to explain and usually you have to be there to find it funny. However, I left these little gems on the post as a bit of a teaser for your imagination. Enjoy!
"Are you mental Milo?? You're disturbing the evenings peace!"- british tourist with obnoxious kid
"Oh that's the picture you wanted??"- Me
"That just went in my ear and I want it out"- Pablo
"Bon Borg"- Ashley
"Go back home and destroy your own country, you clearly can't read english" – snob tourist to Asians
"Stop talking " -Asian tourist response
"You are welcome and you and you are welcome"- Ash
"Oh my gosh you hate me don't you"- Ash
"Don't ask what your country can do for you, but ask what your country can do for you"- Carlos
"Aren't toes funny looking…" "You were looking at my toes when you said that weren't you?" Me, Ash